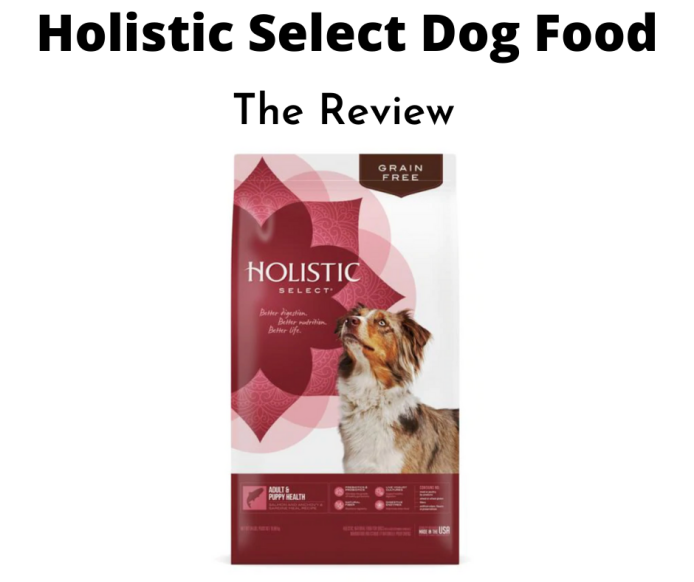 Holistic Select Dog Food Review -
An Investigation
If you're looking for a kibble, Holistic Select might have popped up. Is this dog food any good? Should your pup try it? To make the right choice, here's our in-depth Holistic Select dog food review. Our experts have gathered everything you need to know about this brand!
Holistic Select Dog Food Review
Holistic Select - 3 Star Rating
Ingredients: Turkey & lentil recipe: Turkey, Turkey Meal, Peas, Lentils, Chickpeas, Chicken Fat (preserved with Mixed Tocopherols), Tomato Pomace, Pea Protein, Pork Meal, Flaxseed, Natural Fish Flavor, Pumpkin, Cranberries, Apples, Brewers Dried Yeast, Potassium Chloride, Papaya, Vitamins [Vitamin E Supplement, Niacin, Vitamin A Supplement, Ascorbic Acid (Vitamin C), Thiamine Mononitrate, d-Calcium Pantothenate, Pyridoxine Hydrochloride, Riboflavin, Vitamin D3 Supplement, Biotin, Vitamin B12 Supplement, Folic Acid], Minerals [Zinc Proteinate, Zinc Sulfate, Ferrous Sulfate, Iron Proteinate, Copper Sulfate, Copper Proteinate, Manganese Proteinate, Manganese Sulfate, Sodium Selenite, Calcium Iodate], Blueberries, Pomegranate, Calcium Carbonate, Inulin, Mixed Tocopherols added to preserve freshness, Yucca Schidigera Extract, Ground Cinnamon, Ground Fennel, Ground Peppermint, Dried Enterococcus faecium Fermentation Product, Dried Bacillus licheniformis Fermentation Product, Dried Bacillus subtilis Fermentation Product, Dried Aspergillus oryzae Fermentation Product, Dried Trichoderma reesei Fermentation Product, Dried Rhizopus oryzae Fermentation Product, Dried Lactobacillus acidophilus Fermentation Product, Dried Lactobacillus casei Fermentation Product, Rosemary Extract, Green Tea Extract.
Named Protein First:

Yes.

Dog Food Type: Dry food (kibble)
Recipe Range: Chicken and salmon kibble recipes, one wet food, and treats in both chicken and beef flavours.
Suitable For: Adult, puppies, seniors
Cost: $$$
Australian Owned: No.


Holistic Select Dog Food Review
Holistic Select is an American dog food brand that is owned and made outside Australia. But many owners like the composition and pups seem to agree. Here's what you should know about this kibble:
Taste 5/5
Of course, we weren't able to actually taste this food. Nevertheless, most dogs seem to love it! Picky eaters in particular are happy to eat it, although smaller dogs might be tougher to convince.
Smell-wise, owners seem pleased overall. Of course, we recommend storing any kibble in an airtight container, and whatever smell it releases shouldn't be able to escape. Nevertheless, if the smell is a concern when trying out new dog food, this kibble seems to be smelly enough to be appetising, yet mild for sensitive owners.
PRO TIP: Dental check-ups are important. If your dog "suddenly" became a picky eater, they might have tooth decay preventing them from eating. Any changes in eating patterns (like sudden picky eating) can be a cause for concern. We recommend you take your pup to the doctor for a general check-up if it's your case.
Taste-wise, this food seems to tick all the boxes. There's also a fish recipe if your dog prefers it over traditional poultry. In general, most dogs love the taste of this brand and because of it, we're giving Holistic Select 5 out of 5 in this category.
Ingredients 3/5
We appreciate that animal meat is the first ingredient in all recipes. So, for example, the grain-free turkey recipe has turkey, turkey meal, peas, lentils and chickpeas as the first 5 ingredients. This is overall good.
In contrast, the grained recipes are slightly heavier in grains than we'd like to see. The grained chicken kibble has "chicken meal, brown rice, white rice, oatmeal" as the first 4 ingredients. If we were to weigh the meat-to-grain ratio, it's very likely animal meat would represent around a third of the overall food. Nevertheless, this is expected from a kibble and overall, it's a good composition. We particularly appreciate that the grained recipes don't include wheat, corn or soy which are cheaper, less nutritionally-dense ingredients than rice.
The grain-free recipes seem to be slightly higher in meat than their grained counterparts. The two first ingredients in all recipes are animal meat, so it's very likely they are higher in meat than the grained options. Nevertheless, we should mention that these recipes are slightly higher on legumes and they don't have non-legume carbohydrates. A high legume content in dog food has been a concern since 2019 when the FDA in the United States released a warning [1] due to the possible link between grain-free, legume-rich diets and a higher risk of heart disease in dogs.
According to researchers, the reason might be a chronic taurine deficiency caused by certain chemicals in legumes [2]. As of the writing of this article, the studies are still ongoing and there is no hard evidence of this link. Because of it, here at Gentle Dog Trainers, we consider legumes a safe inclusion in kibble if it is used in moderate quantities. In fact, legumes like peas and chickpeas are a significantly better option than wheat and corn, with less chance of causing sensitivities in allergic dogs.
PRO TIP: If your dog is at risk of heart disease, or you're concerned about giving them a grain-free diet, we recommend talking to your vet. They will be the best option to offer advice tailored to your dog's unique needs and healthy background.
Other than legumes and animal protein, these recipes also include chicken fat, tomato pomace, pea protein, and pork meal. We appreciate the use of fats from animal sources instead of the cheaper and more readily available soybean oil.
Considering this is a kibble, the ingredient list is nice, and the meat ratio is respectable. We're giving this brand 3 out of 5 in this category.
Protein content 3/5
As we've mentioned above, Holistic Select recipes all have meat as the first ingredient. Nevertheless, the recipes still lean heavily on legumes and grains. The grained recipes are particularly heavy in grains, so for higher protein content, we'd recommend the grain-free options.
Other than the overall ratios in this food, we like the specific meat selected for these recipes. For example, the turkey and lentil recipe feature both turkey and turkey meal as the first two ingredients. "Turkey" is the whole animal, while "turkey meal" is a rendered, concentrated version of ground turkey. These two ingredients provide high-quality protein that your dog can easily absorb.
Some of this brand's recipes also include a second animal protein source. In the recipe we're examining, we have pork meal as well. Of course, the legumes also bump up the protein content. The turkey and lentil recipe has lentils, peas, chickpeas, and pea protein. These are counted in the final protein percentage, so keep that in mind when you're looking at the guaranteed analysis.
Overall, we appreciate the protein sources. There are no single-protein options from this brand, so if your dog is sensitive other foods might be a better choice. Nevertheless, the protein choices are nice enough and we like that no gluten or corn protein was added. We're taking off 2 stars because of the addition of pure pea protein, which we assume to be included to artificially raise the protein percentage instead of adding more meat.
Additives 4/5
Although this food is technically mid-range, it has some very interesting extras that are more common in high-quality food. Since it's a long list, we've broken it down to make it easier to understand. Here are the extras in the Turkey and lentil recipe:
Other goodies include cinnamon, fennel, and peppermint. Preservative-wise, this brand only uses rosemary and natural tocopherols instead of artificial options. We like the extra add-ins and, for a mid-range kibble, it's above the usual. We're giving this brand 4 out of 5 in this category.
Variety 4/5
Here in Australia, Holistic Select has a limited recipe offering. Nevertheless, we think it's probably enough for most dogs' needs. For example, they have grain-free and grained recipes, a large puppy option, a giant dog adult option and different protein options for adult dogs. Keep in mind that none of the recipes are single protein, so these wouldn't work if you're trying to get your dog on an elimination diet.
It would be nice to see some more options for small dogs, but overall, it's a nice selection. We're giving this brand 4 out of 5 in this category.
Price 3/5
This is a mid-range food, and it is slightly more expensive than other mid-range options. However, considering the selection of high-quality ingredients, we don't think the price is excessive. For a good quality, grain-free kibble, this is a reasonable choice in line with other mid- to expensive foods that sometimes can have worse ingredient lists.
If you have a very large, hungry pup or need to feed a pack, it might be worth it to investigate auto-delivery options that offer a small discount.
We're giving this brand 3 out of 5 in this category.
---
Do Not Buy If…
While Holistic Select can be a great choice, you might have to keep looking if you:
---
Final Verdict
Holistic Select offers a high-quality kibble that we would recommend for most dogs. Of course, it has the shortcomings of all kibbles: everything is cooked twice, the recipes are slightly higher in carbs than what we'd like to, and the grain-free options are legume-heavy.
Nevertheless, for a mid-range kibble, these recipes are nice, we like the ingredient list is very specific and that the fat used comes from animal sources. All in all, we would give Holistic Health a go.
Want to read more dog food brand reviews? Check out the below:
References