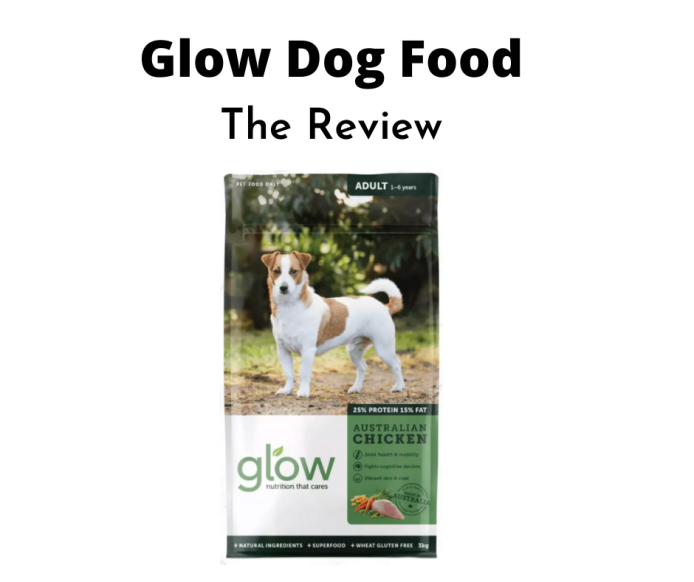 Glow Dog Food Review -
The Puppy To Adult Range Analysis
Our ultimate Glow dog food review has everything you need to know about this Australian dog food brand. Are you looking to switch up your dog's food? We go over the ingredient list and the pros and cons so you can choose what's best for your pup.
---
Glow Dog Food Review 2022
Glow - 3.5 Star Rating
Ingredients:

Chicken Meal, Lupins, Beans, Sorghum, Tallow, Beet Pulp, Chicory Extract, Chia Seeds, Carrot, DHA Algae, Salt, Potassium Chloride, Vitamin and Mineral Premix, Natural Antioxidants from Rosemary

Named Protein First:

Yes.

Dog Food Type: Dry kibble
Recipe Range: Puppy, adult and senior dog kibble in chicken flavour. There's also a lamb recipe for adults.
Suitable For: Puppies, adult and senior dogs.
Cost: $$
Australian Owned: Yes.


Taste 5/5
Many dogs enjoy the taste of Glow, and owners are happy about it! In general, this food fulfils expectations when it comes to taste. Dogs usually like it, although you might have some issues with picky eaters. Most times, wet food can be more appealing to picky dogs, but Glow doesn't have a wet food offering.
PRO TIP: If your picky dog doesn't love kibble, try adding a homemade topper. This can be anything from a crushed piece of boiled chicken, half an egg or grated veggies like carrots. It will make kibble more appetizing to your dog! Of course, make sure to choose a topping your dog already likes.
Since Glow performs as expected in this category, but nothing unusual and there are no wet options for pickier eaters, we're giving this brand 4 out of 5 in this category.
Ingredients 3.5/5
Overall, Glow pet food has a pretty nice ingredient list. All ingredients are easily recognisable and the list is pretty short. On the other hand, we also like that this brand claims more than 90% of its ingredients are Australian-sourced. This lowers the overall carbon footprint of the food and helps local producers, which is always a plus.
We will go deeper into the protein content in the next category, but overall, it's good to see a named protein as the first ingredient. Nevertheless, a significant portion of the food is comprised of legumes, so the overall carb proportion is probably higher than we'd like. This is a common problem for all kibble since it needs a high carb percentage to be manufactured properly. The fourth ingredient is sorghum, another carbohydrate source. This is in line with most other mid-range dog foods and is clearly better than cereal-based kibble.
Then we find tallow, the main lipid source of all recipes. Coming from animal sources, tallow is a good addition of fats that are essential to keep your dog healthy. Looking at the guaranteed analysis, it's a good addition to an otherwise very lean recipe, which is nice to see! The rest of the ingredients are understandable and overall, the ingredient list is pretty short for dog food.
Considering the ingredients, we're giving this brand 3.5 out of 5. We like there is no corn or wheat on the list, but the focus on vegetable protein could mean a high carb diet that most pets don't need.
Protein content 3/5
The first ingredient in all recipes is always a named protein, which is good to see. Nevertheless, the second and third ingredients are both legumes: first lupins, followed by beans. If we break this further, their claims of protein being the main ingredient weaken. If we consider the first and second ingredients on a list are usually in the same proportion, the addition of beans would tip the scales and mean legumes make up a majority of the food. The same thing happens if we consider the first 3 ingredients as the bulk of the food. While legumes in a dog's diet aren't necessarily bad, it means the overall protein content is significantly bumped up by vegetable protein instead of coming from animal sources. If you don't rotate this food with other brands with more animal protein, this might lead to micronutrient deficiency or obesity from a high carb diet.
Disregarding the higher vegetable protein, Glow dog food packs around 25% total crude protein, so it goes above the minimum 18% recommended by the AAFCO. This is pretty normal for dry kibble and isn't the best out there, but is good enough if rotated or complemented with meaty toppings.
Both chicken and lamb meal, depending on the recipe, are great sources of animal protein. Dogs benefit greatly from this ingredient and the protein content is easy to absorb for puppies and older Due to the high vegetable protein content, we're giving Glow dog food 3 out of 5 in this category. Other than that, the protein sources are pretty good for a kibble.
Additives 4/5
We like that, despite the relatively short ingredient list, there are plenty of extra goodies to round up your dog's diet. Here are the highlights:
According to current research [1], an appropriate balance of Omega 6 related to Omega 3 consumption can help both humans and animals live a longer, healthier life. Omega 6 and 3 are essential fatty acids, meaning your dog's body needs them to function properly. Omega 6 fatty acids are key in inflammatory processes and ensure your dog's body can take care of itself. Omega 3 fatty acids are anti-inflammatory, anti-oxidant and can help keep them healthier and away from chronic conditions.
Unfortunately, it isn't enough to just eat these two essential fatty acids [2]. Dogs and people need to ingest these two nutrients in specific portions. In fact, too much Omega 6 and too little Omega 3 can lead to health problems for both dogs and cats [3]. According to research, most commercial dog food nowadays tends to have about 16 to 1 Omega 6 to Omega 3 [2]. A proportion of around 4 to 1 Omega 6 to Omega 3 is considered ideal, and that's the ratio in Glow dog food!
We like that both the percentages and the ratio are clearly indicated on the packaging.
Other additions to the kibble recipes are carrot, for a small boost in antioxidants, salt, potassium chloride to boost potassium levels on the food, and natural antioxidants from rosemary.
The only ingredient we're not huge fans of is the "vitamin and mineral premix". We don't know which vitamins and minerals, their quantity or their specific type. When pet food companies use this general label on their ingredients, it usually means it's been manufactured overseas and the specific percentages aren't available. We're not huge fans, but considering the rest of the ingredients, it's not a big deal.
Overall, we appreciate the clear ingredient list and the transparency. It would be nice to see more antioxidant goodies, but for a kibble, it is fairly good. We're giving Glow 4 out of 5 in this category.
Variety 3/5
We couldn't have a Glow dog food review without mentioning the narrow range. This is a relatively new brand, so understandably, their offer is smaller than most. As of writing this, Glow offers 4 kibble recipes: a chicken recipe for adults, a lamb recipe for adults, a chicken puppy recipe and a senior chicken recipe. This is enough for most dogs but might not give you the variety you need to rely on a single brand.
On the other hand, they also don't offer wet food options, and there are no unusual proteins like kangaroo that might cater to sensitive dogs.
Considering these pitfalls, we're giving this brand 3 out of 5 stars.
Price 4/5
Glow dog food is smack in the mid-range category. They offer both small and medium-sized bags, and the brand is only sold through one retailer in Australia. Their prices aren't especially cheap, but considering most ingredients are sourced from Australia, the higher price tag for a shorter ingredient list is understandable.
We're giving Glow 4 out of 5 stars in this category.
---
Glow Puppy Food Review
As we've mentioned above, Glow dog food only has a single puppy recipe. Their puppy option has more or less the same ingredient list as their adult recipes.
Glow puppy food has chicken meal as the first ingredient, are there are no other options for puppies sensitive to chicken. The protein is followed by lupins, beans and sorghum. The minimum guaranteed protein is higher than their adult recipes and stands at a respectable 30%.
It's important to recall the Omega 6 to 3 proportion. Although the packaging states a "higher" proportion of 2 to 8 Omega 6 to 3, this is really the same 1 to 4 proportion in their adult range. This is plain misleading at best, so we're not too keen on them because of it.
Do not buy Glow if…
While this is a reasonable mid-range option for many dogs, it might not be the right choice if you:
---
Final Thoughts
This is a respectable mid-range option, and we appreciate the use of Australian-sourced produce. This means the food has a lower carbon footprint and benefits local businesses. Of course, it is still kibble to it has its downfalls (it's cooked, and higher in carb than raw options) but we like the clear ingredient list and choice of ingredients. It favours plant protein over meat protein, which can be problematic if you don't rotate your dog's food or add toppings. Overall, it's a good option for most dogs and as an option for rotation, it's great.
Want to read more dog food brand reviews? Check out the below:
References
Simopoulos, A (2002). The importance of the ratio of omega-6/omega-3 essential fatty acids. Journal of Biomedical Pharmacotherapy. https://pubmed.ncbi.nlm.nih.gov/12442909/
Gunnars, K (2018). How to Optimize Your Omega-6 to Omega-3 Ratio. Healthline. https://www.healthline.com/nutrition/optimize-omega-6-omega-3-ratio
SeaDNA. Omega-3 and Omega-6 Ratio in Pet Food. https://www.seadna.ca/omega-3-and-omega-6-ratio-in-pet-food/