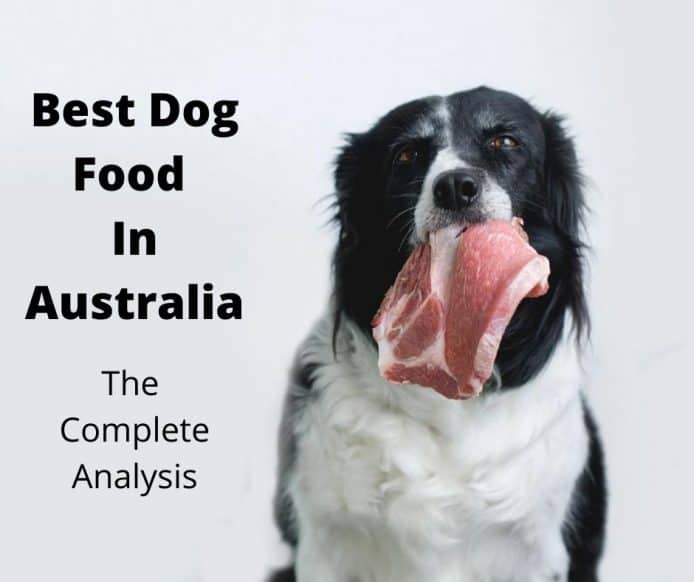 The Best Dog Food Available In Australia - A Complete Review
The Best Nutritional & Cost Option
PETZYO DRY DOG FOOD
Australia's pet food industry is largely unregulated. This can make it very challenging for pet owners who want to give their faithful companion excellent nutrition for a fair price.
That is why we built this guide to the best dog food in Australia. In it, you will find information on how to read a dog food label, what to look for in a quality feed, as well as our top choices in several categories.
It is important to understand that there are no one-size-fits-all formula for the best kibble. Instead, different dogs have different nutritional needs. So, we made this guide to include top choices in a variety of different categories.
---
---
How To Choose The Right Dog Food
Nutrition Considerations
In order to make good choices for your pooch when it comes to getting the best dry or wet dog food, you have to first understand a few basics about how ingredients are labelled. One word of difference in the ingredient list can actually make a huge difference in terms of the quality of the source ingredients.
Here are the main tips to reading a dog food label:
Age & Size Factors
There is no one-size-fits all formula for the best Australian dog food. Dogs of different sizes, ages, and activity levels have different nutritional needs. For example, large breed dogs can develop serious skeletal problems if they are fed too much protein as puppies and as a result, they grow too quickly, and puppies should be fed specific food too.
Finding the right feed for your pet does include accommodating their individual needs. That is why our recommendations for the best dog food in Australia include those lines that offer clear and diverse options for canines of different ages, sizes, and activity levels.
Special Diet Dog Food Formulas
Building on the theme of unique diets for individual dogs is the fact that some dogs do need special diets to address specific health concerns. Here is a quick primer on the most common special dog diets:
---
Top Pick: Best Dry Dog Food Australia
Nutritional Analysis (Dried beef formula):
The cream of the crop in terms of the best dry dog food in Australia is this option from Petzyo. They're number one listed ingredient is Australia's own ethically sourced kangaroo meaning your dogs getting the best of the best.
Petzyo uses a specially formulated ingredients in their dog food ranges, each featuring a single meat protein with added herbs, vegetables, vitamins and minerals. Containing super foods such as sweet potato, turmeric and blueberries to help with inflammation, and contains chondroitin for joint & cartilage support.
It is an excellent choice for overall nutrition and health that also doesn't burn a hole in your pocket every week.
They also have a fantastic raw food range.
Runner Up: Our Second Best Dry Dog Food Australia
Nutritional Analysis (Dried beef formula):
Ziwi is our runner up purely because their price point will make it too hard on many Australian households, however, if you can afford it then we highly recommend it.
It all starts with careful domestic sourcing of hormone free New Zealand beef which comes in as the first ingredient.
One of the things you should know about Ziwi is that they use a low heat air dry technique to preserve the meat in their formulas. Since heat destroys delicate micronutrients and vitamins in whole foods, this method, although slower and less efficient, produces superior nutrition for the lucky dog who only gets the best.
This formula avoids the fillers found in most commercial dog food. It contains no grains, legumes, potatoes, sugars, rendered meats or by products, and no artificial preservatives.
This feed is a bit on the pricey side, but that is a little bit deceptive. It turns out, because the food is so much more nutrient dense than other commercial dog feed on the market, you can feed much less volume per serving.

You can also use this nutrient dense recipe to supplement raw food diets as a dog food topper.
Other Ziwi dry dog food recipes to consider include:
---
Active Dogs: Best Choice For Active Breeds
Nutritional Analysis (Working Dog Formula):
Striking a perfect balance between high quality ingredients, domestic sourcing, and a fair asking price, our top choice for Australian dry dog food is the Working Dog formula by Stockman & Paddock.
Note that the number one ingredient is real Australian beef. No mystery ingredients here. Total protein of 26% is well above the industry average. And, the recipe includes whole grains to help to support the fibre, prebiotic, and energy needs for even the most active dogs.
The major downside of this brand is that they do not offer specialty formulas for toy and giant breeds, or puppy and senior formulas. So while this is going to be a very good choice for many dogs, not everyone will find the right formula for their individual dog.
Those interested in the Stockman & Paddock line of Australian dog food, you may be interested to know that they recently introduced a grain free recipe to their line of high quality dog food:
---
Best Wet Dog Food Australia
In line with our top pick for kibble, the canned dog food selection offered by Ziwi comes in as our top pick for the best wet dog food.
Again, the choice is easy because of Ziwi's superior ingredient sourcing with a focus on developing relationships with New Zealand farmers and using low heat preservation techniques to make sure the natural benefits of their whole food ingredients shine through in the finished product.
Like their dry formulas, you just won't find the typical fillers used to bulk up most commercial feeds. Instead, you will find a short but all natural ingredient list focused on whole food nutrition.
If you have a picky eater on your hands, you simply must give Ziwi wet a try. Most dogs simply go nuts for these flavourful recipes.
Also, if you have a dog who does better with novel proteins and/or needs a limited ingredient formula, you are likely to find the selection of Ziwi canned foods to be more than sufficient.
Below you will find the many different varieties of ZIWI wet dog food to choose from:
---
Best Grain Free Dog Food Australia
There is a lot to love about the Natural Health line of dog food by Ivory Coat. A relatively new brand, the attention to quality is clear. And the entire line is Grain Free with a ton of novel proteins, age, and size appropriate formulas to choose from.

Any quality review of Ivory Coat dog food will notice that the first ingredient is Australian Chicken Meal, a very high quality source of protein. We also see very high quality whole food ingredients that boost the nutritional content of this food including carrots, kale, broccoli, coconut oil, and blueberries.
This food does NOT use the problematic sulphite preservative that can cause thiamine deficiency, which offers Australian dog owner's peace of mind as well.
Finally, a peek at the overall nutritional profile includes a whopping 32% crude protein which is well above average and plenty for your adult dog's needs.
| | |
| --- | --- |
| | |
| | |
| | Cell |
| | Cell |
| | Cell |
| | Cell |
| | Cell |
| | Cell |
| | Cell |
Check out the options in the Ivory Coat Natural Health Line to choose the best food for your individual dog:
Adult and Senior dry food Formulas from Ivory Coat:
Weight Control formulas by Ivory Coat:
Puppy Formulas from Ivory Coat:
Wet Dog Food Options from Ivory Coat:
---
Best Cheap Dog Food Australia
Nutritional Analysis (Adult Chicken & Barley Formula)
If you are looking to find a good quality dog feed in Australia without breaking the bank, our best cheap dog food option is the Hill's Science Diet line.
This product is manufactured in the USA and adheres to AAFCO manufacturing and labelling guidelines to ensure the kind of balanced nutrition your dog deserves.
Further, the ingredients list avoids artificial preservatives and features wholesome natural ingredients such as whole grains, apples, and carrots (although they do appear late in the ingredient list).
While it isn't the highest quality feed for your dog, it does offer a significant cost saving without compromising too much in terms of quality.
Check out the options in the Hill's Science Line to choose the best food for your individual dog:
Adult Recipes:
Puppy Recipes:
Special Needs Recipes:
---
It is important to give your dog a chance to adjust to food changes whenever possible. It takes up to a week for the gut flora to adjust to a different balance of ingredients, and the result of changing food to quickly can include major gastrointestinal problems such as vomiting and diarrhea.

Change food slowly by replacing only a small portion of their food each day. Start by replacing ¼ of their food on the first day, then ½ on the second day, then ¾ on the third day, finally full replacement on the fourth day.

If you notice any signs of stomach upset, slow down the transition. If vomiting or sever diarrhea occurs for more than 24 hours, go back to the original food and contact your vet.
In general, the signs of a good diet include a healthy coat, shiny eyes, and overall good health. If you notice hair loss, dry or flaky skin, persistent itching, or any other symptoms of poor health, it may be time to check in with your vet to determine if a higher quality diet may help your dog's quality of life and overall health.

Another thing to be aware of is the symptoms of Thiamine deficiency which can happen when sulfites are used as artificial preservatives in low quality dog foods. Initial symptoms include GI upset such as a lack of appetite, vomiting, or diarrhea. Symptoms can progress to include neurological problems such as unevenly dilated pupils, stumbling, and seizures. Finally, cardiac problems can develop which can prove fatal.

It can be difficult to diagnose Thiamine deficiency before it progresses to the fatal stage. Thus, it is critical to feed a high quality diet to your dog from a trusted manufacturer who complies with strict labeling guidelines.
Following recent trends in human fitness, grain free diets for dogs are all over the pet food shelves these days. Contrary to popular belief, just because a food is grain free does not mean it is higher quality. Other nutritional considerations such as a quality protein source and whole food ingredients play a larger role in dog food quality than grains do.

However, if your dog is showing signs of a potential food intolerance or unknown allergy, you and your vet may decide to try a grain free dog food just to eliminate the possibility of a grain allergy as part of a treatment program.
---
The Verdict: Best Dog Food in Australia
Unfortunately, Australia's lack of regulation on dog food can make purchasing a high quality feed for dogs a challenge. However, we hope this article has helped you to make decisions about the best dog food for your faithful furry bestie.