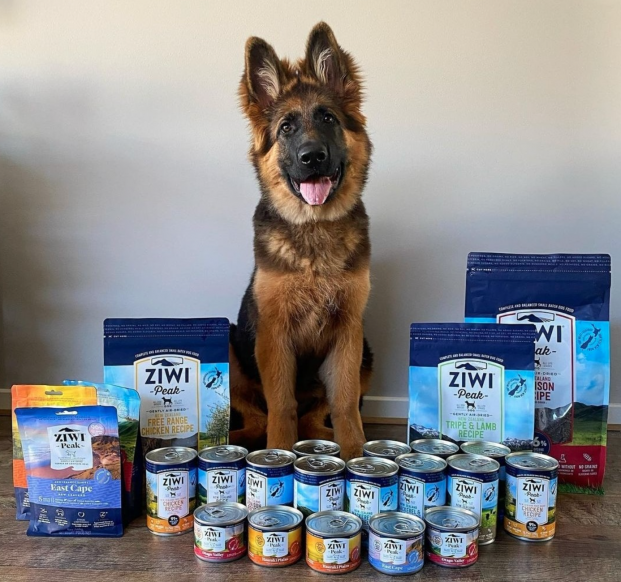 Ziwi Peak Dog Food Review -
A Complete Analysis
Are you interested in starting your dog on a raw diet? Then a Ziwi Peak dog food review is in order. This high-end food is made with air-dried, free-range meat to keep your dog nourished and energetic all day long. Check out what our experts had to say about it!
---
Ziwi Peak Dog Food Review
Ziwi Peak - Overall 4.5 Star Rating
Ingredients:

Beef, Beef Liver, Beef Kidney, Beef Heart, Beef Tripe, Beef Bone, Beef Lung, New Zealand Green Mussel, Inulin from Chicory, Dried Kelp, Sea Salt, Parsley, Minerals (Potassium Bicarbonate, Zinc Amino Acid Complex, Copper Amino Acid Complex, Selenium Yeast, Manganese Amino Acid Complex), Vitamins (Vitamin E Supplement, Vitamin B1 Supplement, Vitamin D3 Supplement). Naturally preserved with mixed tocopherols.

Named Protein First:

Yes.

Dog Food Type: Grain Free.
Recipe Range: Chicken or Mackerel & Lamb or Beef + more.
Suitable For: Ziwi Peak's recipe range can be suitable for puppy, adult and senior dogs depending on the recipe.
Cost: $$$$$
Australian Owned: No (but NZ owned).


Taste 5/5
Does your dog like the taste of meat? If the answer is yes, they'll love Ziwi Peak. Because of its high animal protein content and no fillers, the taste of this brand's recipes is very meat-heavy. In general, this makes most dogs go crazy over it. even the pickiest of eaters tend to enjoy Ziwi Peak. In fact, some owners use this brand as a topper to entice pups to eat "regular" food.
One of the best features of this food is that it takes nutritious but "stinky" ingredients and transforms them into easy to portion 'kibble'. This is the case with tripe, which can be a bit too smelly and difficult to handle for raw feeders. But since this food has it all mixed and dried, the smell isn't strong enough to be bothersome and dogs absolutely love it. of course, you'll still need to keep this food in airtight containers, not to avoid the meaty smell from coming out, but to keep it fresh for longer.
Considering most dogs love the taste of Ziwi Peak's recipes, we're giving this brand 5 out of 5 in this category.
Ingredients 5/5
This is the category where Ziwi Peak really shines. This brand is a great raw-feeding alternative for a reason: every ingredient is carefully selected to nourish your dog. For example, every animal protein source comes from free-range, grass-fed meat and local poultry.
When looking at the ingredients list, it's evident there are no fillers that will artificially bump up the protein or fat content.
As such, the first 6 to 7 ingredients in all their dry recipes are of animal origin. This includes plain meat, but also heart, kidneys, tripes and other goodies. We'll go into detail in the protein content category.
After all that protein, the recipes also have some extras such as green-lipped mussels, lecithin, inulin, vitamins and minerals.
Green lipped mussels in particular can be a great addition to your dog's diet. This New Zealand seafood is rich in omega-3 and other powerful fatty acids. In turn, these compounds have a direct effect over your dog's joint health and overall inflammation. In fact, many arthritic dogs see symptom improvement after including green mussel extract in their diet.
According to recent research, green lipped mussel can offer as much joint support as traditional NSAIDs … without their nasty side effects.
NSAIDs, short for non-steroid anti-inflammatories, have well-studied side effects. These appear particularly strong in patients that use them daily. Commonly used NSAIDs include ibuprofen, carprofen, and aspirin.
After chronic use, a dog on NSAIDs can have damaged liver and gut function, and eventually damaged joint cartilage. This is ironic, since one of the most common reasons to prescribe NSAIDs is dealing with joint pain.
In contrast, green lipped mussels have all the anti-inflammatory benefits of regular NSAIDs, without the cons. The reason for this effectiveness is their high percentage of chondroitin, and their fatty acid content.
Chondroitin strengthens your dog's joints by nourishing the collagen capsule. In turn, this keeps their joints 'well-oiled' and avoids wear-and-tear. On the other hand, green lipped mussels have more than 90 different types of fatty acids, including EPA and DHA. These fatty acids have well-researched anti-inflammatory effects, help with pain management, and will improve your pup's quality of life.
Luckily, researchers have figured out how much green lipped mussels your dog needs according to their weight. according to dogs naturally magazine, pups up to 5kgs should have 200mg per day. Then, dogs 5 to 13 kgs should be on 400mg a day, dogs up to 25 kgs need around 800mg, and dogs heavier than that will do good on 1200mg per day [1].
Considering these benefits, green lipped mussels are a great addition to your dog's diet at any life stage, but especially as they get older.
Since all ingredients come from sustainable sources, and there are no fillers in any of the recipes, we're giving Ziwi Peak 5 out of 5 in this category.
Protein content 5/5
When it comes to protein, this brand packs everything your dog needs.
We love that all meat in Ziwi Peak comes from sustainable sources. The beef and venison in these recipes come from free-range, grass-fed animals, while poultry is ethically raised respecting animal's welfare. Plus, they also include a good mix of bones and other internal organs that round up your dog's nutrition through collagen, connective tissue and other types of non-muscle tissue.
On the other hand, all recipes are 'gently air-dried' to preserve the nutrients in meat. This is a very different process than in traditional kibble-making. Regular kibble is made by forming a dough with all ingredients. Then, it's either cut into pieces and baked, or heated under pressure and pushed through a cutting machine (extrusion method). [2]. Unfortunately, this process lowers the overall nutritional availability in your dog's food.
"The extrusion process primarily destroys vitamin A, vitamin E and the B-group vitamins in dry food ingredient mixtures. Thiamine, a B vitamin is one of the least stable vitamins and reported retentions are known to decrease from 90% to about 30% after heating."– Volhard dog nutrition [3]
Considering vitamins are added before the cooking process, there is no way of being sure the vitamins stated on the package get to your dog, or in what quantities. Protein also suffers, since collagen and other connective tissue liquifies in the heating process, destroying essential amino acids [3].
In contrast, Ziwi Peak air dries their food raw, meaning it isn't subject to any heat. This produces a nutrient dense food by slowly evaporating the ingredients' moisture. According to experts, this offers nutrition similar to raw diets, but in a more convenient form [4].
Considering the high-quality protein sources used in all recipes, and how the air-dried process keeps nutrients virtually intact, we're giving this brand 5 out of 5 in this category.
Additives 5/5
We've already mentioned the bulk of the ingredients in Ziwi Peak recipes. On top of the high-quality protein and green lipped mussels, the rest of the ingredients come in such small amounts that they don't have a lot of impact.
However, this brand includes a few gems that we need to mention. For starters, all recipes feature inulin. This is a starch-based compound that comes from chicory. Inulin is a great source of soluble fibre, also known as prebiotics. These compounds are essential to keep your pup's gut bacteria happy, since they feed on it to live. on the other hand, prebiotics also make it easier for your pup to really absorb their food's nutrients by improving digestion [2].
Then, the recipes all include chelated minerals. These are compounds specifically modified to make absorption easier. While all dog foods have vitamins and minerals, chelated minerals tend to be exclusive of high-end brands that focus on proper nutrient absorption.
Finally, we needed to mention the inclusion of selenium yeast. This is a change from the typical form of selenium included in dog foods, sodium selenite. In turn, selenium yeast is considered a safer anti-cancer alternative [5].
Taking into account the high-quality additives found in Ziwi Peak recipes, we're giving this brand 5 out of 5 in this category as well.
Variety 5/5
This brand has different options for your dog, all centred around providing high-quality nutrients. Their air-dried dog food has 2 main lines, one with single-source proteins, and others based around a mix of proteins native to specific New Zealand ecosystems. This brand also offers a smaller range of wet food that stand out because of their ingredients. Unlike most canned dog food, Ziwi Peak doesn't add any thickeners or even gelatine to improve consistency. It's nice to see wet food with 91% animal-based ingredients, very little water, and pretty much nothing else.
On top of the air-dried and wet food, this brand also offers a small selection of treats that can be very useful during training.
If you're looking for puppy-specific recipes, Ziwi Peak doesn't have any. Their food is certified for all life stages, but you'll need to carefully portion out your puppy's food to make sure you're not under or overfeeding them.
Because of the reasonable variety, we're giving this brand 5 out of 5 stars.
Price 3/5
This is where Ziwi Peak falls short. Their high-quality ingredients and lengthy air drying process hike up the price significantly. Despite all its benefits, it's unlikely a household with more than one dog, or even one relatively big pup, will be able to exclusively feed this brand.
Because of it, many people choose to use Ziwi Peak as a topping, or even as a treat during training. Others like to rotate with other more affordable brands to keep the health of their pup stable but save some costs.
Since some premium food is better than none, rotating or using sparingly is a good idea. However, we cannot give 5 stars in this category because most people won't be able to buy Ziwi Peak for everyday feeding -we know we couldn't!
Considering these issues, we're taking off 2 stars.
---
Do Not Buy Ziwi Peak If…
This high-quality food will be beneficial for most pups, but it might not be the right choice if you:
---
The Verdict
Ziwi Peak has been at the top of our best dog food selections for a reason. It uses sustainably sourced ingredients, has zero fillers, is grain-free, is air dried and most dogs love the taste. The only issue we have is the price, and that's why it's not our top choice.
Most of us cannot use this brand as everyday food, and instead, use it as a treat or topping. This is fine! Your dog will still get all the benefits, especially if you choose a good-enough food for the rest of their diet. We recommend Ziwi Peak, but don't stress out if you can't afford it every month.
Want to read more dog food brand reviews? Check out the below:
References
Dogs naturally magazine. Green Lipped Mussels For Dogs: Replace Those Harmful NSAIDs. https://www.dogsnaturallymagazine.com/green-lipped-mussels-dog/
Global alliance of pet food associations. How pet food is made. http://www.gapfa.org/files/download/9_GAPFA_Factsheet_How_pet_food_is_made.pdf
Volhard dog nutrition. How heat affects food. https://www.volharddognutrition.com/blog/how-heat-affects-food/
Modern dog magazine. What's the Difference Between Raw, Dehydrated, Freeze Dried, and Air Dried Dog Food, Anyway? https://moderndogmagazine.com/articles/whats-difference-between-raw-dehydrated-freeze-dried-and-air-dried-dog-food-anyway/116317
Guo, C. et al (2015). Effects of Selenium Yeast on Oxidative Stress, Growth Inhibition, and Apoptosis in Human Breast Cancer Cells. International journal of medical sciences, 12(9), 748–758. https://www.ncbi.nlm.nih.gov/pmc/articles/PMC4571553/