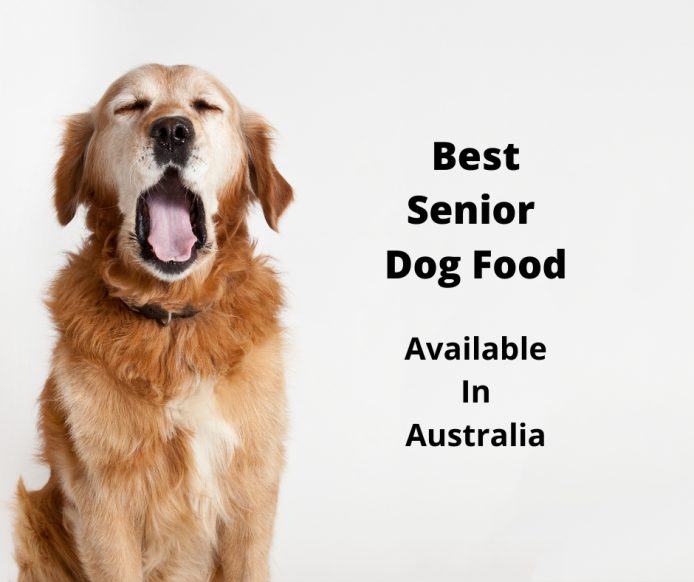 The Best Senior Dog Food Available In Australia - The Overview
Petzyo Dry Dog Food Salmon & Ocean Fish with Green Lipped Mussels
As our canine companions get older, they get more sensitive in many ways. They need comfier beds, they start getting temperamental, and yes - they need better food to keep them happy.
Today's guide will tell you everything you need to know in order to choose appropriate senior dog food.
---
Choosing Healthy Food For Older Dogs
As our pets start getting older, the risk of developing a variety of health problems becomes greater, including arthritis, heart disease, diabetes, and dental health issues (1). While some of these issues can sometimes be prevented or alleviated with proper care and diet, often there is not much we can do about it - dogs simply start encountering more problems as they age.
You've probably already seen specialised dog foods for seniors and might be wondering what makes it so special. But let's get one thing out of the way first - when exactly is a dog considered a senior?
"It really depends on the individual dog. In general, giant breed dogs age faster than smaller breed dogs. A Great Dane is senior by roughly 5-6 years old whereas a Chihuahua would likely only be middle-aged then, and probably not considered a senior until 10-11 years." - Lorie Huston, DVM for PetMD
In the end, the exact age is not that important. When a dog starts getting older, owners usually notice certain changes in habits and behaviour. Most notably, older dogs are usually much less active, which warrants a certain change in the diet to keep up with that. In any case, the key is paying attention to your dog and adjusting the diet to fit their personal needs.
So, what exactly should one pay attention to when looking for senior dog food? Here are a couple of suggestions:
Calories
"Seniors and geriatrics generally need lower-calorie diets to help prevent obesity -- a huge problem in seniors -- and higher-fibre diets to improve gastrointestinal health" - Fred Metzger, DVM for FETCH
As noted, older dogs usually don't engage in too many high-energy activities, and hence they do need as many calories as before. For some dogs, keeping them on the old diet can result in gaining weight - and this can lead to even more health problems.
Now, gaining weight with age is a common occurrence in dogs, but it's by no means universal. There is no need to starve your dog, but if you do notice they are gaining weight, a low-calorie diet can help.
Omega-3 Fatty Acids
Omega-3 Fatty Acids (sometimes listed as EPA and DHA for example) are another ingredient that is beneficial to every dog, but seniors can benefit from it even more. These fatty acids contribute to the overall health of the dog, help keep the coat healthy and shiny; and boost bone health, helping fight arthritis. Omega-3 fatty acids are most added to geriatric dog food by adding fish oil or other fish products.
Low Sodium
Just like with human junk food, store-bought dog food formulas often have way more sodium than dogs really need. Reducing the amount of sodium is always a good idea when planning a diet for older dogs. For dogs suffering from hypertension or other heart or kidney problems, it's even more important as too much sodium can make their illness worse (4).
---
Best Food for Older Dogs in Australia 2022
Petzyo - 5 Star Rating
Ingredients:

Sustainable Salmon and Oceanfish, Sweet Potato, Peas, Lentils, Carrots, Broccoli & Broccoli Stem, Tomato, Spinach, Kelp, Blueberries, Rosemary, Parsley, Green Lipped Mussels, Basil, Oregano, Turmeric, Chicken Oil, Flaxseed Oil, Fish Oil, Vitamin and Minerals (Vitamins A, B1, B2, B6, B11, B12, D, E, K, Taurine, Niacin, Folic Acid, Biotin, Choline, Pantothenic Acid, Omega 3 and 6 Fatty Acids, Iron, Zinc, Copper, Manganese, Selenium, Iodine and Cobalt).

Named Protein First:

Yes.

Dog Food Type: Grain Inclusive.
Recipe Range: Kangaroo, Sweet Potato & Superfood Extras or Salmon, Ocean Fish & Green Lipped Muscles or Chicken, Turkey & Superfood Extras or Petzyo Raw Food Range.
Suitable For: Petzyo's recipe range can be suitable for puppy, adult and senior dogs depending on the recipe.
Cost: $$$
Australian Owned: Yes.


Not just for seniors, Petzyo is probably the best dog food in Australia available these days. They don't make food specifically geared towards seniors, but the nutrient profile of their recipes is so good that the food fits dogs of all ages.
They are committed to using high-quality ingredients, sustainably and locally sourced where possible, and create formulas that are rich in protein but low in fats.
The Petzyo Dry Dog Food Salmon & Ocean Fish with Green Lipped Mussels being tested by our independent expert team.
Related: Petzyo Dog Food Review.
We've chosen to showcase the Salmon & Ocean Fish with Green Lipped Mussels for this list as all these ingredients are rich in Omega-3 fatty acids, which is great for seniors. Plus, the green-lipped mussels contain glucosamine and chondroitin which are recommended for senior doggos too. (2)
However, you can choose any of the recipes they offer - they are all well-balanced and full of healthy nutrients.
Verified Review - 5/05/2021

"We have a new rescue dog who can't stomach poultry, so after much research I came across Petzyo's kibble. Our dog is happy to eat it , coat looks shiny, and it doesn't upset her stomach. So a big thank you for putting out this product."
---
Ziwi - 4.5 Star Rating
Ingredients:

Mackerel, Lamb, Lamb Heart, Lamb Tripe, Lamb Liver, Lamb Lung, New Zealand Green Mussel, Lamb Kidney, Lamb Bone, Lecithin, Inulin from Chicory, Dried Kelp, Minerals (Dipotassium Phosphate, Magnesium Sulfate, Zinc Amino Acid Complex, Copper Amino Acid Complex, Iron Amino Acid Complex, Manganese Amino Acid Complex, Selenium Yeast), Salt, Parsley, Preservative (Citric Acid, Mixed Tocopherols), Vitamins (Vitamin E Supplement, Thiamine Mononitrate, Vitamin D3 Supplement, Folic Acid).

Named Protein First:

Yes.

Dog Food Type: Grain-free
Recipe Range: Mackerel & Lamb, or Beef, or Free-range Chicken, or Venison and more
Suitable For: Ziwi Peaks recipe range is suitable for dogs of all ages
Cost: $$$$$
Australian Owned: No (but NZ owned)


Ziwi is another top-quality dog food range proudly made in New Zealand. We chose it as a runner up because the price point is quite high, so it might not be affordable for anyone. However, if the price is not an issue, we highly recommend it.
Another thing to keep in mind regarding the price is that Ziwi Peak air-dried food is extremely nutrient-dense which means smaller portions are required for each meal, which brings the final price down quite a bit.
The Ziwi Peak Air-Dried Dog Food Mackerel and Lamb being tested by our independent expert team.
The reasons for going with Ziwi are many. First, their recipes contain only the best possible ingredients for your dog. There are no unnecessary fillers to bulk up the food. That means not only there are no grains, but also no potatoes and other low-nutrient plant-based ingredients, no added sugars and no mysterious meat meals and by-products.
Moreover, all ingredients are carefully sourced and Zeve monitors their ingredients during the whole process of getting them from the field to your dog's bowl. That means you can be sure your dog is getting meat grown without the use of antibiotics and growth hormones.
All of the Ziwi peak formulas are suitable for all life stages, from puppy to senior. The only thing that needs to be changed is the portion side. We have chosen the Mackerel and Lamb recipe for this list because it's lower in fat than other options. That means that the calorie content is lower, which is great for seniors, but feel free to consider other recipes from Ziwi too.
Verified Review - 4/09/2020
My Dogs Love All Ziwi But They Love This Ziwi- The Best
"If there was one critique it would be that the pieces are quite hard/dry (it used to be softer but probably lasts longer this way) which can be a little difficult for smaller dogs to swallow. But my dogs have it with a little water and canned Ziwi Peak wet food mixed in to soften it up a little."
---
Ivory Coat - 3.5 Star Rating
Ingredients:

Salmon meal, brown rice, oats, red lentils and/or field peas, beans, chicken meal, chicken oil, palatant, beet pulp, linseed, salmon oil, canola oil, vitamins and minerals, salt, potassium chloride, chicory root inulin, taurine, natural antioxidant, yucca schidigera extract

Named Protein First:

No (but salmon meal is OK).

Dog Food Type: Grain inclusive (grain-free options also available)
Recipe Range: Chicken with Coconut Oil or Lamb & Sardine or Lamb & Kangaroo or Turkey & Brown Rice or Ocean Fish + More.
Suitable For: Ivory Coat's recipe range can be suitable for puppy, adult and senior dogs depending on the recipe.
Cost: $$$
Australian Owned: No (but made in Australia)


Ivory Coat is a newcomer on the Australian dog food market, but their line definitely looks promising. It is obvious that they put a lot of effort into creating quality formulas using quality ingredients. They offer a wide range of recipes, each created to fit the requirements of different ages and breeds. The Salmon & Brown Rice recipe was specifically created for older dogs.
The first ingredient is Australian salmon meal, a rich source of protein and fatty acids to give our seniors the health boost they need. Brown rice and oats were added to boost the fibre content of this recipe and make the food easier on a senior's stomach.
Related: Ivory Coat Dog Food Review.
What makes this kibble great for small dogs is that individual pieces are quite small. Each individual piece of kibble measures 12 millimetres in diameter.
Finally, this food does NOT contain sulphite preservatives which were found to be potentially dangerous for a dog's health, so you can go ahead and feed Ivory Coat to your dog stress-free.
Verified Review - 4/01/2020
Quality Dry Food For My Senior Dog
"My dog loves these biscuits and the transition from his old dry food was quite easy. His coat doesn't seem to have improved but I'm happy with the quality and value. My only gripe is that there are no instructions for how to fix the zip lock if it goes off-track, I panicked for a few minutes that I would have to cut it open and waste almost the whole bag."
---
Black Hawk - 3.5 Star Rating
Ingredients:

Kangaroo Meal, Chicken Meal, Peas, Tapioca, Chicken Fat (naturally preserved with Rosemary Extract, Mixed Tocopherols and Citric Acid), Potato, Sweet Potato, Fish Meal, Chicken Gravy, Sugar Bee Pulp, Essential Vitamins and Minerals (see tables), Salmon Oil, Sunflower Oil, Chicory Root, Di-Calcium Phosphate, Alfalfa, Salt, Egg, Apple, Brewers Yeast, Pumpkin Seeds, Natural Antioxidants, Coconut Oil, Yoghurt Powder, Emu Oil, Blueberries, Cranberries, Dandelion Tea, Parsley, Peppermint Tea, Rosemary Extract, Chondroitin, Glucosamine, Carrots, Yucca Schidigera, Spinach, Kelp, Tomato, Beta Carotene.

Named Protein First:

No (but kangaroo meal is OK).

Dog Food Type: Grain-free
Recipe Range: Chicken, Lamb, Salmon + More
Suitable For: Adults and seniors
Cost: $$
Australian Owned: Yes.


This feed from Black Hawk was not designed for seniors, but it is completely appropriate for older dogs as well as adults. This is due to the excellent nutritional profile that can support the sensitive dietary needs of older canines.
Black Hawk offers a couple of different recipes, both in grain-free and grain-inclusive versions. We chose the Kangaroo formula for this list because the meat is rich in protein, iron, B-vitamins, as well as omega-3 fatty acids which is great for aging canines.
The Black Hawk Grain-Free Kangaroo being tested by our independent expert team.
Related: Black Hawk Dog Food Review.
This 100% Australian-made feed also doesn't contain any useless fillers like grains or corn. Instead, it is packed with vegetables and healthy additions like blueberries, alfalfa, and coconut oil.
Verified Review - 4/10/2020
Best: Black Hawk Kangaroo
"Great for energy, skin and coat — apparently also very tasty, judging from dog's enthusiasm!"
---
Final Verdict
As outlined in this guide, choosing the most suitable dog food that's specifically formulated to provide the nutrition they need as they age is incredibly important.

We highly recommend either Petzyo, or Ziwi Peak (if you can afford it). These two brands continuously top the rankings in our Australian dog food ratings and are a great choice overall.
Check out our other dog food guides below:
There is a widespread myth that older dogs need less protein. However, experts say this is simply not true (4). In fact, extra protein could help geriatric dogs maintain their muscles and keep them healthier overall.
This is hard to say. There are no rules that determine what should be the contents of dog food labelled as "senior dog food" - it is completely open to interpretation. Ideally, senior dog food should be high in protein, perhaps a bit lower in fat to prevent gaining weight and could contain some superfoods rich in nutrients. However, this is not always the case. The only thing that matters is the ingredients list - the 'senior' label is often just a marketing trick.
You might have noticed that our list included only one option that is made specifically for seniors. This is because there is often nothing inherently better in dog food labelled for seniors. Feed made for all life stages can be just as good. It is more important to pay attention to the ingredients and the nutrient profile of the product you choose than anything else.
References
"7 Common Ailments in Senior Dogs". PetMD Editorial. Retrieved May 3, 2021. https://www.petmd.com/dog/slideshows/care/common-ailments-for-senior-dogs#slide-1
Houston, L. February 20, 2021. "Tips for Caring for Senior Dogs". Retrieved May 3, 2021. https://www.petmd.com/dog/care/evr_dg_caring_for_older_dogs_with_health_problems
Kam, K. "Senior Dog Food: Meeting Aging Canines' Nutritional Needs.". Retrieved May 3, 2021. https://pets.webmd.com/dogs/guide/senior-dog-food#1
Coile, C. October 28, 2016. "How to Feed the Senior Dog". AKC. Retrieved May 2, 2021. https://www.akc.org/expert-advice/nutrition/how-to-feed-the-senior-dog/