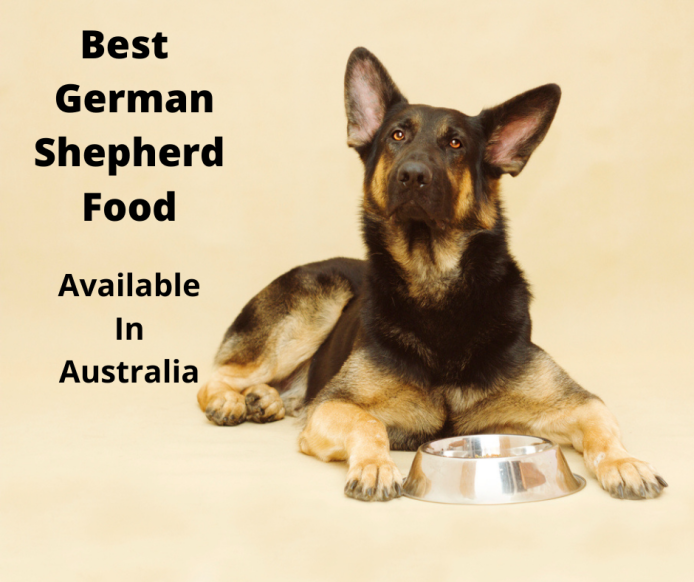 The Best Food For German Shepherds
- GSD Puppy To Adult Diet Guide
Gentle Dog Trainers No.1 Dry Dog Food
PETZYO DOG FOOD
German Shepherds are one of the most popular breeds in the world and for a good reason. They're highly intelligent, easy to train and great with people. What's not to love about them?
To be as happy and active as they are, German Shepherds need a good diet. Today, we're going to help you choose the top German Shepherd food options. So let's dive in!
---
The Basics Of German Shepherd Diet
Different breeds have different needs. When searching for the best food for German Shepherds, your best bet is to flip the packaging and study the ingredient list. Here's what you need to pay attention to.
Protein
Large breeds have a long road from being a pup to an adult in terms of weight. And to help them get to their full size, they need a diet rich in proteins. By that, we mean a protein content higher than 22% (1).
Aside from numbers, you should also pay attention to the way protein sources are named. Ideally, you want the ingredient list to say "beef" or "chicken." The second-best options are meat meals.
Calories
German Shepherds are a strong, working breed. This means their diet should be highly caloric, but the exact amount depends on their activity levels. Dogs that get plenty of regular exercise should eat between 1600 and 2400 calories each day. Those that are considered moderately active should be fed 1500 to 1900 calories, while lazy pooch should eat 1400 to 1650 calories per day. In general, German Shepherds are prone to obesity, you should keep a close eye on the number of calories you're feeding your dog.
Supplements
Well-rounded food needs to contain all the important vitamins your dog needs. These include vitamin A, B1, B12, B5, B9, D, E and K (2). If the dog food has the AAFCO statement, it means it contains all the vitamins that meet your dog's daily requirements (3).
---
Things To Consider Before Buying Food For Your German Shepherd
When it comes to German Shepherds, there are a few health issues this breed is more susceptible to than others. Here's what they are and what ingredients can help in dealing with these problems.
Food Allergies
German Shepherds are susceptible to food allergies, which are usually exhibited as dry and itchy skin, especially on the paws. In many cases, it also manifests through diarrhoea.
If a dog has a food allergy, it means that the body's immune system is reacting to a certain ingredient in food, which is usually a protein. It takes time for the antibody reaction to occur, so the allergies might not be noticeable unless your pooch has been eating the same brand or food type for a prolonged period of time.
The ingredients that are most likely to be allergens are dairy products, eggs, beef, chicken, soy and gluten. So ideally, you should try and avoid these ingredients in your dog's diet.
Bloating
Like other deep-chested breeds, German Shepherds are at high risk of bloating. Unfortunately, not a lot of dog parents are aware of this being a potentially fatal situation. Bloating develops when a dog's intestines and stomach get twisted and trap gas.
"If this isn't enough, there is yet another scary thing that happens, and it is devastating to see. As the stomach flips, it drags the spleen and pancreas along with it, cutting off the blood flow. " - Dr Jeff Grognet for AKC
While it's not scientifically proven what exactly causes bloating to happen, one of the possible causes is fast eating, or better said, gulping down food. If your pooch does that too, then it's better to go for larger kibbles. This will force your dog to actually chew, rather than just swallow the entire food bowl content.
Joint Issues
German Shepherds are big dogs, so they're at greater risk of developing arthritis and other joint issues. Omega 3 and 5 fatty acids have tons of benefits for a dog's health, including bones and joints. But dogs can't produce these acids themselves, so they need to get them through food.
---
Best Dog Food For German Shepherds 2022: Our Top Picks
What sets this product apart from the rest?
Petzyo - 5 Star Rating
Ingredients:

Sustainable Kangaroo, Sweet Potato, Peas, Lentils, Carrots, Broccolli & Broccoli Stem, Tomato, Spinach, Kelp, Blueberries, Rosemary, Parsley, Basil, Oregano, Turmeric, Chicken Oil, Flaxseed Oil, Fish Oil, Vitamin and Minerals (Vitamins A, B1, B2, B6, B11, B12, D, E, K, Taurine, Niacin, Folic Acid, Biotin, Choline, Pantonthenic Acid, Omega 3 and 6 Fatty Acids, Iron, Zinc, Copper, Manganese, Selenium, Iodine and Cobalt).

Named Protein First:

Yes.

Dog Food Type: Grain Inclusive.
Recipe Range: Kangaroo, Sweet Potato & Superfood Extras or Salmon, Ocean Fish & Green Lipped Mussels or Chicken, Turkey & Superfood Extras or Petzyo Raw Food Range
Suitable For: All ages, depending on the recipe
Cost: $$$
Australian Owned: Yes.


If you want to be sure your dog is eating only the best stuff, you can't go wrong by choosing Petzyo (our number 1 best dog food in Australia). This Australian brand offers premium formulas that are AAFCO and PFIAA compliant, meaning they're suitable for dogs of all ages.
Among three different recipes, the Kangaroo & Sweet Potato has everything you need in a German Shepherd's diet. The first ingredient is a kangaroo, which is red meat with the highest protein level. It's hypoallergenic, so even the most sensitive pooches can enjoy this food.
The Petzyo Kangaroo & Sweet Potato Dog Food being tested by our independent expert team.
The second ingredient is sweet potato, which is great for dogs. It's low in fat but high in vitamins, and it's good for overall health, including the cardiovascular and digestive systems. The recipe also contains superfoods like blueberries and turmeric. They're both rich in fibres and minerals, and have anti-inflammatory effects on the dog's body.
Related: Petzyo Dog Food Review.
And now for the best part. Petzyo recipes provide your German Shepherd with all the important nutrients without emptying your wallet every month. Plus, they offer fast shipping across the entire continent, so your pooch won't stay hungry for long.
Verified Review - 4/11/2021
"My Dog can be quite the fuss pot but absolutely loves his Petzyo kibble!"
---
Meals for Mutts - 4 Star Rating
Ingredients:

Salmon and Sardine, seasonal vegetables, ground brown rice, alfalfa, natural fats and oils, omega 3, 6 & 9, coconut oil, turmeric, parsley, pre & probiotics, kelp, vitamins A, C, D3, E, K, B1, B2, B6, B12, niacin, pantothenic acid, folacin, biotin and natural organic acids, plus minerals, calcium, phosphorus, sodium, copper, zinc, iron, manganese, and iodine. Also contains Yucca shidigera extract and natural flavours and is preserved using natural vitamin E and rosemary extract.

Named Protein First:

Yes.

Dog Food Type: Grain Inclusive.
Recipe Range: Bacon & Eggs, Duck & Turkey, Lamb, Goat, Kangaroo, Turkey and Chicken +more
Suitable For: All ages, depending on the recipe
Cost: $$
Australian Owned: Yes.


No matter how well they're treated, some dogs gulp their meals as if it were their last. It doesn't take more than a blink of an eye to see the bottom of the bowl. While inhaling food can be dangerous, teaching your dog to eat slower isn't easy. But what you can do is buy large-sized kibble that can't be swallowed, like these by Meals For Mutts.
Aside from the kibble size, what makes this food great for German Shepherds are the ingredients. The main protein is fish, which is hypoallergenic and high in proteins. Both salmon and sardines are high in fatty acids which are important not only for bones and cartilage, but the immune system overall. They also protect against cardiovascular diseases, help with brain development and improve coat and skin condition.
The Meals For Mutts Salmon and Sardine Gluten Free Dog Food being tested by our independent expert team.
This recipe is grain-free, so the main source of carbs are chickpeas and seasonal vegetables. These are also a good source of fibre, which helps with digestion. Kelp and alfalfa are both rich in minerals and have anti-inflammatory properties which help in the case of arthritis and similar conditions.
Verified Review - 3/09/2021
Meals for mutts large kibble
"Large kibble salmon & sardines is fantastic. My Rottweiler and Aussie shepherd love it. Good for coats and joints."
---
Taste of the Wild - 3.5 Star Rating
Ingredients:

Salmon, ocean fish meal, sweet potatoes, peas, potatoes, canola oil (preserved with mixed tocopherols), pea protein, tomato pomace, smoked salmon, salmon meal, natural flavor, salmon oil (a source of DHA), salt, choline chloride, taurine, dried chicory root, yucca schidigera extract, tomatoes, blueberries, raspberries, dried Lactobacillus plantarum fermentation product, dried Bacillus subtilis fermentation product, dried Lactobacillus acidophilus fermentation product, dried Enterococcus faecium fermentation product, dried Bifidobacterium animalis fermentation product, vitamin E supplement, iron proteinate, zinc proteinate, copper proteinate, ferrous sulfate, zinc sulfate, manganese sulfate, copper sulfate, potassium iodide, thiamine mononitrate, manganese proteinate, ascorbic acid, vitamin A supplement, biotin, niacin, calcium pantothenate, sodium selenite, pyridoxine hydrochloride, vitamin B12 supplement, riboflavin, vitamin D3 supplement, folic acid.

Named Protein First:

Yes.

Dog Food Type: Grain-free
Recipe Range: Roasted Lamb, Roasted Fowl, Smoked Salmon, Venison & Garbanzo Beans, Roasted Bison & Roasted Venison, Wild Boar +more
Suitable For: All ages, depending on the recipe
Cost: $$
Australian Owned: No


Puppies grow faster than lightspeed. Over just a few months, their weight can go from 1 to 30 kilograms. This obviously puts a lot of strain on their body, so they need to eat food with all the important nutrients for growth.
This is one of the best foods for a German Shepherd puppy you can find on the market. The formula meets the nutritional levels established by the AAFCO, which means it contains all your pup needs to grow healthy. The main protein is salmon, which is rich in omega fatty acids. These help with brain and vision development in puppies, among other things.
The Taste of the Wild Puppy Food being tested by our independent expert team.
The kibbles are small so that young pups can easily chew them, and crunchy to help with keeping their teeth clean. To promote a young pup's gut health, these kibbles contain 80 million live, active probiotic cultures.
This grain-free recipe contains sweet potatoes, peas and tomatoes. These veggies are rich in minerals and antioxidants that provide support to a pup's immune system. And thanks to the Yucca schidigera extract, your pup's number two won't smell kilometres away.
Verified Review - 10/08/2021
It's worth the subscription.
"I have trusted this brand for my puppy and now that she is an adult I can say that throughout the stage it has been great, besides that many people have asked me how to make her hair shine so bright and I'm sure it was because of the feed. In addition to the Amazon subscription, the value for money is spectacular. If we are what we eat, our dogs too, and I will continue to trust Taste to go the Wild."
---
Lifewise - 3.5 Star Rating
Ingredients:

Lamb, rice, oat groats, sweet lupins, alfalfa, poultry oil stabilised with vitamin E and rosemary oil, omega 3 6 9 oil blend, carrot, spinach, parsley, kelp, yeast cell wall extract, glucosamine, chondroitin, vitamins A, B1, B2, B6, B12, C, D3, E, K, niacin, pantothenate, folic acid, biotin, and natural organic acids, minerals calcium, phosphorus, sodium, copper, zinc, iron, manganese and iodine. Also contains natural flavours and Yucca schidigera extract.

Named Protein First:

Yes.

Dog Food Type: Grain Inclusive.
Recipe Range: Kangaroo, Chicken, Wild Tuna, Tone & Trim Lamb, Turkey +more
Suitable For: All ages, depending on the recipe
Cost: $$
Australian Owned: Yes.


Mobility issues are common with large breeds such as German Shepherds. This recipe by Lifewise is specially formulated to provide dogs with all the nutrients they need for remediating pain and movement problems.
The recipe contains glucosamine and chondroitin, which are supplements that help with maintaining healthy joint function and lessening the pain caused by arthritis. And when you add vitamins C and E with zinc and copper into the mixture, you get all the vital nutrients for cartilage health.
This food is free of GMO's, dairy, wheat, corn and soy. It's not grain-free, but contains whole grain like oat groats. They're a natural source of essential fatty acids, antioxidants, iron, manganese, zinc and B vitamins. Oat groats are high in fibre, which boosts overall gut health. In fact, all the ingredients are hypoallergenic, so there's little room for stomach issues.
Verified Review - 4/10/2021
Prompt delivery of quality product
"My dog likes the taste, as it's only been a couple of weeks I am yet to see any benefit with her arthritis. Delivery was speedy."
---
Ziwi Peak - 4.5 Star Rating
Ingredients:

Mackerel, Lamb, Lamb Heart, Lamb Tripe, Lamb Liver, Lamb Lung, New Zealand Green Mussel, Lamb Kidney, Lamb Bone, Lecithin, Inulin from Chicory, Dried Kelp, Minerals (Dipotassium Phosphate, Magnesium Sulfate, Zinc Amino Acid Complex, Copper Amino Acid Complex, Iron Amino Acid Complex, Manganese Amino Acid Complex, Selenium Yeast), Salt, Parsley, Preservative (Citric Acid, Mixed Tocopherols), Vitamins (Vitamin E Supplement, Thiamine Mononitrate, Vitamin D3 Supplement, Folic Acid).

Named Protein First:

Yes.

Dog Food Type: Grain-free air-dried dog food
Recipe Range: Lamb, Mackerel & Lamb, Venison, Beef, Tripe & Lamb, Free-Range Chicken +more
Suitable For: All ages
Cost: $$$$
Australian Owned: No (but NZ owned)


Ziwi Peak recipes use only top-quality ingredients and it's one of the best food you can feed your pooch with. But given the price, we know that it can be too pricey for lots of Australian households. For that reason, only, this food is not at the top of our list. But if you can fit it into your monthly expenses, then you won't go wrong.
The first thing you notice about Ziwi Peak food is that they've named all their protein sources. The ingredient list doesn't just say "lamb," it specifically tells you all the parts of the lamb used in the recipe. You know precisely what your dog is eating at all times.
The Ziwi Peak Air-Dried Mackerel and Lamb Recipe being tested by our independent expert team.
Related: Ziwi Peak Dog Food Review.
This is air-dried food, meaning it's not cooked at high temperatures like most kibbles. The air-dry technology kills the bacteria while preserving all the good ingredients. In other words, it provides your pooch with only the good nutrients, while the bad things are destroyed in the process.
As you can see, this food is high in proteins and fats. And because of that, daily portions are smaller than with other kibbles. So when you add the numbers, it turns out the price difference isn't that big in the long run.
Verified Review - 4/09/2021
Family favourite
"Always a favourite for our dogs. Super nutritious and good for reduced mess."
---
Absolute Holistic - 3.5 Star Rating
Ingredients:

Lamb, Duck, Lamb Lung, Lamb Liver, Vegetable Glycerine, Parsley, Dried Chicory, Green Lipped Mussel, Choline Chloride, Calcium Carbonate, Kelp, Flaxseed, Antioxidant, Taurine, Iron, Zinc, Vitamin E, Vitamin B3, Copper Sulphate, Vitamin B1, Selenium, Manganous Oxide, Vitamin B5, Vitamin A, Vitamin B2, Biotin, Vitamin B6, Vitamin B12, Calcium Iodate, Folic Acid, Vitamin D3.

Named Protein First:

Yes.

Dog Food Type: Grain-free air dried dog food
Recipe Range: Chicken & Hoki, Lamb & Salmon, Blue Mackerel & Lamb, Beef & Venison +more
Suitable For: All ages
Cost: $$$$
Australian Owned: No (but NZ owned)


Very active pooches require food that's high in protein and fat content, like this one by Absolute Holistic. It's well rounded, with everything a dog needs to stay healthy while in training.

The kibbles are made using the air-drying technology, meaning they've kept all the nutritional benefits of a raw food diet. We can say this food mimics what your dog's ancestors used to eat back in the day. The jerky texture is perfect because even the pickiest pooches won't skip on eating something that resembles fresh meat so well.

All the ingredients are high in quality and sourced from free-range farms and coasts of New Zealand. All meat parts are named in the ingredient list, leaving no room for shady ingredients. One of the most interesting ingredients is the green-lipped mussel, which is endemic to New Zealand. It's a natural source of glucosamine and chondroitin, both of which are beneficial for hip and joint health.

Just by looking at the ingredient list, it's clear this food is rich in vitamins and minerals. And we can thank kelp for at least half of them. This sea plant contains about 60 minerals and vitamins and 21 amino acids. It's also high in protein and fibre and supports digestive and glandular functions.
Verified Review - 3/08/2021
Holistic Air Dried
"Great product as a topper, adds a bit of variety to boring biscuits."
---
Ivory Coat - 3.5 Star Rating
Ingredients:

Turkey Meal, Potatoes, Peas, Dried Turkey, Pea Fibre, Tomato Pomace, Chicken Fat (preserved with mixed tocopherols), ground flaxseed, salmon oil, carrots, sweet potatoes, kale, broccoli, spinach, parsley, apples, blueberries, vitamins A, B1, B2, B5, B6, B12, D3, E, Beta-Carotene, Niacin, d-Calcium pantothenate, Biotin, Folic Acid, Magnesium, Iron, Zinc, Manganese, Copper, Natural Prebiotic, Rosemary Extract & Green Tea Extract.

Named Protein First:

No (but meal is OK)

Dog Food Type: Grain-free
Recipe Range: Lamb & Kangaroo, Chicken with Coconut Oil, Lamb & Ocean Fish, Turkey & Duck +more
Suitable For: All ages, depending on the recipe
Cost: $
Australian Owned: Yes.


As our canine companions get older, they become less active. This means that all the extra weight they might have puts a strain on joints. In the case of German Shepherds, this might be even more problematic, due to joint issues. For that reason, we want our pooches to be as fit as possible, even with lower physical activity.
This recipe by Ivory Coat uses turkey as a main source of protein. Turkey is low in fat but rich in proteins. It gives your elderly dog all the important nutrients without being too caloric. What's more, the turkey used in the recipe is sourced from Australia, which is always a plus.
The Ivory Coat Turkey Reduced Fat/Senior Adult Dry Dog Food being tested by our independent expert team.
This is a grain-free recipe, and the main source of carbs are potatoes. They're rich in manganese, phosphorus, copper, potassium, and vitamin B6 and C. Along with peas, they're also a great source of fibre, so together, they promote the dog's gut health.
Related: Ivory Coat Dog Food Review.
Another thing worth noting is the amount of omega 3 and 6 fatty acids. Aside from improving the overall skin and coat condition, these acids play a big role in promoting cartilage and bone health. This is important for dogs of all sizes and ages, but especially the older ones.
Verified Review - 3/04/2020
Ivory Coat Senior reduced fat dog kibble
"This is the best kibble by far. I don't care about the grain free aspect, I like the protein / fat ratio & that my fussy kelpie no longer has skin issues or foul smelling poo. The reduced fat version trimmed him down without leaving him hungry. It's great!"
---
Final Verdict
Food requirements differ from breed to breed. For German Shepherds, that's food that's hypoallergenic and promotes both joint and digestive health. And that's exactly what Petzyo offers. It uses ethically sourced proteins and is rich in fatty acids and most importantly, doesn't burn a hole in your pocket.
But if you're looking for a bigger recipe range, you can't go wrong by choosing Meals For Mutts.
While German Shepherds aren't considered adults until they reach 24 months of age, they should start eating adult food much sooner. In fact, that should happen as soon as they reach 80% of their adult weight, which usually occurs around their first birthday. The main reason for switching so soon is because puppy food is highly caloric, and German Shepherds are prone to obesity.
Yes, because large dog food is made with well-balanced nutrition for big dogs. It's higher in protein and lower in fat than other dog food. It also contains the correct amount of vitamins, minerals and fatty acids needed for proper body functioning.
You should always change your dog's food gradually. Depending on how sensitive your dog generally is, this can take anywhere from one to 12 weeks. Start with substituting 25% of your dog's food with the new and increase the amount each day.
References
Shepped Team. August 15 2020. "Vet Recommended Feeding Guidelines For Your German Shepherd Dog". Shepped. Retrieved October 30, 2021. https://www.shepped.com/feeding-guidelines/
Tupler, T. February 01, 2021. "Dog Nutrition: Guide to Dog Food Nutrients" PetMD. Retrieved October 30, 2021. https://www.petmd.com/dog/nutrition/evr_dg_whats_in_a_balanced_dog_food
PetMD Editorial. December 03, 2014. "Dog Food Label Lessons: What is an AAFCO Statement?" PetMD. Retrieved October 30, 2021. https://www.petmd.com/dog/centers/nutrition/dog-food-label-lessons-what-is-an-aafco-statement
Grognet, J. September 21, 2021. "Bloat (or GDV) in Dogs — What It Is and How it's Treated" American Kennel Club. Retrieved October 30, 2021. https://www.akc.org/expert-advice/health/bloat-in-dogs/