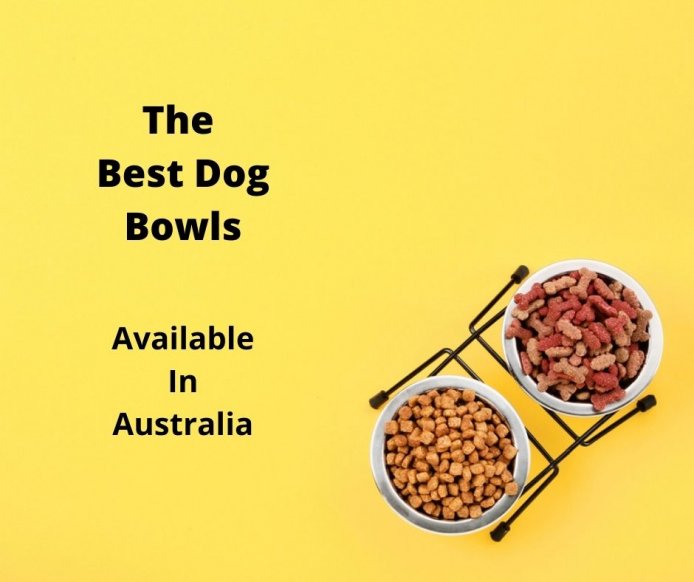 The Best Dog Bowls In Australia -
An Overview
One of the basics of doggy life is food and water. Today we are tackling the vessels that hold them. Though dog bowls seem like a relatively simple product, there is plenty of variation within them.
There are metal bowls and ceramic bowls. Raised bowls and portable bowls. We are going to cover them all at the end, we'll give you our recommendations for the best dog bowls in Australia!
But first, let's define what makes a good dog bowl. What might you be looking for when searching for a dog bowl for your pup?
---
How To Find The Best Dog Bowl For Your Dog
There is a myriad of surprising factors when it comes to searching for dog bowls for your dog. Some of these are obvious but some are a little more nuanced.
Water Bowls vs Food Bowls?
Pretty simple question - what are you using the bowl for?
Though many bowls will double up as suitable for both food and water, some bowls are specifically made for one or the other. For example, slow-feeders (which we will get onto) have several ridges or plastic pieces built into its shape to prevent your dog from eating too quickly. This isn't as much of a problem for water, so filling a slow feeder with water kind of defeats the purpose.
Likewise, there are water bowls that have specific design features to keep from liquids spilling out. This is completely superfluous for a food bowl.
It is not advisable to use one bowl for both food and water. Partly because water should be consistently available to your dog. Secondly, because it is not best for sanitation reasons. Finally, it requires more washing up from you.
Feel free to buy the same type of bowl twice for both water and food but keep them separate.
What Is The Best Material For Your Purposes?
Dog bowls are made of several materials and they all have their merits.
Stainless steel dog bowls


This is the household staple for many reasons. Stainless steel is easy to clean, extremely durable and rust-resistant. It should stand up well to wet food, dry food and water alike.

It may be a little boring on the design front, but stainless steel is definitely a safe choice in almost all cases.

If you do opt for a stainless steel bowl, it is worth looking out for one with a non-slip base or rubber feet to keep it in place. These types of dog bowl tend to be quite lightweight and therefore susceptible to a hard kick from your dog if they get a little excitable at mealtime.



Ceramic dog bowls


Ceramic has the beauty of being good looking, durable and naturally cool which keeps food and water fresher for longer. They are also easier to clean normally and can be dishwashers safe up to a certain temperature.

Ceramic bowls are much heavier than steel and plastic bowls. This prevents them from being easily flipped or kicked by your dog. However, their heaviness can make them more expensive and not suitable for travel.

You will also need to keep a watchful eye out for any cracks or chips you may find in the bowls. Though they are rare, ceramic chips are very dangerous to your dog if ingested.



Plastic dog bowls


Plastic dog bowls are very hard-wearing, lightweight and adaptable in terms of style. You can find some very stylish plastic bowls that are half the price of a pretty ceramic one.

That said, if you are looking to reduce your plastic consumption, you may want to opt for the other materials. It's also worth noting that not all plastic dog bowls are dishwasher safe.
Do You Need A Portable Dog Bowl?
Travelling with your dog is all the more common nowadays. Their essential needs still need to be met no matter where you are.
If you are after a dog bowl that you can take on the go, you have a few options available depending on where the bowl will be used.

For the car, there are certain water bowls that prevent spills when on the move.
For walks and hikes, you will want a more lightweight option like foldable dog bowls or pocket dog bowls that unravel to reveal a large food or water bowl (don't worry, we have a recommendation later in our review section).
What Size Dog Bowl Do You Need?
For water bowls, you need a bowl that is a decent height for your dog to access. The size of it is not so important because you should have a constant flow of water available to your dog.
It is more vital for food because the measurements of food that each dog needs vary widely.
"There's a saying in canine feeding: Watch the dog, not the dish. Body condition, not the amount eaten or left in the bowl, should determine portion sizes. Portion sizes depend on individual metabolism and body type, and nutritional requirements vary from dog to dog." Erika Mansourian of the American Kennel Club says (1)
To get accurate guidelines of how many cups of food your dog needs per day, consult your licensed veterinarian.
Do You Need Any Special Features For Your Dog's Bowl?
Couldn't think of a better way to put this but there are some specific features to match with your dog's physiology or health needs.
Slow-feeder dog bowls Australia


Eating too fast is a common cause of indigestion in dogs. (2) Acid reflux is not pleasant for anyone and your loveable canine may suffer from stomach pain or even vomiting if they eat their food too quickly. However, having raised dogs for over ten years, I can confidently say that there is no way of truly communicating to a dog that they are eating too fast. If your dog has the tendency to inhale their food, the best thing you can do is create obstacles to slow their roll.

Slow feeders do exactly that and fall into two camps generally. Slow feeding bowls and slow feeding toys. You can consider chew food balls as slow feeding toys, as they encourage your dog to play to release the food. That process inherently slows them down.

Automatic dog water & feeder bowls


Automatic dog water bowls, also know as dog water fountains, are great for those rare situations where you might have to leave your dog unsupervised for longer than you would like (and let's be real, this does happen from time to time).

These are designed so that the water level replenishes automatically from a reserve attached to the bowl that usually holds a large amount of additional water.

The same holds true for automatic dog feeder bowls.

Elevated dog bowls


Much like raised dog beds, raised dog bowls are made for dogs with joint, back or neck pains. Older dogs hugely benefit from elevated dog bowls. They just can't lower their head as low as they used to without a bit of pain or stiffness.

Arthritic dogs will particularly appreciate raised access to their food and water.

Ant proof dog bowls


This is more about your environment than your dog, but it's worth mentioning here. It is no secret that ants are attracted to dog food. It is highly unpleasant for all involved when they decide to feast on your dog's food before they get to it.

To avoid this, there are specific ant-proof dog bowls that keep those pesky critters out of your dog's meal with no harmful chemicals involved at all.

How? Well, ants can't swim. So, ant-proof bowls are constructed of a bowl of water with another bowl on top filled with the food. If an ant tries to climb up the bowl, they will fall in the water instead.

Personalised dog bowls


Do you have a multiple dog household and want to make sure you pooches feel special by having their own dog bowl? Then think about getting a personalised dog bowl where you can get their name written on it.
---
Best Dog Bowls Australia 2022 Reviewed
Quite a few things to think about aren't there! Well, hopefully, that guide helped clear up the vast election you may have in front of you when you start your dog bowl search. But the right one is out there for certain. Here is a round-up of our favourite dog bowls on the Australian market.
What sets this product apart from the rest?
We live for convenience so CLOWII takes the cake here. This double dog bowl design is extremely advantageous and cost-effective for you.
First of all, both of the bowls are stainless steel. Super hardy and long-wearing so they should last you for years with proper care. They have high sides to reduce the amount of potential spillage and, therefore, potential clean-up.
Speaking of clean-up, the dog bowls are fully dishwasher safe. Be sure to rid the bowls of any crumbs or large pieces before you pop them in the dishwasher. But the fact they are dishwasher safe makes cleaning a breeze.
The CLOWII Double Dog Bowls being tested by our independent expert team.
Now onto the silicon mat. As mentioned before, having a non-slip base to the bowl is important to avoid your dog playing rugby with it. Well, CLOWII takes it one step further and provide a deep set, BPA-free silicone mat for the dog bowls to sit in. The silicone mat stops any slipping or sliding. It has raised sides around the perimeter to avoid any food or water getting onto your floor. Oh, and it's completely dishwasher safe too!
The one con is the design. It's a bit...tame, let's say. No colour or shape variations that could make the CLOWII more exciting. Of course, this is purely cosmetic and entirely useless to the function but personally I love a cool design when I see one!
For the ultimate convenient purchase that ticks all the boxes, the CLOWII Double Dog Bowls are clear winners.
Verified Review - 3/03/2021
Perfect For Pup
"This is great for my new puppy. It's in his sleeping area. Its nice and sturdy and even though it's really lightweight, cause of the rubber lining it doesn't slip everywhere and if he gets a little crazy whilst having a drink of water, it doesn't go everywhere."
---
When it comes to the vessel you choose to deliver your dog their precious water, a non-slip, no-spill bowl is all the more important. Introducing the Road Refresher No Slobber, No Spill Dog Water Bowl.
This is a great product for water as it is specifically designed for travel. The way it works is, you have a non-slip base container that holds most of the water. It then has a floating plate on top that only releases part of the water to the surface.
The Road Refresher No Slobber, No Spill Dog Water Bowl being tested by our independent expert team.
This reduces slobber and spillage by not having the water sloshing around. If you are a makeup wearer, it is like that little sieve attachment on top of your loose powder products - it keeps most of the messy stuff contained.
On top of all that, there is a tapered lip with further reduces splashing and spillage.
The water bowl is made of heat-resistant polypropylene which is entirely dishwasher safe too.
I can personally attest to how great these are, as my dogs have been using this product for years. We mostly use it on the go because this water bowl for dogs really does reduce spilling in the car.
Again, the design is very lacklustre, but overall it does the job you want, whether at home or on the go!
Verified Review - 19/03/2021
It Works
"This actually worked for my dog and taught her how to drink properly. I was surprised as she was a messy puppy. Only took a couple of weeks. She is now dry under her chin."
---
Now this tickles the design funny bone if you want a good looking dog bowl set as well as a highly functional one! The WANTRYAPET Elevated Dog Bowls are so sleek. The set is made up of a bamboo platform, with white deep ceramic bowls and a rust-proof, white stainless steel frame.
You probably noticed that this is an entirely plastic-free product too, so you are also cutting down your plastic waste by buying this.
As raised dog bowls, these are highly beneficial for your dog to use if they have back or neck issues. Elderly dogs also love the ease of access.
The set is easy to put together, with the pieces sliding into place with minimal effort.
To keep this clean, simply wipe down the bamboo surface periodically. The ceramic bowls should be dishwasher safe too.
The set comes in two sizes - small and large. The small set has an 11cm height. The large has a 15cm height. This will still be too short for extra-large breeds, but medium-large breeds should be fine.
All in all, the sleek design and high-quality materials make this elevated dog bowl set one to watch.
Verified Review - 8/03/2021
Happy Puppy!
"Great height for our pup. Keeps dishes in place."
---
The BYETOO is a slow feeding bowl which has a patterned design in the interior of the bowl that your dog must navigate in order to eat. It essentially forces them to eat more carefully.
They claim that this will quadruple the amount of time it takes to eat the meal due to the interactive nature of the design.
There are non-slip feet on the bowl to prevent it from sliding around. The bowl itself is made from food-safe, phthalate-free plastic.
As for cleanliness, you can easily hand wash this bowl or use it to the top shelf of the dishwasher. The pattern is simple enough to also make it simple to clean.
The con here is that it is quite a small bowl only really suitable for small and medium dogs. We would love to see a larger option for the giant breeds out there. That can be fast eaters too!
All in all, this is a cute slow feeder that will surely slow down your fast-eating Fido.
Verified Review - 9/07/2020
Not Quite Non-skid, But Otherwise It's Great
"I'm very happy with this dog bowl. My 30 kilo dog was eating way too fast. This has slowed her down to a reasonable speed. The floor I put the bowl on is hardwood. It does still move around a bit, but she is a big dog. If I needed another bowl like this I would buy it again."
---
Though the Road Refresher water bowl is perfect for travel, it is not designed for food. For a perfectly portable dog food bowl, you'll want the Kalining.
This is a pretty unique design as far as portable bowls go. It is a soft waterproof fabric case that folds into your pocket. How cool is that?!
The fabric is a durable polyester that is completely pliable. Simply unfold it and you can use it as a dog food bowl or a water bowl interchangeably. It can hold around 1100ml of water or 1kg of food so it is suitable for dogs of all sizes.
When folded down, it has a small clip you can attach to your jean hooks or even your dog's leash. Highly practical.
It helps that this portable bowl is quick to dry and easy to clean. You can use it on repeated long trips with your pooch.
To top it off, Kalining offers a satisfaction guarantee on the product should you have any issues with it. Fuss-free shopping if you ask me!
Verified Review - 15/10/2020
Highly Recommend !
"Absolutely LOVE this! Clips onto a lead easily, can store treats when it's folded, folds out perfectly into a bowl large enough for a greyhound. Does t tip over, dries really quickly. Straight up 10/10 can't go wrong with this!!"
---
Yes, appease my vanity for a second. I had to add in a cool looking dog bowl as the options so far have been pretty underwhelming in the design department. For an uber-luxe looking dog bowl, look to Heyrex for their automatic dog water bowl.
It is beyond stylish. I want to eat out of it.

But of course, it is not all style and no function.
The bowl holds a whopping 2 litres of water in its reservoir and insulated walls, providing constant fresh and cool water to your pup.

This bowl is also weighty and made of high-quality materials including non slip rubber base. The weight of it prevents it from being kicked over.
As for cleaning, simply lock the filter and clean the bowl however you please. Once done, unlock the filter and the bowl will fill up with water again. Simple!
If you are after a dog bowl that is not ugly and super practical, this is the one for you!
Verified Review - 30/12/2020
Awesome Dog Water Bowl, Keeps Water Clean & Fresh
"Excellent dog bowl for water, keeps the water fresh and clean without needing to refill multiple days each day. We have three dogs, so put the old Heyrex water bowl (same design) outside and using the new bowl inside.
Delivery from the retailer was excellent, it arrived 2 days after I ordered it online."
---
For those who struggle with ants, DYL have you covered. This dog bowl is specifically made to be impenetrable to ants without using any harmful chemicals.
Comprised of a non-slip interior bowl for the water and a floating food bowl, this pet bowl is perfect if ants are a consistent thorn in your side. Simply fill the water in the interior and you are ready to use it.
The manufacturer advises that you keep the bowl away from any walls or climbable surfaces as the ants may find another way to drop from on high - yuck.
This is a plastic bowl so it is lightweight and naturally quite durable. It is waterproof and easy to clean so pretty ideal all round!
As for sizing, there are two sizes to choose from - small and large. The two sizes come in two different colour schemes for a pop of colour to your living space. That's always appreciated.
This is a simple product but a very effective one. The stellar reviews attest to how efficacious it truly is. Give it a go if you are struggling to keep ants or other crawlies out of your dog's bowl.
Verified Review - 10/03/2021
Works Really Well, But Must Keep Water Level Up
"Works really well, but you do need to be mindful about keeping the water level up. A couple of times when we didn't the ants got to the food."
---
The Final Verdict: Best Dog Bowl for Your Dog
It's safe to say that the best dog bowl truly depends on what you are looking for. After all, most purchases from beds to collars, harnesses to crates are completely personalised. Dog bowls seem like the simpler purchase but there is so much variation!
That said, our overall recommendation for a basic dog bowl set would be the CLOWII Double Dog Bowls. The set comes with everything you need to get started - two stainless steel bowls and a handy non-slip mat.
For an elevation in style and well...elevation in general, the WANTRYAPET Elevated Dog Bowls is a pretty great runner up. It keeps in mind your dogs' height, whilst also being super stylish in the process. Something this reviewer certainly loves.
For more dog bowl guides check out the below:
Honestly, after every meal! Yep, really. According to the experts at Vet Street, everyday washing is the only way to ensure that nasty bacteria can't fester.
They write "If you're guilty of leaving your pet's food and water bowls out for days without cleaning them, you run the risk of spreading dangerous bacteria and contracting a foodborne illness. Clean out your animal's excess food and wash the bowls in hot, soapy water or pop them in the dishwasher after every meal." (3)
This entirely depends on your dog's breed and health issues. If you have an obese dog, they may be put on a diet by your vet. (4) You also have to factor in the extra things you give your dog as a whole like treats and maybe some of your leftover food if that is something you are accustomed to doing and condoned by your vet.
As a rough guide, here are some calorie averages are taken from the Pet Obesity Prevention Association. (5)
This depends on how old they are generally. Puppies should be fed around 3 times a day. Sometimes more depending on how young they are and their breed. Adult dogs on average are fed twice a day. The portion size should therefore be half of their daily recommended amount at each sitting.
References
Mansourian, E. July 15, 2019. "Puppy Feeding Fundamentals". American Kennel Club. Retrieved December 19, 2020. https://www.akc.org/expert-advice/health/puppy-feeding-fundamentals/
Kruzer, A. November 1, 2019. "Acid Reflux in Dogs". The Spruce Pets. Retrieved December 19, 2020. https://www.thesprucepets.com/acid-reflux-in-dogs-4692195
Wooten, S. April 12, 2017. "How Often Should I Wash My Pet's Food Bowls?". Retrieved December 19, 2020. http://www.vetstreet.com/our-pet-experts/how-often-should-i-wash-my-pets-food-bowls
Williams, K. "Obesity in Dogs". VCA Animal Hospitals. Retrieved December 19, 2020. https://vcahospitals.com/know-your-pet/obesity-in-dogs
"Dog and Cat Daily Caloric Needs". Pet Obesity Prevention. Retrieved December 19, 2020. https://petobesityprevention.org/pet-caloric-needs