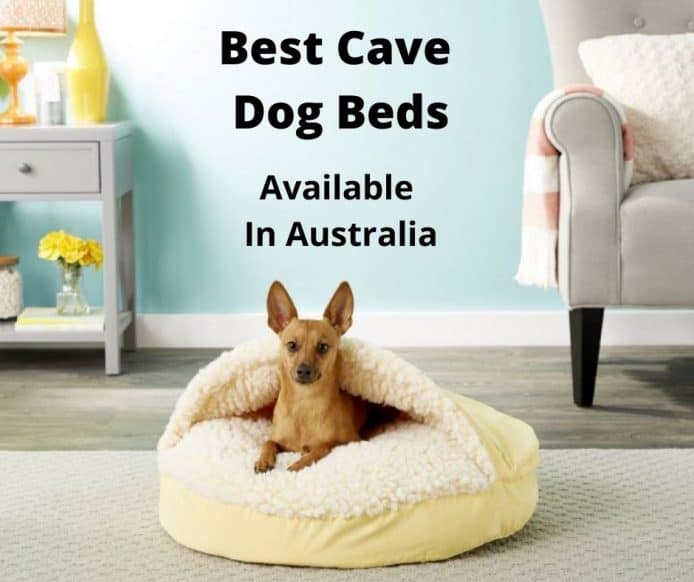 Best Dog Cave Bed Australia - Cocoon Your Pooch & Make Them Cosy
FurHaven Orthopedic Quilted Sofa-Style Dog Bed
Think of a cave-loving animal - what do you see? A cat? A bat? A bear maybe?

Your pup may not be a troglodyte, but many dogs love caves just as much! In fact, there may be an evolutionary reason for dogs burrowing in general.
"According to some pet experts, dogs are "denning" animals: It is a dog's instinct to sleep or relax in a small and protected space to feel warm and safe." (1) Clarissa Fallis at Petful
Although not usually chosen as the best dog bed option, cave beds for dogs are uniquely made for those who love to feel enveloped. Particularly anxious and timid dogs love cave beds to snuggle up in. The warmth of a cave bed may also be perfect as a heated dog bed for the winter.
Whatever the reason your little cave dweller chooses to stay in the shadows, we've reviewed the top options so you can find a great dog cave bed for your pup.
---
What Are the Different Types of Cave Beds?
There are many styles of dog beds in general: raised beds, orthopedic beds, cheap beds, luxury beds, heated beds. All of these subcategories can interact with cave beds too. In our review section, we'll mention a raised cave bed for example. There is also an orthopedic cave bed and a luxury cave bed.
But for simplicity's sake, I just want to discuss the structure of cave beds themselves. There are two main types: soft hoods and structured hoods.
The structured hooded bed is probably what you are imagining.
The hood creates a perfect arch that stays elevated above your dog's head as they rest.
Soft hooded beds do what they say on the tin; the cave structure is very loose. They are more like a sleeping bag. Your dog burrows in this bed and the hood of the cave covers them like a built-in blanket.
To know whether your dog will prefer a soft hood or a structured hood, think of their sleeping style. Do they like to burrow in blankets? A soft hood will work perfectly for them. If they like to sleep under your bed, desk, or dining table, they will likely be happier with a structured cover.
Most soft hood dog beds are convertible in some way; meaning the cover can act as a blanket with no support at all, or a cave when a metal or plastic wire is inserted at the opening. This gives you some flexibility of choice if you are not too sure which type of cave structure will make your dog happy.
---
How To Find The Right Cave Bed
Your dog can sleep 12-14 hours per day. The US National Sleep Foundation says, "Dogs often spend 50 percent of the day sleeping, 30 percent lying around awake, and just 20 percent being active." (2) Given they spend so much time asleep, you want to choose a stable, secure, comfortable bed for your dog. For a cave bed, here are some key criteria to help you make the right decision.
Finding the right size
The biggest issue when searching for a cave bed is sizing. Because this style of pet bed is more closely associated with cats, they tend to come in very small sizes. It is incredibly easy to find a bed for your puppy, toy dog, or small dog. You'll be spoilt for choice.
If you have a pooch that is even a little larger than Toto, it becomes infinitely more complex to find good options. More than with most flat beds, it's vital that the sizing is correct. Too small a size will feel claustrophobic at best and catastrophically suffocating at worst. Your dog will likely become the next meme, spinning around stuck in their cocoon - not ideal!
In the later reviews, we kept the question of sizing in mind. Your German Shepherd is safe with us.
A long-lasting bed
We all want a return on our investment so a dog bed that lasts is clearly a bonus. When we talk about the durability of a bed, we are mostly referring to the materials. Low-quality polyesters are less likely to hold up over time than higher quality materials.
Another aspect of this specifically for cave beds is the shape. Structured hood beds can deform over time. This is why many cave beds are hand-wash only. Yes, it's a pain but it is worth doing to preserve the integrity of the bed. Some cave beds have a wireframe which is a little more durable. Despite that, if your dog chews or jumps on the bed, most cave beds will eventually lose their shape. It is worth paying attention to the unperishability of the materials and how to properly care for the bed you choose. Cave beds can be especially delicate in this way.
Warming or cooling?
Aren't cave beds naturally snuggly and warm? Yes and no! The snuggliness of a cocoon bed is more to do with how safe it feels to be one, rather than the warmth they give. Now, many cave beds are quite toasty because of the materials used. A fleece lining will of course provide a lot of insulation. However, there are cooling dog cave beds on the market that are perfect for summer.
Long-haired dogs will do better with the non-insulating models of cave beds as opposed to the thermal faux fur burrow beds.
Easy to transport
Portability is not a huge criterion for many people. Maybe your Fido will only be using their bed in the house, so the weightiness of the bed is not as important. If you intend to travel with the bed, however, you'll need a lightweight option or one that is easy to dismantle.
---
Best Cave Dog Beds in Australia 2022 Reviewed
Now that we have defined the best qualities to look out for, let's dive into the best cave dog beds Australia has to offer.
What sets this product apart from the rest?
The FurHaven burrow dog bed is our top choice for so many reasons! It is a soft hood cave with a warm faux-lambswool lining that makes this bed incredibly cozy. The hood has a plastic wire that can be removed to convert it into a blanket cover or inserted to prop up the hood to become slightly more structured. This way you can customise the shape to your dog's needs.
Your little burrower will love the orthopedic foam mattress that makes up this bed's base. The characteristic egg-crate formation of the mattress allows for airflow within the base. The bed is therefore spongy whilst also being supportive of your dog's joints. It is not the most advanced technology as far as orthopedic beds go, but it is a fraction of the price of the more state-of-the-art ortho beds on the market. Your elderly dog will still find this bed comfortable if you are also after orthopedic qualities in your chosen burrow bed.
The FurHaven Burrow Bed comes in 4 colors: blue, cream espresso, and pink. All four shades come in 4 sizes, ranging from 45cm to 110cm in length at the base. That is an impressively wide size range for cave beds, which typically only cater for smaller dogs.
Economical and easy to maintain, this bed also has machine washable covers. The soft hooded design means that the cave is less likely to lose shape over time. The bed is also quite lightweight so you can transport it easily if you need to.
The drawback of the FurHaven is also one of its pluses. The foam mattress is a wonderful bonus, but it cannot withstand chewing! We don't recommend this cave bed for teething puppies or troublesome chewers who will easily tear the mattress into smithereens.
Overall, the FurHaven has more pros than cons, and great online reviews, so it's a thumbs up from us!
This FurHaven Snuggery Burrow Bed is suitable for small dogs like a Chihuahua to medium dogs like a Blue Heeler.
Verified Review - 13/03/2021
My Dog Who Loves To Burrow Loves This Bed
"This was on the pricey side for me so I knew I was taking a chance. Good quality, soft, but durable. My dog loves to burrow and gets cold easily. Since the lockdown and working at home my dog wants to be in with me, but the floor was cold. I bought this and he was a little hesitant at first, but loves it now. He lays on top when warmer and likes that too. I even find him in it when I'm not in the home office sometimes! It's been a great purchase for me and I recommend it."
---
For those on a budget, the Enerhu Pet Nest is a cute cheap dog bed option for your pampered pup. We love the quirky ear design this bed has. The cave is a structured hood so your dog will adore curling up in the cozy space. And yes, it may look flimsy and it is cheap, but don't judge a book by its cover. Enerhu claims that the tough, high-density, velvet fabric cover is chew-proof and durable. Therefore cave-dwelling puppies will get on well with this bed too.
Enerhu made this bed with winter in mind, so the interior is soft, warm, and inviting. Your dog will feel very snug within its secure walls. The material is skin-safe, extremely comfortable, lightweight, and highly portable.
The biggest drawback of this dog nest is the size. It only comes in three small sizes. The smallest is a tiny 30cm in length and the largest is just 45cm in length. This limits the number of breeds that could potentially use this bed. A medium dog will surely be stuck and frustrated trying to get comfortable.
It is also worth noting that this bed is hand-wash only to ensure the longevity of the cave structure. It is a price worth paying to extend the lifetime of the bed but perhaps not the most convenient model on this list.
That said, this burrow bed comes at an amazing price point. If you need a puppy bed or have a toy dog that loves a good cave, this is a fabulous option for you.
---
Our first two options were very wintery and warm, but what about a cave bed for the summer? Yep, not all caves are toasty and snuggly. There are cave beds with cooling properties too!
The K&H Pet Cot is an elevated dog bed with a detachable structured cave hood. Before we dive into the K&H model itself, let's quickly go over the benefits of raised dog beds. A raised dog bed is made up of a trampoline-like fabric stretched over a strong metal frame. This creates a suspended sleeping surface that keeps your dog off of the ground whilst they rest. Though they don't scream "comfort" to you when you look at them, dogs love them because it takes the pressure off of their joints. Elderly and disabled dogs would especially benefit from these orthopedic properties. The suspension also ensures that wet grass or biting insects cannot irritate your dog when outdoors.
The K&H model has the added bonus of a cave hood for your burrowing pup. It won't be too warm though. The elevated sleep surface promotes ventilation. The materials are also not very insulating. You can make the bed warmer by using blankets. The hood is not entirely waterproof, unfortunately, but it will withstand light drizzle.
Onto portability, and this bed is so easy to disassemble. The lightweight structure means you can take it anywhere. Camping with your dog has never been so easy!
To clean the K&H, simple scrub with soapy water and hose down. The pricing is reasonable and the reviews are fab. If the product is damaged, the manufacturer has a 1year warranty, which is relatively rare for dog beds.
In terms of sizing, K&H offer this bed in three main sizes: 45cm x 55cm, 60cm x 80cm, and 75cm x 100cm. Though extra large dog breeds may struggle, we love to see such a diverse range of sizing in this category.
To sum up, the K&H works indoors and outdoors, with a hood and without a hood. The cool materials and extra airflow make it ideal for summer but you can make it toasty for the winter with added padding. You won't find a more versatile cave dog bed in Australia!
This K&H Original Pet Cot is suitable for small dogs like a Chihuahua to medium dogs like a Blue Heeler.
Verified Review - 2/02/2021
Shockingly Good Product
"Ok so I have a good size dog and thought this wasn't going to be big enough for him but it's just the right size. He is a bit scared of it but is warming up to it. The only bad thing I can say is when it comes to the cover it should be just a tinny bit looser and that the instructions be a bit confusing when it came to the bands to anchor the cover. Other than that great product."
---
So, this cave bed is more of a tent but hey - if it provides a roof over your dog's head, it counts!
The Pickle & Polly Teepee is on the list because of how unusual and unique it is. The Teepee design is so chic. Who said that dog beds have to be boring!
But enough fangirling - let's talk about the functionality of this unconventional tent bed. The 100% pine tent poles prop up the structure. Soft, high-quality, medium-weighted fabric makes up the canopy. A cushiony pillow comes with the tent bed to complete this cozy sleeping experience for your pampered pup.
The Pickle & Polly - Medium Dog Bed Teepee/Tent for Dogs being tested by our independent expert team.
Speaking of pampering, this bed does cost a pretty penny. We would put this in the luxury dog bed category. The reported longevity and irresistible design make the Pickle & Polly worth the high price point.
Onto sizing; this bed unfortunately only comes in one size. The base is 40 x 42cm so only suitable for small dogs and puppies. The manufacturer recommends that dogs no larger than 15pounds use the tent bed.
The Pickle & Polly is very easy to maintain. Slip out the wooden tent poles and you can machine wash the whole thing. The pillow too! The pillow fill is made to last, retaining its shape over the years. The entire structure is lightweight and easy to pack down, so you can move it around easily. We wouldn't recommend this bed for outdoor use. The materials are not weather-resistant.
The best part? If you're unhappy for any reason, the manufacturer offers a 100% money-back guarantee.
Despite the luxury price tag and limited size, we wholeheartedly recommend the Pickle & Polly tent bed for chic cave-loving dogs.
This Pickle & Polly - Medium Dog Bed Teepee/Tent for Dogs is suitable for small dogs like a Chihuahua to medium dogs like a Blue Heeler.
Verified Review - 12/08/2021
So cute
"Easy to set up, it just pops open and you place the little cushion! Too cute and good quality for price. My dogs have loved it and went right in!"
---
As we've seen, small dogs are very well catered for in the cozy cave dog bed department. But we believe that dogs of all sizes should be able to live out their cave-dwelling fantasies! No dog left behind. So, our final pick is the XuBa Dog Cave Bed.
This soft dog cocoon bed is HUGE, making it a fantastic large dog bed option! It comfortably fits medium to extra-large dogs with its sleeping bag-like construction. At 120 x 80 x 50cm, this is the biggest cave dog bed for large dogs we could find. The hood can be propped up with a metal wiring so it is convertible like the K&H Snuggery Burrow Bed.
The plush lining is soft and warm, whilst the exterior cover is breathable. Therefore, the XuBa is ideal as a winter bed for your dog. High-quality velvet and oxford fabric are used to ensure this tent will see your dog through the ages.
As for portability, the XuBa model is very lightweight. You can easily fold it up to store whenever needed. It is also ideal for taking with you on the go.
For the size of the bed, the XuBa is relatively economical. For your large or extra-large pooch, give the XuBa cave bed a go!
This XuBa Dog Cave Bed is suitable for small dogs like a Chihuahua to large dogs like a Husky.
---
Our Top Choice: Cozy Cave Dog Beds Australia
For a soft hooded option that ticks all the boxes, we recommend the FurHaven Snuggery Burrow Bed. Burrowing or anxious dogs will love the warm hug that this bed provides, whilst cushioning their body with that orthopedic mattress. It's well priced and easy to clean - generally a fabulous all-rounder.
For a structured hooded option with amazing versatility, we love the K&H Original Pet Cot. It is suitable for indoor and outdoor use, and the raised sleeping surface provides ventilation and comfort as your pup sleeps.
Want to learn more about dog beds? Check out our below guides:
Yes! There are dog breeds that are even genetically predisposed to burrow. Born burrowers you might say! Dachshunds, terriers, and Beagles are notable examples of small dogs that enjoy the safety and security of a cave bed. (3)
Large breeds like huskies also have natural burrowing instincts with the focus of being warm.
In terms of personality, some traits and behaviors in dogs show that they may find a dog cave bed comforting:
Dogs with separation anxiety: Separation anxiety in dogs is extremely common. (4) An effective form of treatment is to teach your dog that they have a safe space when they are alone. This could be a crate or a cave bed. The security of the bed will make them feel safer when flying solo.
Dogs who enjoy crates: If your dog already associates their crate as a safe space, they are more likely to also enjoy cave beds.
Dogs who are susceptible to the cold: Many cave dog beds are cozy and warm. For dogs with short-haired coats, a winter cave bed could be ideal to see them through the colder months.
Dogs who are naturally nervous or anxious: In line with the "safe space" idea, you can make a tent or burrow bed a very inviting, protected sanctuary for your dog to calm their nerves.
You could argue that you could save yourself the money and let your dog feel safe in a kennel, under the bed, or even in the covers with you. (5) Whilst co-sleeping with your dog is a personal choice, there are quite a few factors to think through before stepping on the co-sleeping train. (6)

Firstly, if you have any difficulty sleeping or if you sleep with a partner, then allowing your dog to join you will not improve your sleep quality. This generally depends on how lightly you sleep and how large your dog is, but it can be uncomfortable.
Secondly, those with allergies or immune diseases may suffer from exaggerated symptoms when you start co-sleeping with your dog.
Finally, some dogs can exhibit possessiveness which can also lead to aggression. If they start to see your bed as a resource, this could cause friction between you and your dog.
They may start guarding the bed as a prized possession, taking ownership of it. (7) Keeping your pup out of your bed will prevent this behavior.
That said, some owners report that co-sleeping has strengthened the bonds between them and their dogs so this is really up to you!
References:
Fallis, C. September 21, 2011. "Why Do Dogs Like to Burrow Under Blankets?". Petful. Retrieved October 11, 2020. https://www.petful.com/behaviors/why-do-dogs-burrow-in-blankets/
"How Many Hours Do Dogs Sleep Each Day?". National Sleep Foundation Editorial. Retrieved October 11, 2020. https://www.sleep.org/how-much-do-dogs-sleep/
"Why Do Dachshunds Love to Sleep Under Blankets?". November 25, 2019. For My Dachshund. Retrieved October 11, 2020. https://formydachshund.com/why-do-dachshunds-love-to-sleep-under-blankets/
Parker, E. "Separation Anxiety in Dogs: A Rising Concern". Australian Dog Lover. Retrieved October 11, 2020. https://www.australiandoglover.com/2017/02/separation-anxiety-in-dogs-rising.html
Scott, K. Posted January 15, 2019. Updated December 24, 2019. "Should you let your pets sleep in bed with you?". ABC Life Australia. Retrieved October 11, 2020. https://www.abc.net.au/life/should-you-let-your-pets-sleep-in-bed-with-you/10606182
Gibeault, S. July 24, 2017. "Should I Let My Dog Sleep With Me?". American Kennel Club. Retrieved October 11, 2020. https://www.akc.org/expert-advice/lifestyle/should-my-dog-sleep-with-me/
Parker, E. "Prevent Your Dog's Resource Guarding Behaviour". Australian Dog Lover. Retrieved October 11, 2020. https://www.australiandoglover.com/2016/11/prevent-your-dogs-resource-guarding.html