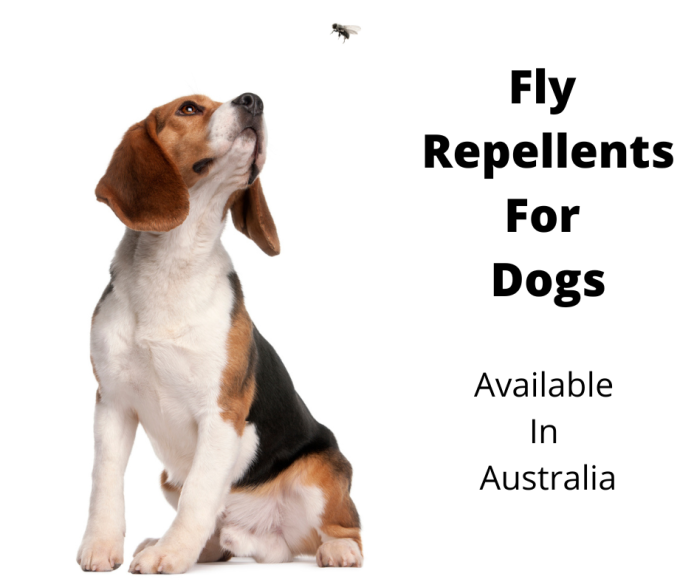 The Best Fly Repellent For Dogs - Available In Australia
Farnam Equisect Fly Repellent for Dogs
Most insect treatments for dogs focus on fleas and ticks as the most common pests that trouble canine bodies. However, these are not the only bug problems dogs can face. Flies can be a really big problem too, especially for working dogs and those who spend lots of time outdoors.
Typical insecticide treatments for dogs are usually not effective against flies. Luckily, that doesn't mean effective fly repellent for dogs doesn't exist. This guide is here to help you protect your canine companion from annoying flies.
---
What to Look for in a Dog Fly Repellent
What is the most important feature of dog fly repellent? It must work! That sounds pretty simple, but it often isn't.
For starters, some repellent products are effective against certain types of flies, while not against others.
Furthermore, the most effective fly repellent sprays are also the strongest ones. That is, they are loaded with active ingredients that will chase away flies, but will they harm your dog too? Well, they obviously shouldn't, but some dogs can be sensitive to certain ingredients in these sprays and other repellent formulas.
In short, there will always be a bit of experimentation involved in finding a fly repellent that works for your dog and against the flies that are present in the area where you live. In all of this, staying informed about what you give to your dog is crucial.
To help with that, we've prepared a list of the most common active ingredients in fly repellents for dogs along with notes on their effectiveness and safety.
Active Ingredients in Dog Fly Repellents
Essential Oils
If you are looking for a natural fly repellent for dogs, the number one source to turn to is essential oils. These oils derived from plants are nature's best insect repellents, but it's also important to use them correctly.
"Dogs and cats have a very sensitive sense of smell, and essential oils can be overwhelming to their respiratory tract." - Natalie Stilwell, DVM for PetMD (1)
Not only this, but some oils can also be toxic to dogs if ingested in large enough quantities. Still, if applied with care, essential oils can help keep bugs away.
Oils with proven repellent effects on various types of flies include geranium, lavender, lemongrass, peppermint, clove, and catnip oils as well as a few others (2).
One tricky oil is citronella essential oil. Citronella is quite effective at deterring flies and other insects. It is often used in various natural products for dogs, but it can have an irritating effect if it comes in contact with the dog's respiratory tract or skin (3).
Pyrethrins
Even though the name might sound like something synthetic, pyrethrins are organic compounds with insecticide properties. Pyrethrins are derived from the flowers of certain chrysanthemum species. Even though it comes from nature, pyrethrin is a powerful pesticide. Luckily, it is considered to be safe for dogs, but keep in mind that it can still be harmful if not dosed correctly (4).
Pyrethrins are generally a very good option when it comes to keeping flies away from dogs. One thing to note is that these compounds can be dangerous for other animals, like cats and fish, so if you have other pets in your home make sure to consider that..
Piperonyl Butoxide
If you look at the ingredient lists of fly repellent products, you'll often find piperonyl butoxide listed along with pyrethrins. This compound acts as a synergist in those formulas, which means it enhances the effects of pyrethrins. Piperonyl butoxide is considered safe for dogs when used in appropriate doses (5).
Diethyltoluamide (DEET)
N, N-Diethyltoluamide, often also listed as diethyltoluamide and more commonly known as DEET is the most controversial ingredient on this list. DEET is a very efficient synthetic pesticide and it's often used to make insect repellents for human use.
Many veterinarians warn against exposing your pets to DEET altogether due to its potential to cause adverse reactions in high enough doses (6). At the same time, you'll find some insect repellents marketed for dogs that have Diethyltoluamide on the ingredient list.
So are these products safe for your dog? They can be iif the concentration of diethyltoluamide in the product is low enough and it is used according to instructions. An early study found that DEET starts having adverse effects on dogs only with doses higher than 100 mg/kg/day (7), which is far more than you should be seeing in products made for dogs.
In short, while DEET is a very effective weapon in the fight against flies and other insects it should be used on dogs (and with dogs around) only in extremely low doses and with caution.
---
Best Fly Repellents for Dogs 2022: Our Top Picks
So is there an effective fly repellent for your dog that you can buy? Yes! These are the best options available:
What sets this product apart from the rest?
Farnam is the most prominent manufacturer of care and protection products for horses. They make a whole range of insect repellents, including a couple that are aimed specifically at flies.
Since Farnam sprays are very effective at keeping flies off of horses, it's no wonder dog owners wanted something similar. As a solution, Farnam now offers a couple of products that are designated as dog friendly. One of them is the Equisect spray.
What makes Equisect different from other options made by Farnam is that this is a botanical formula. The active ingredients include citronella, clove stem, corn mint, and most importantly, something called PyGanic.
PyGanic is a trademarked organic pesticide derived from Chrysanthemums. However, just because it's natural doesn't mean it's harmless. PyGanic contains a high concentration of pyrethrin. This organic compound is highly deterrent to various insects including flies and it's known to be very safe for dogs - which is great. However, one should keep in mind that pyrethrin is very dangerous for cats, so if you also have cats in your household this spray might not be the best idea (4).
Verified Review - 17/09/2021
Immediately repelled biting flies.
"Worked great. Got the biting flies away from my dogs. Worked well spraying on my clothes when I worked outside. The scent was okay and not off-putting."
---
The Pyranha Zero-Bite All Natural Fly Spray uses the power of essential oils to keep the flies away from your canine companion. Truth be told, this product was also primarily made for horses (since they tend to have the most problems with flies), but it is safe to use on both dogs and cats and various other animals.
The active ingredients in the Pyranha spray are geraniol, peppermint oil, and clove oil, which have all been proven to be effective insect repellents. According to the manufacturer, the spray is effective against almost all kinds of flies (including horse and deer flies) as well as mosquitoes, gnats, and lice.
To use on dogs, you'll need to spray the body of your dog thoroughly (but avoid the face and the eyes). Then, you can reapply the spray as needed. You can also spray it around your dog's bed or any areas you'd like to keep flies away from.
The one remaining ingredient this spray contains besides the essential oils and water is sodium lauryl sulphate. The sulphate is what allows the oils to mix well with the water, thus making the spray more effective. While sodium lauryl sulphate is generally considered safe, it is known to be an irritant and some dogs can be more sensitive to it than others, so watch out for signs of irritation on the skin (if those do appear, you should avoid using this spray on your dog). The spray should also be kept away from your and your dog's eyes.
---
Troy Repel-X is an Australian-Made spray for horses and dogs. With an exceptionally strong formula, this spray is quite effective against all sorts of flies and also other biting insects like ticks and mosquitoes. According to Troy, the spray will even kill flies on contact, but since it also has a repellent effect the actual bite might not even happen.
The Troy formula is a mix of natural and synthetic fly repellents. It contains citronella oil as well as pyrethrins which are among the most effective natural compounds for combating flies. What makes this spray different from the rest is the addition of Diethyltoluamide (DEET).
DEET is a very effective insecticide that is often used in products for humans. The problem is that it's known to be toxic to dogs, especially if inhaled. The concentration of DEET in Troy Repel-X is 20 g/L which is very low and below the known toxicity threshold for dogs.
For this reason, the spray should generally be safe for dogs but we'd still recommend avoiding using it excessively and taking good care to keep the liquid away from your dog's face. By the way, the recommended dosage for dogs is spraying twice a day at most, but the spray can remain effective for up to 12 hours.
Verified Review - 12/04/2021
Happy Dog
"I bought this fly spray because my dog is currently undergoing heart worm treatment and I wanted a way to stop the mosquitos from biting and reinfecting her. It seems to be working and I would happily recommend it to anyone. Great product, worth the money."
---
The SWAT ointment was originally formulated for horses. Specifically, it is meant to be used around wounds, sores, and scratches to protect them from flies. However, the formula is also safe for dogs and nothing prevents you from using it around any sensitive areas.
These sensitive areas might as well be the eyes and ears of working dogs or any dog who is in an area where there are lots of flies. According to Farnam, this ointment is effective against house stable, face, and horn flies.
Now, applying this ointment is a bit messier than using a spray, but many pet parents whose dogs spend lots of time outdoors swear by it. This salve tends to be more effective than sprays and lasts a very long time.
The original version of SWAT is bright pink which is helpful because it lets you see exactly where you applied it, but there is also a clear version available. Keep in mind that while the product is made for protecting wounds, it's not meant to be applied directly on them. Rather, use it on the surrounding area (also keep it away from your dog's eyes and nose).
Verified Review - 9/09/2021
Product works!
"Personally I'm not a pink gal but I like the pink best bc there's no question how close you are to wounds, especially eye areas. Wonder why it cost more money. Looks like the clear would b more."
---
Defy the Fly is probably the only insect repellent collar for dogs that targets flies, specifically. But does it work? Well, it should, at least to an extent, considering that it contains essential oils that are proven to act as a repellent for flies and other insects.
The oils in question are citronella, cedar oil, and geraniol. Although the manufacturer doesn't clearly state the number of essential oils used, the dose seems to be pretty high considering how strong the collar smells. While effective against flies, the smell can feel very strong to humans as well as dogs. Some dogs don't react well to such strong smells, while others don't mind.
Still, if you and your dog can bear the smell, this collar is a great solution. Unlike sprays, it provides 2 months of continuous protection, thus offering a hassle-free approach. Adverse reactions to essential oils are possible, so keep an eye on your dog when trying this collar for the first time.
---
Final Verdict
The best fly repellent is one that keeps flies away and that doesn't cause any unwanted reactions in your dog. If you are looking for a fly spray, Farnam Equisect Fly Repellent for Dogs is a great option with natural insecticides.
The Troy Repel-X Insects and Fly Spray is another good option that is made in Australia, although it does contain DEET albeit in very low concentrations. If you'd rather try using an ointment or a fly-repellent collar, check out the other picks on our list.
There are many types of flies and many of them are harmless to dogs. While some flies are little more than a nuisance, others can inflict painful bites to dogs as well as humans (like horse flies, for example). These bites can, in some cases, become infected and cause further problems. Flies can be drawn to open wounds on dogs and can end up laying their eggs or causing infection, which is why it's important to keep them away.
Some types of flies, like the stable fly, feed on the blood of mammals, like dogs. Flies attack dogs' ears because they are often the most exposed part with thin skin that can easily be penetrated.
It's important to only use insect repellents that are approved for yous on dogs on and around your pet. Insect repellents made for human use can be very toxic to dogs.
References
Stilwell, N. June 17, 2019. "Is it Safe to Use Essential Oils for Fleas and Ticks on Pets?". PetMD. Retrieved April 25, 2022. https://www.petmd.com/dog/parasites/it-safe-use-essential-oils-fleas-and-ticks-pets
Lachance, S. and Grange, G., 2014. Repellent effectiveness of seven plant essential oils, sunflower oil and natural insecticides against horn flies on pastured dairy cows and heifers. Medical and veterinary entomology, 28(2), pp.193-200.
PetMD Editorial. July 11, 2011. "Top Ten Pest Control Mistakes to Avoid". PetMD. Retrieved April 25, 2022. https://www.petmd.com/dog/top_tens/evr_multi_top_ten_pet_pest_control_mistakes_to_avoid
Schmid, R. & Brutlag, A. " Pyrethrin/Pyrethroid Poisoning in Dogs". VCA. Retrieved April 25, 2022. https://vcahospitals.com/know-your-pet/pyrethrin-pyrethroid-poisoning-in-dogs
Pucheu-Haston, C. April 14, 2017. "The Flea-Infested Pet: Overview of Current Products". Today's Veterinary Practice. Retrieved April 25, 2022. https://todaysveterinarypractice.com/parasitology/practical-parasitologythe-flea-infested-pet-overview-current-products/
Giedt, E. J. August 1, 2017. "Don't DEET that Dog". Oklahoma State University. Retrieved April 25, 2922. https://news.okstate.edu/articles/veterinary-medicine/2017/dont-deet-dog.html