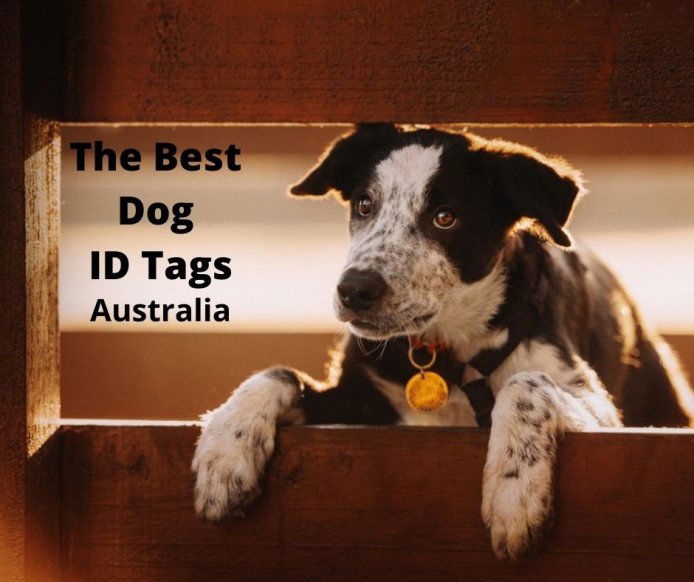 The Best Dog Tags Australia -
Custom Identification
Dog Nation Personalised Military Style Dog ID Tag
So, you're looking for an ID tag for your dog or puppy. Maybe they have lost theirs while playing at the dog park or swimming. Maybe you have just adopted your pup and they need a proud identifier.
Well, we have got you covered. You know we love a detailed guide here so we're going to do a deep dive. We'll talk about why microchipping is simply not enough. We'll discuss the merits of a dog tag over a personalised collar. We'll discuss the properties of a great product before rounding up our favourite dog tags Australia has to offer.
Strap in, everything you need is right here!
---
Why Does Your Dog Need A Name Tag?
When shopping for the dog in your life, it's likely that a dog tag possibly hasn't crossed your mind. It's one of those secondary items that is both crucial and easily forgettable. Particularly with the popularisation of microchipping, do we even need dog tags anymore? (1)
Yes, we do.
Let's be honest, if you find a lonely dog wandering the streets aimlessly, is your first thought
"oh, I must rush this poor pup to the nearest vet or dog shelter to have their microchip screened so we can accurately locate the owner"?
Probably not! You go for the collar first to see if there is a dog ID tag. If there isn't one, you may take to social media to report the dog missing.
Another reason to give your dog an ID tag is to increase their approachability oddly enough.
"Wearing identification will also make your dog more approachable to strangers. It indicates your dog is not a roaming stray, which may spur someone to take protective action." - Liz Coleman from Rover (2)
Dog tags are a much clearer and more immediate way of returning your pup to you should they get lost during your latest adventure in the big bad world.
---
Personalised Dog Collars vs Dog Tags
So first, I'm sure you are aware of collars that can be engraved with your dog's details. What are the merits of purchasing one of those over a physical dog tag?
Personalised dog collars are a great alternative to dog tags but do have their drawbacks. First of all, there are fewer options out there for personalised collars - particularly local to Australia. You have far more variety in regular collars which you can affix a simple tag to.
Second, personalised collars can be a little pricier than regular collars. That makes sense - I am someone who loves my name to be printed on everything. It's a much more expensive existence.
When you combine the cost of a regular collar and dog tag, it's likely still cheaper than a reasonably priced customised dog collar.
Finally, dog tags can be a better aesthetic choice. This is entirely personal but I am not a fan of the front plate engraving on personalised collars. I rarely like the font and quite like the look of the classic dangling dog tag on a smart dog collar look.
You may argue that dog tags are more easily lost than if the engraving is on the collar.
---
Features To Look Out For In Dog Name Tags
Right so you are well and truly on the dog tag train - great! What makes a good dog name tag then?
Durability
Durability is an interesting one in this category.
Because of where dog tags are affixed, it's not the end of the world if you have a cheap dog tag that is a little thin. What you don't want is a tag that is likely to snap off or snap in half. Some give in the material, for example bending metal etc is not the end of the world, however. It can be a hazard should the tag bend into a shape that is harmful to your dog if they or a playmate were to fall on it, and of course, aesthetically, it's a bit annoying.
That said, bending in metal is quite unlikely because of where the dog tag is located. There are quite a few specific movements that would have to happen to distort your dog's name tag. It's not likely to happen while rolling around, so there would be some acrobatics involved to cause any meaningful damage.
Ideally, you want a sturdy metal dog tag that will retain its shape come hell or high water.
Font size
This is a BIG one. See what I did there?
Engraved dog tags with illegible font are wholly useless to everyone. It doesn't need to be a huge tag with pt 102 Arial font, but if you need to use a magnifying glass to read it clearly, it's not worth purchasing.
When reviewing this with online products, your best points of reference are the reviews and customer feedback. Manufacturers are highly unlikely to admit that their personalisation is only possible to read under NASA's finest microscopes. You'll only get such salacious details from customer's hands-on experiences.
Design
I like beautiful things. Do you like beautiful things?
Why shouldn't your dog's tag be beautiful too? With personalised dog tags, you can get some really cool designs that can match your dog's collar for a cohesive look. On the other hand, you can opt for a simple shape and colour that can match any collar you choose. This is handy if you plan to have a variety of collars that you use interchangeably with your fashionable pup.
Sometimes it can help if your dog has a brightly coloured tag as it can improve the legibility. Having said that, I wouldn't recommend having coloured font for your personalised dog tags for the exact opposite reason. Better to get a simple engraving or black font that everyone can read easily.
Weight and Shape
It goes without saying that anything hanging from your dog's neck needs to be almost imperceptible. A gold medallion may sound cool, and make your dog look like a 90s rapper, but it's not practical for you or them.
Pretty sure even Diddy doesn't sleep in his chains. The same wouldn't apply to your dog.
In terms of the shape, it is somewhat the dealer's choice here. There are bone shapes, the classic circle, ovals etc. You'll notice that most dog tags have rounded shape in some capacity because this is safer for your dog. Any sharp corners are to be avoided.
Think about how the shape interacts with the legibility of the important information on your dog's collar. It may sound super cute to have a doughnut-shaped name tag for your portly pooch but how easy is it to read? Novelty tags are all good and well if they are still functional. Don't fall for the style over substance trap.


Special features
Does your dog have a job? No not a monotonous office affair. I am talking about service dogs, police dogs and emotional support animals. (3)
It is great practice to make it known to the world by way of a handy tag. It automatically lends credibility to your dog and can often help you when taking your dog into spaces they wouldn't ordinarily be permitted.
Of course, only get your dog a special identifying tag if it applies to them. We could all argue that our pet animals provide emotional support, but that is not the definition of an Emotional Support Animal. There is also a difference with Service Dogs too.
"Emotional support dogs are defined by their ability to comfort people through affection and companionship. Though they don't receive any formal training, they are a big help to those who suffer from mental and/or emotional issues...A service dog is trained to perform tasks and do work that can help alleviate their owner's disabilities. Service dogs are much more than highly trained companions; they have important jobs." - Petfinder (4)
It is quite easy to find tags specific to your dog's job title and we have recommended some below.
---
Best Custom Dog Tags Australia 2022 Reviewed
We are well and truly filled in with the merits of dog tags and the qualities of them. Below we have reviewed our favourite dog tags on the Australian market to take out the guesswork for you. As this is an accessory, we have shown a wide variety of styles below so you can find the right ones for you. We also have the ESA and Service dog options for the talented employed pups out there.
What sets this product apart from the rest?
Sometimes classic is best. You will rarely catch me saying that but in this context it's true. There is something endlessly cool and suave about a military-style dog tag. Dog Nation provides with their stainless steel classic military ID tag.
First of all, it is an ideal size to show everything you need on the tag. Measuring 41mm in length, 22mm in width and 2.5mm in thickness, it's a decent surface area which allows the font to be super easy to read.
As it is made of stainless steel, it is a hardy little thing that shouldn't show signs of wear for years and years to come. The personalisation comes in the form of laser engraving on the back of the tag so no printed words that could wear off with time.
In order to personalise the tag, all you need to do it enter your dog's name, address and your phone number in the custom text box when you order it. Easy peasy.
The 100% 5-star stellar reviews attest to how great of a product it is. Durable, stylish and fit for purpose. What more could you want!
---
If you want a dog tag that is cheap as peanuts, this is the option for you. What we like most about the JIAKAI range is the cool assortment of colours. It's pretty much the entire spectrum of the rainbow here. The pack includes 30 - yes 30 - dog tags in a random mix of colours. One thing to note is you are unlikely to get one of each of the colours and may have repeating colours. It's like a box of chocolates as Forrest would say, you never know what you're gonna get. That could be a con for you, but out of the 30 pieces you are sent, it's unlikely you'll dislike all of them.
It's also important to note that these are not personalised when they come to you, meaning you'll need to engrave them yourself or get then laser engraved by a professional. This is quite easy to do. Many key makers have the equipment to do this.
The JIAKAI Bone Shape Dog ID Tag being tested by our independent expert team.
So in the previous section when we were talking about the qualities of a good dog tag, I mentioned that the cheaper options can be a little thin sometimes. Well, the JIAKAI model is one of those. You get what you pay for here.
However, it is made of hardened aluminium so it is not brittle or breakable. It is rust-proof, chew-proof, scratch-proof and protected against corrosion. It may have some give in the metal as aluminium is a soft metal by nature, causing it to bend with brute force. As I said before, it is pretty difficult for your dog to do that kind of damage to it. Normal activities of play, sleep, swimming and exercise are unlikely to cause any harm.
Let's talk about sizing and shape. These are bone-shaped tags that are a decent enough size A little smaller than the military-style tag recommended above. Measuring 38mm in length, 25mm in width and 2mm in thickness.
So, to sum up, this is a pretty simple product!
If you want a heavy-duty beauty, then you're better off with the Dog Nation options. But for a cheap and cheerful name tag that you are free to engrave in a style of your choosing, this is a no brainer.
Verified Review - 4/01/2021
Great Durable Harness
"We got this for our Staffy cross Husky (~10 months old), fostering to adopt puppy. He is a puller on a back attaching harness. We saw significant improvement with the front attaching harness but he has figured out how to pull. In saying this, he is still much easier to manage with this harness. It's easier to don and doff with the quick release buckle. Highly recommended this product."
---
Did I say I like beautiful things? We have another entry from Dog Nation because I cannot resist adding in a pretty option.
This range of tags has a gorgeous floral or leafy pattern depending on which of the 3 styles you choose. It is a simple but incredibly effective design. I wholeheartedly agree with the "designer" label.
As for durability, Dog Nation doesn't scrimp on their characteristic high quality here. This tag is stainless steel and therefore everything proof; scratch-proof, chew-proof, waterproof, heatproof… I could go on. It feels like a premium product too though it comes at a decent price point.
As for shape and size, it is a perfect circle which is a welcomed classically cute look. It's also incredibly easy to read because of having a good amount of space to pack in your details.
All three designs in this model measure 30mm in diameter. So, it will likely only fit your phone number and the dog's name.
A minor detail that probably only a select few people will care about is the actual engraving font. The engraving font of most personalised dog tags can be a little dull. In the case of the JIAKAI, you can have the tag engraved however you want which is neat. But sometimes for the standard engravings, the font is a bit... clinical let's say. So, pleased to say that this ID tag has a really pretty font! (Again, fully aware many won't care about this, but for those who do, rejoice!)
In summary, Dog Nation strikes again with this stunning dog ID tag which bags of personality, clear engraving and reliable durability.
Verified Review - 2/02/2021

"Really happy with the tags. Actually, I didn't purchase them for a canine, but as bag tags. They do the job very well."
---
Now onto the special dog tags. Service dogs are pretty fabulous and it's helpful to have a tag to identify them. This simple service dog tag is completely fit for purpose.
This is a durable little number. Made of stainless steel and a strong metal keyring, it will stand up to the elements easily. Everything proof as we like to say.
It is a perfect circle, so no sharp corners or illegible shapes.
The K9King Service Dog TAG being tested by our independent expert team.
There are two sizes available depending on the size of your pooch. For small dogs, they recommend the 25mm size. For medium to large dogs, they recommend the 32mm size. Both are clearly marked with the "service dog" moniker.
It's worth noting that this is not a personalised dog tag. You will need a tag to print your dog's name and details onto. This is an extra tag to also indicate their very important profession. Think of the ID tag as a passport and the service dog tag as a police badge.
Again, I must reiterate, this is only for your dog is they are a service dog. A tag is rarely enough for them to coast through every door that's usually closed to them. You'll often need to prove their assistance to you by way of documentation as well.
Verified Review - 20/11/2021
So awesome!
"Currently training our sweet little girl to be a service dog and this little tag is SUPER helpful. Let's people know she's a service dog even when she's not in her harness (which she often hates to wear!🤣🤣)"
---
For the Emotional Support Dogs out there, I have the perfect solution. This is a slightly different style from the other tags on this list.
It is a tag that loops through the dog collar. In other words, it doesn't dangle, it lies flat on your dog's collar using the stretchy rubber handles.
Apart from the rubber handles, the tag is constructed of durable stainless steel. It will withstand all the elements, heat, sleet, snow and sand.
It is worth noting that this isn't a personalised tag, and you'll need a separate ID tag to hold your dog's details.
If you prefer the style of the previous product as opposed to this flat laying style, K9King has an ESA option that looks very similar to their service dog model.
---
The Final Verdict: The Best Dog Tags Online
We absolutely love the Dog Nation name tags for stylish, premium quality that will stand the test of time. The military-style tag is a timeless style that will give your dog a certain cool factor. The designer range is a little more "fancy" but equally timeless and beautiful.
Of course, if you need a more specific tag for your ESA or service dog, the two options we recommended will do the trick!
As we have seen in the reviews, it is a little space dependent as to what you can engrave on your dog's name tag. The essentials are:


Your dog's name
Your telephone numbers
Your address (if there's space)


Some owners opt to print that their dog is microchipped as well.
We have mentioned microchipping a couple of times in this review but I guess we should define it!

The RSPCA define microchipping as a small electronic chip, smaller than a grain of rice, that is inserted under your dog's skin around the neck or shoulder. This is a scannable chip that reads a unique number. The number corresponds to your details.

"The microchip number is recorded on a database registry with details about the animal and owner. Should your pet stray or become lost, vets, animal shelters and local councils can scan your pet for a microchip and contact you via the database," says RSPCA Australia. (5)
Microchipping is required by law in some states, but it is good practice to do anyway.

Why? Well, a dog name tag or personalised collar is only of use if your dog actually has them on. It is not uncommon for dogs to lose their collars, particularly if they are not fitted properly. (6)

If your dog loses their collar, they have lost all of the identifiable information that would return them to you. That is surely our greatest nightmare as dog owners.

Microchipping is a failsafe. No matter what happens, the microchip will still be there with all of your details.

With this in mind though, be sure to update your details regularly on the microchip database if you move around a lot.


References
"What to do if you lose your pet". Humane Society. Retrieved February 22, 2021. https://www.humanesociety.org/resources/what-do-if-you-lose-your-pet
L, Coleman. "What Should I Put On My Dog's Tag?". Rover. Retrieved February 22, 2021. https://www.rover.com/blog/what-should-i-put-on-my-dogs-tag/
"Assistance Dogs". Health Direct Australia. Retrieved February 22, 2021. https://www.healthdirect.gov.au/assistance-dogs
"What Is the Difference Between an Emotional Support Animal, Therapy Dog and Service Dog?". Petfinder. Retrieved February 22, 2021. https://www.petfinder.com/dog-breeds/collections/emotional-support-dogs/
"Microchipping". RSCPA Australia. Retrieved February 22, 2021. https://www.rspca.org.au/campaigns/responsible-pet-ownership/microchipping

Perreault, J. September 26, 2013. "How to Choose the Correct Collar Size for Your Dog". Petful. Retrieved February 22, 2021. https://www.petful.com/pet-products/choose-right-size-dog-collar/