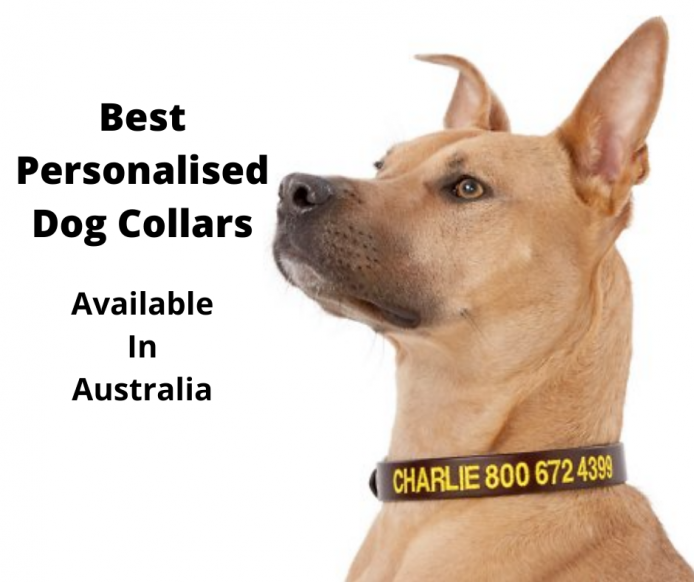 The Best Personalised Dog Collars Australia - An Overview
Dog Nation Handmade Personalised Dog Collar & Leash Set
There is a special something about having your items personalised. It's more than just a name. It's an extra level of care and specialness that makes that product unique. I personally have my name printed on everything that will allow it.
When it comes to personalised collars there are some truly gorgeous options out there. There's embroidery, there are customised colours and even free engraving. Extreme customisation for your special dog.
Today we'll go through the types of personalisation for collars, the qualities of a top collar, and finally our recommendations for the very best personalised dog collars in Australia. Trust us, they won't disappoint!
---
How Are Dog Collars Personalised?
So, personalisation is quite varied. Items can be customised in many different ways; dog collars are no different. Here are the three most popular forms of personalised dog collars you'll see on the market.
Embroidered dog collars
When you see the term "embroidered", your mind probably jumps to the sweet little trinkets an old nana would lovingly stitch her grandchildren's names into. And sure, that's kind of what's going on here, but far less dainty.
After all, how well do you think such delicate stitching would hold up in your dog's rough and tumble life? Through rain, wind, sand and sea? It wouldn't stand a chance!
No, embroidered dog collars are more like regular nylon or polyester flat collars with your dog's name and your telephone number stitched into the nylon itself. Often you can customise the colour of the fonts and the base colour of the collar. Complete customisation from top to bottom.
Laser-engraved dog collars
This is a slightly simpler style of custom dog collar. The information you need printed on the collar is engraved on the front buckle or a plate on the collar.
Laser-engraving creates a very crisp and clean look.
It also lasts for a very long time. There is no threading to worry about. It shouldn't be damaged either if the buckle or engraved plate is made of durable metal.
Printed dog collars
In the human world, we mostly use printing to personalise things. However, this isn't as effective in the dog world.
Whilst some personalised collars use fabric printing, this is the least durable out of all of the customisation methods, so we don't recommend them. The printing will surely wear off over time. Your dog typically wears their collar for very long periods of time. Fabric printing just doesn't hold up to the elements as laser-engraving or embroidering do.
---
What Information Should Be on Your Dog's Personalised Collar?
So, what should you be engraving or embroidering on your dog's collar anyway?
The basics are:
If your dog gets lost, this information will be vital to returning them to you. (1) If space allows, another common thing to print on your dog's collar is your vet's number. This can be helpful if for some reason your phone is uncontactable. Your vet will have ample space and administrative staff to attend to your dog whilst they get in contact with you.
It is also worth microchipping your dog in case your dog gets lost without their collar. (2) It is not obligatory in every state in Australia, but it is still highly recommended.
---
What Qualities Should You Look For?
Durability
Ideally, you want all products you buy to last the test of time. The very best dog collars on the market should be extremely long-wearing and last for years. No matter how many times it gets wet or dirty or sun-exposed, it should maintain its integrity.
Durability mostly comes from the materials used. Leather and high-density nylon are prime candidates for hardy collars. Some polyesters can be strong enough to last for years too.
Sizing
The collars length: comfort comes from the perfect fit. It is vitally important that your dog's collar is the right size for your dog's neck as they will be wearing it every day. Most collars are very adjustable and will cover a wide range of neck measurements in one size category. This is super variable among manufacturers too. It is best to measure your dog's neck before choosing a collar. Then use sizing chart that the manufacturer provides.

You need to measure the base of your dog's neck to ensure a comfortable fit. The industry standard is to add around 3cm onto the measurement to get the ideal collar length you need. But as I said, the manufacturer should help you out.
The collars width: there is another aspect to sizing though. So far, we have spoken about the collar length. What about collar width? Thinner options may be daintier and lightweight, making them great puppy collars. Wide collars will be best for strong and/or large dogs.
PRO TIP: Jet Perreault from Petful writes, "When looking at collars, you will notice that there are not only different size lengths but different widths as well. In general, thicker collars will provide more support, making them ideal for stronger dogs. Wider collars are also more comfortable because they will reduce the pressure on the neck." (3)
Design
Humour me for a second. If you're going to spend a little extra on customising your dog's collar, it may as well be the best looking collar you have ever seen right? Cool colours, patterns, and classic finishes are all entirely possible with personalised collars. There is a perfect style for every dog out there.
---
Best Custom Dog Collars Australia 2022 Reviewed
Finding the ideal collar for your dog may seem daunting now that we have gone through the minutiae of it all. Not to worry - we have scoured the web for the best personalised dog collars you can buy on the Australian market. We have a range of different price points, styles and materials so you can find the right one for you and your pup.
What sets this product apart from the rest?
For an amazing, personalised dog collar, we love the Dog Nation Maya design. It ticks all of the boxes and more.
Firstly, this is made of a premium quality polyester for the ultimate durability. Yes - fully aware that the words "premium quality" and "polyester" rarely fit together but let me blow your mind.
Polyester gets a bad rep, but high-quality polyester is an extremely tensile material. It is high-tenacity with minimal stretch so you can trust this collar to last your dog through the ages.
The Dog Nation Handmade Personalised Dog Collar & Leash Set being tested by our independent expert team.
Beyond that, just look at the striking colours. How many black and brown collars do we see? The geometric pattern and fun colour scheme of this collar will surely make your dog the talk of the dog park. The front bow-tie is also a dapper addition. Sometimes a quirky design adds an extra layer of personality to an already personalised item. We love!
Speaking of personalisation, let's talk about how DogNation chooses to personalise its collars sets. In this case, they use laser engraving to imprint your dog's name and your telephone number boldly onto the front plate of the collar. This is clear to see and easy to request when you buy the item.
In terms of the size range, DogNation offers this personalised collar in a range of excellent sizes. It ranges from extra-small to extra-large. The smallest size is suitable for a neck length of 23-30cm. The largest size is suitable for a neck length of 56-62cm. Therefore, this collar should fit the majority of dog breeds, but do measure your dog first.
To top it all off, this collar comes with a matching leash made of the same tough material. Well-reviewed, well-priced and well sought after - this is our very top choice for your dog.
Verified Review - 1/01/2021
Fantastic Collar And Lead
"I recently bought the Maya Collar and lead with engraving and absolutely love it. The fabric is colourful and soft on my dogs neck. The clasp is strong and stylish and i love the engraving style and position as I don't like tags dangling down. I will definitely be buying another lead from dognation and have already recommended dognation to friends"
---
A great collar needn't break the bank so for our budget pick, PAWID offers an interesting, versatile, personalised collar option.
This collar is made of bamboo fibre for an extra boost in durability. It is worth noting, however, that this collar is not as tensile as the Dog Nation option. It's not a case of "you get what you pay for" here, but rather organic vs man-made. Polyester is man-made to be as durable as possible, especially when tightly woven as with the Dog Nation collars.
The PAWID Personalised Laser Engraved Bamboo Fibre Dog Collar being tested by our independent expert team.
The PAWID collar uses the organic, eco-friendly bamboo fibres for a unique collar with ultimately a shorter lifespan. That's not to say that the collar will melt with one use. It is durable still but may not last as long as the others on this list.
This model comes in three colours: pink, blue, and green. These three designs come in three sizes from small to large. This is therefore one of the more limited options in terms of sizing. The small is adjustable from 25-40cm. The medium size is adjustable from 31-48cm. The largest size is adjustable from 40-63cm. That is still a wide range but excludes the very smallest dogs, so do bear that in mind.
So how do you personalise this collar? PAWID use a laser engraved technique to personalise dog collars with name and phone number. This is printed on the front buckle. The buckle isn't very large so do keep the printing you request quite short.
Overall, for the price, this is a cute little collar. Soft colours, simple personalisation and an eco-friendly twist with the bamboo material. A unique economical choice for sure!
---
We can agree that the leather look is definitely a classic, universal style that we love to see in dog collars. This genuine leather personalised dog collar takes things a step further in style, sizing and personalisation.
Let's start with the design. The Sirius model is sleek and simple. It comes in three flattering colours: deep red, dark brown and bright green.
The Sirius Genuine Leather Dog Collar Personalised being tested by our independent expert team.
People often worry about how comfortable leather is for your dog. Sure, leather can be a bit inflexible, but the inner lining of this collar has been softened slightly for supreme comfort. You don't have to worry that the cold, unforgiving stiffness of leather will cause your dog discomfort. You can relax in knowing this durable collar is also comfy.
To ensure that the Sirius collar truly is comfortable, you need the perfect fit. Luckily, the manufacturer provides a clear sizing chart that is pretty reliable. There are six different sizes from extra-extra-small to extra-large. You are highly likely to find a decent fit for your pup, regardless of breed, size, age, or hair type.
Finally, the personalisation is a step beyond the rest on this list. When you order this dog collar, you have four lines of text you can customise. For example, you can input your dog's name, your address and your phone number for the ultimate full identity card. Very useful.
For a genuine leather collar, this product is surprisingly economical. So, for a top-reviewed, stylish leather dog collar with phone number and name printed on it, this is the choice for you.
Verified Review - 12/04/2021
Top Quality
"I ordered this collar based mainly on reviews and hoped that they were accurate. The collar we received far exceeded my expectations and was beautifully made , nicely stitched and included quality hardware. Quite clearly, the people who manufacture these collars take pride in their work"
---
We have discussed many laser engraved options so far. Now let's move onto the embroidered dog collars. Australia, honestly, this is the ideal option for you!
Personalisation goes beyond just a dog collar with name & phone number. You are limited to 25 characters maximum, including spaces but you can put anything you want without symbols.
The colours are completely customisable too. There are 6 base colours: black, blue, green, light blue, pink, purple. You can then choose the colour of the text they use to create a unique combination. There are 9 font colours in total: black, white, green, blue, red, gold, pink, orange, dark blue. Our recommendation is to use as contrasting colours as possible so that the text can be seen clearly.
The Amakunft Reflective Customised Dog Collar with Name being tested by our independent expert team.
As for sizing, there are 4 adjustable lengths to choose from. The small size is 35-40cm. The medium size is 45-50cm. The large is 55-60cm. The extra-large is 65-70cm. For the giant breeds, this is fantastic. The Danes, Newfoundlands and St Bernards of the world are well catered for. But the toy breeds like Chihuahuas and Dachshunds are left out here. 35cm is way too large for them so please bear that in mind before you buy.
It's a very economical option for the levels of customisation that is offered. If the size is right, we highly recommend these embroidered dog collars.
Verified Review - 13/10/2021
Good quality
"I have two husky females, they weigh 22 kilos both, the size L is the right one, it can also be enlarged much more than they need, the color is very powerful and beautiful the embroidery is clear, very happy with this purchase."
---
It's fair to say that many personalised collars on this list have had some amazing design features. Bowties are common. Printed patterns too. Even customisable font colours. All great things. But this one is the most unique we could find. The removable Velcro flower is just adorable.
Beyond the flower itself, which clearly takes centre stage, the floral prints that this model comes in are also luxurious and classy. There are 4 patterns in total. The black and green design is our favourite, but you also have beige and peach, cream and dusty blue, and a bright baby pink design. Quite feminine you could say, but ultimately a stylish look for any and every dog.
The PAWID Flower Custom Dog Collar being tested by our independent expert team.
But will it fit every dog? There are only three sizes to choose from with the PAWID Custom Dog Collar. The smallest size is suitable for a neck width of 25 - 40cm. The medium size is best for a neck width of 30-55cm. Finally, the largest size can fit a neck width of 40-65cm. Again, this is amazing for large dogs. It's not terribly for small dogs but an extra-extra small option wouldn't go amiss.
As for the durability, this collar is made of nylon. Nylon is very strong and should last your dog for a long time.
The personalisation is simple with a name and number printed on the collar clearly in Century Gothic font.
Overall, for a step beyond in the style department, PAWID offers a beautiful option.
Verified Review - 1/01/2021
Adorable
"So cute & adorable!! I love love love!!!"
---
The studded leather dog collar has been quite the staple of doggy fashion since doggy fashion came into being. It is possibly one of the original unique flairs of dog collar design. And though this is not for everyone, if you seek a studded dog collar, we have you covered.
The Cool Rivets model is a soft spiked design. This means that the spikes are not pointy or harsh. There are three rows of spikes, but these are harmless to your dog and anyone else. It's purely for the punk rock look - not to actually hurt anyone!
The Cool Rivets Studded Genuine Leather Dog Collar being tested by our independent expert team.
It comes in two colours - black and brown. It also comes in four sizes ranging from extra-small to large. The smallest size is suitable for a neck length of 21-28cm. However, the largest size is suitable for a neck length of 44-55cm. This means that extra-large dogs may struggle to find the perfect fit here.
As for durability, this is genuine leather. Famously hardy material, this collar should last your dog for years and look better and better the more worn it gets.
If the sizing is right, this is a great product! Imperishable, top reviews and a good price point are all extra reasons this could be the studded collar for your tough dog.
Verified Review - 02/12/2020
PERFECT
"I loved it so much and so did my puppy!! He looked like a tough poodle"
---
The Final Verdict
Quite the range of choices here so it's difficult to say just one! For an overall durable, fashionable, and top-rated option, you can't go wrong with the Dog Nation Maya Personalised Dog Collar. It ticks all of the boxes of what you truly want. It is also the only one on the list that comes with a matching leash. We love a bit of coordination.
If you are on a budget or are eco-conscious, the PAWID Bamboo Fibre Collar is a special product. The material is unorthodox but extremely cool. It has a simplistic design. Though it falters on the sizing front, it's a good option for most dogs.
Want to learn more about dog collars? Check out our below guides:
It's difficult to tell what materials are most comfortable for dogs. Leather is surely sturdy, but it can be a bit heavy sometimes (depending on the product). It may not be suited to every dog.
Man-made materials like nylon and polyester are designed to be comfortable so you shouldn't have any problems with them. They are also very lightweight.
As for bamboo fibres, these are extremely soft. Not as durable as polyester, nylon or leather, but super lightweight and breathable.
This is a point of contention in the dog world.
Are collars bad for dogs? Are dog harnesses better?
It depends on your dog's physiology and what you need the collar for. In general, it is good practice for your dog to have a collar for identification purposes.
It's the issue of good walking etiquette. This is where things get sticky. If your dog is a strong puller, a collar can be quite dangerous.
PRO TIP: Lindsay Lowe of PetMD writes "Traditional collars can harm a dog's neck if it pulls hard on the leash or if a pet owner uses the collar to pull the dog around. Repeated stress on the neck can even lead to long-term medical issues—including damaging the thyroid glands and tissues around the neck area and salivary glands... A chest harness can be a safer alternative to neck collars that put a lot of strain on a dog's neck..". (4)
This is particularly dangerous for brachycephalic dogs. (5) This mostly affects small dogs.
They are very susceptible to brachycephalic airway syndrome and tracheal collapse if they pull too much with a collar. Therefore, a chest harness with a front lead attachment is best.
References
"What to do if you lose your pet". Humane Society. Retrieved December 27, 2020. https://www.humanesociety.org/resources/what-do-if-you-lose-your-pet
"Microchipping". RSCPA Australia. Retrieved December 27, 2020. https://www.rspca.org.au/campaigns/responsible-pet-ownership/microchipping
Perreault, J. September 26, 2013. "How to Choose the Correct Collar Size for Your Dog". Petful. Retrieved December 27, 2020. https://www.petful.com/pet-products/choose-right-size-dog-collar/
Remitz, J. January 16, 2018. "5 Ways Collars Can Harm Your Dog". PetMD. Retrieved December 27, 2020. https://www.petmd.com/dog/care/5-ways-collars-can-harm-your-dog
Williams, K. "Brachycephalic Airway Syndrome in Dogs". VCA Animal Hospital. Retrieved December 27, 2020. https://vcahospitals.com/know-your-pet/brachycephalic-airway-syndrome-in-dogs