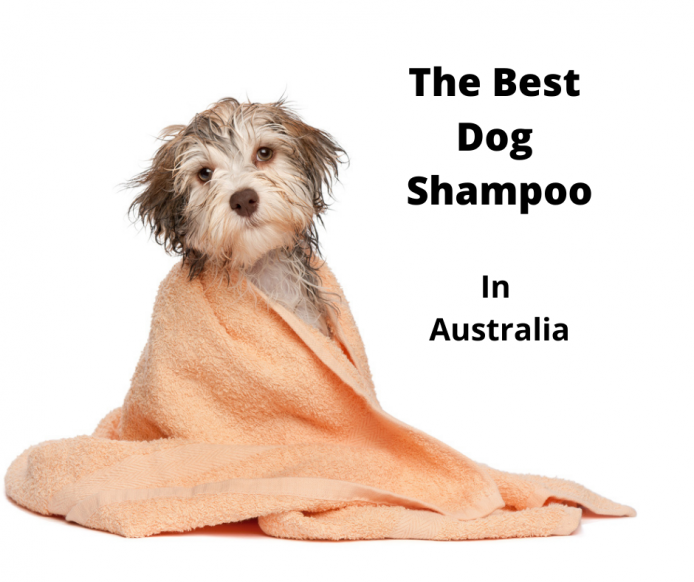 The Best Dog Shampoo Australia - Puppy To Adult Options
PAW Blackmores MediDerm Gentle Medicated Dog Shampoo
Generally, dogs are clean animals. Seeing your pooch cleaning their paws after being outdoors is not an uncommon sight. However, there's something so compelling in rolling around in mud and dirt. Some dogs might be scared to death from bath time, yet the hankering of foul odour on their coat is stronger than any possible phobia.
On the other hand, dog coats hide the fact that their skin is very sensitive. Canines are susceptible to allergies, rashes and other skin conditions, and that's why picking the right dog shampoo should always be taken seriously.
Our Best Dog Shampoo Australia guide is here to help you make the perfect choice for your dog.
---
How To Choose The Right Dog Shampoo
Before the difficult task of choosing the best shampoo, you need to define what it is that your pooch needs. Since the pet cosmetics industry is largely unregulated, there are tons of shampoos on the market that claim to be the best option. To make the right choice, let's identify your dog's needs first.
Determine your dog's skin type
If your dog's skin is allergy-prone or sensitive, you need to pick a shampoo that's hypoallergenic and doesn't have harsh chemical ingredients that can irritate the skin. Instead, opt for gentle compounds, such as aloe vera, oatmeal or vitamin E that can have soothing effects on your pooch's skin.
Check for possible parasite or skin infections
If your dog struggles with a skin condition ranging from seborrheic dermatitis to fungal, yeast and bacterial infections, you may need to buy a medicated shampoo for dogs. This type of shampoo soothes the irritated skin all the while it treats the condition with appropriate active compounds (1).
Ingredients like aloe vera or oatmeal are commonly found in a shampoo for itchy dogs and these are great at calming the irritated skin and killing these pathogenic organisms. Ketoconazole or Salicylic acid or Benzoyl Peroxide are the active ingredients that will target the ongoing infection.
Don't forget to regularly check your dog's coat for fleas and ticks. These nasty pests, besides being annoying, are possible carriers of different health problems ranging from anemia to Lyme disease. If your pooch happens to be infected with parasites, you should focus on eliminating them right away. There are different medical shampoos on the market that kill and repel these pests. Furthermore, you should consider getting your dog some type of parasite prevention.
Pick an appropriate shampoo for your dog's age
Most dog shampoos are safe to use for dogs of all ages, but sometimes, they have an age restriction. These shampoos usually have a certain ingredient that's too irritative to a pup's skin and should be only used for dogs over 6 months of age, for instance.
Consider other possible issues a dog shampoo can help solve
Does your dog shed way too much? Shampoos with antioxidants, beneficial oils and amino acids can prove to be helpful with lowering the amount of shedding. They also make the coat strong and shiny.
Some dogs have a much stronger odour than others. There are a variety of reasons for that, ranging from excess oil production and anal gland problem to the uncontrollable urge to roll into every poop encountered during the walk. Some shampoos are formulated in such a way to help eliminate the nasty odour.
On the other hand, you might be struggling with brushing out your pooch's coat after every bath. Certain breeds are more prone to hair tangling, and it can become quite a task to comb through their fur. Just like human hair, a dog's coat can be treated with a conditioner that nourishes and moisturizes the coat while making it easily combed through. However, we're not suggesting using a human hair product for your pooch's bath. There are dog conditioners that are specially formulated to untangle and restore the coat's natural oil production.
Finally, there's a product every dog parent should own - a dry shampoo. These come in a variety of forms, from sprays and powders to gels and foams. What's common for all of these is that you don't need to rinse them off with water. This is a fast and convenient way to fresh your pooch's coat between baths and spot clean any possible dirt buildup. However, keep in mind that dry shampoo will never be better than the regular one for a deep cleanse. This is only a temporary solution that can be used on the go.
---
Dog Shampoo 2022 - The Top List
What sets this product apart from the rest?
If your dog has sensitive skin, it's quite natural to be cautious when picking out a new shampoo. Get it wrong and you'll end up making the problem worse - but not with the PAW Blackmores MediDerm Shampoo.
This shampoo was designed specifically for dogs with sensitive skin that's prone to irritations and allergies, but that doesn't mean it can't be used as a regular shampoo for any dog - because it can. However, where this shampoo shines is with helping treat minor skin problems such as seborrhea, greasy skin, itchiness and even hair loss.
The PAW Blackmores MediDerm Gentle Medicated Dog Shampoo being tested by our independent expert team.
The main active ingredient in this shampoo is Piroctone Olamine, a compound that has been used in anti-dandruff shampoos for humans too. The key to the effectiveness of this shampoo is the gentle formula that does not use sulphates (i.e. the main culprits for skin irritations caused by shampoos).
Blackmore's is a pioneering Australian company that started focusing on natural health as far back as the 1930s. Although they make health supplements for humans too, PAW Blackmores is their line made specifically for pets. So, if you are looking for a reputable local brand, this might just be what you need.
---
What sets this product apart from the rest?
This soothing shampoo from Super Pets is a great example of what a good dog shampoo looks like. It's made in Australia with natural ingredients, it cleans the coat thoroughly with a nice rich foam, and it smells great!
The well-balanced formula of the Luxury Lavender & Tea Tree shampoo gently cleanses the canine coat and skin without drying it out and causing irritation. The most important ingredients of this shampoo are quinoa protein as well as olive oil and flaxseed oil (both certified organic). They provide gentle hydrating care for the skin & coat. The formula produces a nice foam too, but it's free of sulphates and similar additives. Moreover, the formula is pH balanced so it doesn't disturb the natural balance of a dog's skin.
If you are wondering where the lavender and tea tree are, where they are there in traces to create a pleasant smell. That's for the best though, because tea tree oil can be toxic to dogs when used in high concentrations. The smell of lavender, on the other hand, has a calming effect on both dogs and humans, thus making bath time more relaxing for both of you.
Verified Review - 27/04/2021
Yes, I'd recommend this product.
"We used this when washing our dogs and it smells great, leaves their coat looking nice too. It's awesome to see great products coming from the Sunshine Coast!"
---
What sets this product apart from the rest?
A good dog shampoo not only makes the coat clean and shiny, but also works its way into the dog's skin, nourishing it and restoring any dry patches. This product from Petspot features a gentle formula that will leave your pooch with healthy skin and a soft coat after a single use.
The shampoo formula contains chamomile, oatmeal, yucca and aloe vera. Oatmeal and aloe are strong moisturizers that repair dry skin, while chamomile heals split ends and protects the skin and fur from outer factors. However, the real rockstar ingredient is yucca. It soothes itching, hot spots and inflamed skin, and it's perfectly safe for both young pups over 8 weeks of age and elderly dogs. When massaged into your pooch's coat, leave the lather on for around 5 minutes before rinsing it off. That way, it has enough time to penetrate skin layers.
Petpost so firmly believes in the quality of this shampoo that they offer a 100% happy dog guarantee. This means that if you find this product doing nothing more than any other dry-skin dog shampoo on the market, you'll get your money back without trouble. Another thing worth mentioning about this pet company is that it's environmentally conscious. The ingredients they use are all naturally derived, and the packaging is recyclable.
Verified Review - 16/05/2021
PetPost Oatmeal Shampoo - what a difference!
"My fur baby has had dry skin problems for a long time, I've tried different shampoos, skin treatments and diet adjustments and nothing seemed to help. After just one bath with the PetPost Oatmeal Shampoo his skin is looking a lot better, he isn't as itchy and his belly and under arms are looking good! His fur is so much softer than it has been and he hasn't been licking and scratching like he was before. The shampoo hasn't left a perfumed smell, he just looks, feels and smells clean! We are very happy with PetPost Oatmeal Shampoo for dry skin."
---
This dog shampoo from Anicura is a perfect example that a high-quality product can be made with just natural and naturally derived ingredients. This mild shampoo is great for dogs of all skin types, even those with sensitive or flaky skin.
Sea buckthorn, safflower and tea tree are the key ingredients of this natural shampoo. It's rich in vitamins, minerals and fatty acids, all of which are beneficial for both skin and coat. There are no artificial compounds like parabens or SLS that can be harmful to your dog. Even the fragrances are 100% natural. The shampoo has a lavender and chamomile scent, which both you and your dog will love.
Don't expect this shampoo to go all bubbly in the tub. Natural ingredients are only capable of creating a so-called "low foam." When you apply the shampoo to your pooch's coat and massage it in, you'll see a thin layer of foam creating. However, there won't be bubbles everywhere like it happens with regular shampoos, since this one lacks artificial chemicals.
Another thing to keep in mind is that dogs shouldn't be washed too often, even with natural shampoos, as it may disturb their coat's oil production.
---
Perfect Coat is a brand that offers professional grooming products at a budget-friendly price. Their shampoos are made with high-quality ingredients that will give your pooch a healthy and shiny coat. One of their products particularly stands out - the Mild Puppy Shampoo.
We're all well aware of how sensitive pups are. That's why you'll need a shampoo that's gentle enough to clean the coat and skin without stripping them of their natural oils. This shampoo does just that. Its formula features keratin and jojoba oil, which protect and soften your pup's fur. Both of these ingredients are tearless, so they won't sting or irritate the dog's eyes if the shampoo gets in. This is especially important for those energetic puppies that go wild when in the tub.
This shampoo has an easy-rinse formula. This means that there's no shampoo buildup on the coat and the lather is easily washed off. The one thing that does stay behind after rinsing is the baby powder fragrance which will make your pooch smell beautiful. After a bath, towel dry your pup's coat thoroughly, to prevent getting that "wet dog" smell.
Verified Review - 11/03/2022
Love My Puppy Smell!
"I have a Chihuahua and have always used Puppy Shampoo on him. I love the "Baby Smell". The smell has lasted several days. His hair is so soft. Will order again!"
---
Our four-legged friends aren't that much different from humans. We're both troubled by things like weather, sweet tooth or allergies. The last one can be in direct relation to the type of shampoo you're using for bathing your pooch. Fragrances and harsh chemical ingredients are the most common cause of allergies in our canine friends, and if your pooch falls into this sensitive category, it's time you get a proper shampoo with a hypoallergenic formula.
This shampoo from Ivory Coat combines jasmine, calendula, comfrey, aloe vera, macadamia, avocado and tea tree oil. On the other hand, it's free from sulphates, parabens, synthetic chemicals, dyes and fragrances. Its all-natural formula deeply cleanses, and at the same time, moisturizes the dog's skin. Allergens and dirt are rinsed away, while the coat remains soft and rejuvenated (3).
Besides the long list of hypoallergenic soothing ingredients, another reason why this product is considered the best shampoo for dogs with sensitive skin is the fact that it is soap-free. This type of formula is safe to use around the dog's eyes, and it's gentle for even the youngest of pups. The shampoo comes in a 500 ml pump bottle dispenser. This is so convenient, as it gives you the desired amount of shampoo, and it can be used with one hand.
Verified Review - 4/01/2020
Low Suds
"This shampoo is really nice and smells great. It has low suds though so using it on my long haired cavoodle is a bit of a struggle to get a good lather up. It means I will need to use more."
---
While you may perceive your Great Pyrenees as a strong, tough guard dog, in reality, they're just delicate furry flowers that require our care. They're susceptible to different skin conditions, from allergies to yeast and bacterial infections. In most cases, a medicated dog shampoo, such as MediDerm from PAW can be necessary for treatment.
MediDerm is a low-irritant, antibacterial and antifungal shampoo that contains Piroctone Olamine, an active compound usually used for treating fungal infections. This ingredient is combined with pawDerm® sulphate free cleansers, and together they make a product that effectively treats different skin conditions and removes grease and scaly skin. Thanks to glycerin and water, the shampoo does its job without impacting the skin barrier.
This shampoo works fast. Five minutes of bath time is more than enough for it to start fighting those nasty infections. And since it's so gentle on the skin, it's ideal for long term treatment of recurrent skin conditions.
The shampoo has a mild, botanical fragrance (as do all products from PAW), which can barely be felt on the dog's body after a shower. Botanical scents are a much better option than artificial ones not just because it fades, but because synthetic fragrances are often a source of skin allergies.
Verified Review - 4/01/2020
Paw Mediderm Shampoo
"My dog has severe skin allergies and I have been trying several different shampoos and treatments. This shampoo and the conditioner is what I have been looking for. It works very well and we are all happy."
---
There are two types of dogs - those that just sniff smelly poos, and those that use every chance they've got to roll in it. Scientists explain that dogs inherited this behaviour from wolves, who would roll in poop to hide their scent from prey. There are several other theories that try to explain why dogs do this, but the fact is that it's disgusting, and your dog will need a bath as soon as you get home. For this horribly stinking smell, you'll need strong deodorizing dog shampoo, like the Dirty Talk from Pet Head.
The Dirty Talk shampoo is specifically made to neutralize odours rather than just covering them up. Baking soda and ordenone are the two ingredients that make that possible. The shampoo also features vegetable protein extract and soy protein which make the coat look shiny and full. After a thorough bath with this shampoo, dogs smell like they just got out of a grooming salon. No one will ever have to know about that poo under the tree…
The PET HEAD Dog Dirty Talk Shampoo being tested by our independent expert team.
This orange-scented dog shampoo comes in a pink bottle with a bone-shaped cap. When you remove that, there's a push-pull cap underneath that allows you to properly distribute the product over the dog's body, without spilling it around the tub.
Verified Review - 27/04/2020
Good Shampoo, Sickly Smell.
"The packaging of these products is gorgeous. I bought the yummy orange shampoo and the smell is very sweet and chemically. I wanted one as fresh and citrusy as possible, but this leans away from fresh unfortunately. (And I usually love fruity sweet smells!) However, it does clean well and leaves my Labradors coat shiny and soft, so that's the most important thing,"
---
Every long-haired person knows the importance of using a conditioner. Some learned that the hard way, by forgetting to use it and struggling to brush out the hairy mess afterwards. Well, brushing through a long-haired dog coat isn't much different. No matter if you own an Alaskan Malamute or an Afghan Hound, a conditioner should be a staple in your dog's regular wash and groom routine.
A 2-in-1 product is even a better choice. This dog shampoo and conditioner from PAW is suitable for dogs of different coat types. The shampoo is pH-balanced, hypoallergenic and sulphate-free. It penetrates deeply into the coat to clean it without any irritation or dryness. Thanks to vegetable glycerin and panthenol, the coat gets soft and easily detangled after a bath. Finally, jojoba and lavender essential oils give the product a fresh scent that will make your pooch smell like heaven.
This conditioning shampoo comes in a 500 ml bottle with an easy pour clip top cap. That's not a horrible choice, but with a bottle that large, a pump would be a better option.
Verified Review - 4/019/2020
Nice
"Works well, convenient for my dogs fluffy feet that I need to wash everyday, quick and easy, good value"
---
With dogs, there's almost never a middle ground when choosing preferences. When it comes to getting wet, they either love or hate it. If your pooch falls under the second category, then you already know how much work dog bath times can be. Getting your canine companion into the bathroom is one thing but getting them into the tub is a whole other story. In such cases, dry shampoo can prove to be an invaluable alternative.
Dry shampoo, such as this one from Pet Head, is great for spot treatments. No matter if your pooch stepped in dirt or you managed to spill tomato sauce all over him (it happens!), there's no need for a proper bath time if you own this product. Just spray the dirty area and dry it with a towel or a hairdryer. After that, you should brush the area out, as it might get tangled from spot cleaning.
The PET HEAD Shampoo Dry Clean Spray being tested by our independent expert team.
When spraying, avoid the area around the dog's eyes and ears. Like all other Pet Head products, this dry shampoo isn't harmful when ingested in small amounts, so don't worry about your pooch accidentally licking it. The shampoo has a blueberry muffin fragrance, so don't be surprised if your dog is turning heads wherever you go.
Verified Review - 31/03/2021
Smells Good
"This smells so good but a little goes a long way. My dog always smells like outside when she comes in cause she likes to roll in the grass so we got this to see if it would help. It definitely smells good but if you spray too much the scent is definitely overwhelming"
---
The Final Verdict
Keeping your pooch clean and smelling nice is quite a task. Their urge to get dirty and roll in smelly things is so strong that one second of your lost attention can result in a half-an-hour long bath time.
As we've seen, there's a variety of different shampoo formulas on the market, which makes picking the right product difficult. Petpost Oatmeal & Chamomile shampoo keeps the dog's coat clean while at the same time nourishes and repairs dry and itchy skin. Its ingredients are safe for puppies and dogs with sensitive and allergy-prone skins.
However, if your pooch is struggling with more serious skin issues than a bit of itchiness, consider getting a medicated dog shampoo. Paw Mediderm shampoo for dogs effectively treats fungal and bacterial conditions while being extra gentle on the dog's skin and coat.
If you absolutely must, you can use human shampoo as a one-time emergency solution, but this should never become a usual practice (4).

The pH level of a dog's skin and hair is not the same as a humans. While our level is slightly acidic, the dog's pH level is neutral. Repeated usage of an acidic human shampoo can irritate the dog's skin and cause it to dry out and flake.
The answer to this question depends on your dog's skin condition, coat type and lifestyle. As a rule of thumb, a monthly bath is ideal. However, if your dog seizes every opportunity to get dirty, this can and should be done more often.
It's always better to start with a small amount of shampoo. The first time you try out a new dog shampoo you're never sure how much lather it will create. If you go ham and use too much product, you will have a hard time rinsing out the shampoo excess from the coat.
There are certain dog shampoos that have the "for cats and dogs" label on it. If you own a shampoo that doesn't specifically state it's cat-safe, then you should never try bathing your feline friend with it. Cats are generally more sensitive than dogs, and some ingredients found in different dog shampoos are toxic to them and can cause serious health concerns.
References
PetMD Editorial. January 2, 2019. "Do You Need a Medicated Dog Shampoo?". PetMD. Retrieved February 7, 2021. https://www.petmd.com/dog/grooming/do-you-need-medicated-dog-shampoo
Lotz, K. May 25, 2018. "How Often Should You Bathe Your Dog? Groomers Weigh In". AKC. Retrieved February 7, 2021. https://www.akc.org/expert-advice/health/how-often-should-you-wash-your-dog/
Horne, K. February 2016. "Scratching the Surface of Allergies in Dogs". Today's Veterinary Nurse. Retrieved February 7, 2021. https://todaysveterinarynurse.com/articles/scratching-the-surface-of-allergies-in-dogs/
Reisen, J. September 12, 2017. "Can You Use Human Shampoo on Dogs?". AKC. Retrieved February 7, 2021. https://www.akc.org/expert-advice/health/human-shampoo-on-dogs/