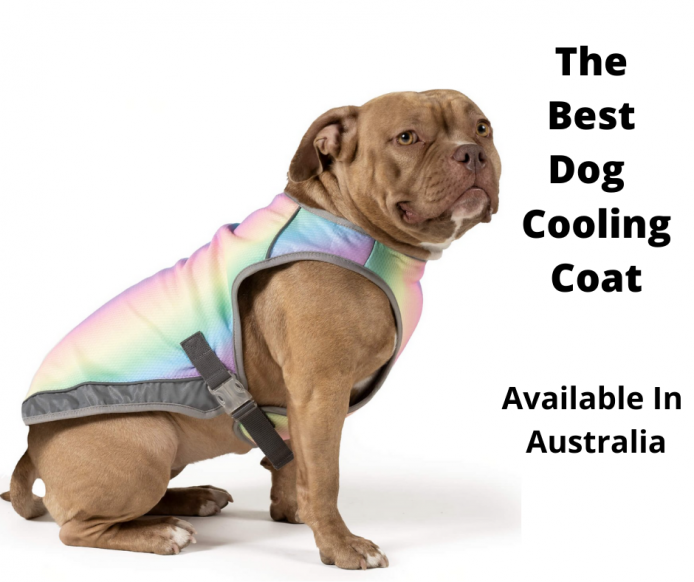 The Best Dog Cooling Coat -
A Cooling Vest Review Australia
Kurgo Dog Core Cooling Vest
Summers seem to be getting hotter and hotter in recent years, and if it's too hot for us, one can only imagine how tough it could be for our furry friends. Besides staying inside rooms with air conditioning, are there any other options for keeping your dog cool?
Well, yes, a dog cooling coat! Today, we talk about cooling vests for dogs. How do they work? Are they effective? What makes one ice vest better than the other?
These are the questions we will cover below followed by our top recommendations.
---
How Does a Dog Cooling Jacket Work?
Most cooling jackets require you to soak them in water, wring them out, and put them on your dog. Other products might require some time in the fridge, but really, this is the most common method. But does putting water on your dog really make them cooler?
"Dog cooling vests work through evaporative cooling. Sweating is a natural type of evaporative cooling, but on their own, dogs can only stay cool by "sweating" through their paws and by panting. That's where dog cooling vests come in." - Hanie Elfenbein, DVM for PetMD
It's quite simple, really. The cooling vest holds water inside. In contact with your dog's warm body, the water inside the vest heats up and it starts evaporating. What remains is the cooler portion of the water and the bodily temperature of your dog is reduced. It's pretty much how sweating works in humans, as mentioned above.
---
What to Look or in a Dog Cooling Jacket
Most cooling coats for dogs are based on a similar principle. So what makes one better than the other? Here is what to consider:
Material Quality
Just like with any garment, you'll want your dog's cooling vest to be made from high-quality materials to increase durability. Opting for something a bit more expensive often pays out in the long run.
Dog cooling vests will often be made from polyester or other synthetic materials that create the cooling effect without putting more weight than necessary onto your dog. To distinguish the better-quality vests, we recommend paying special attention to the seams. Are they neatly done, and do they seem strong? Most dog clothes fall apart at the seams first, so that's something to look out for.
Weight
Dog cooling vests usually need to be soaked in water, which can make them quite heavy. Many cooling vests will have multiple layers, with a thick absorbing layer in the middle. A vest that holds more water will keep your dog cool for a longer period, but it will also be heavier.
For larger dogs that are very prone to overheating, we recommend a vest with maximum absorbing power. For larger dogs, the added weight is usually not a big issue. However, for smaller canines choosing a more lightweight cooling vest might be a better solution.
Shape and Fit
When buying any piece of clothing for your dog, it is crucial to make sure it fits right. If a garment is uncomfortable, there is a high chance that your dog will despise wearing it. When it comes to cooling vests, pay special attention to the area around the neck and around your dog's front legs.
These are the areas where dogs can feel discomfort if the garment doesn't fit right. Getting a vest with adjustable straps can also help a lot as it allows for the jacket to be adjusted to your dog's individual body shape.
Lead Attachment
This is not really a feature on most cooling vests, but it is something to think about. If you're gonna be using the cooling jacket while going for walks with your canine companion, where will you attach the lead? If your dog is wearing a collar on walks, this will most likely not be an issue.
However, if your pooch is used to a harness, things get a bit more complicated. Some cooling vests, like the one from Kurgo, have an opening that allows you to put the harness under the vest and attach the lead to it.
Other products don't offer this option, so you'll have to figure out the harness situation on your own. It's sometimes possible to put the harness over the cooling coat, but this can create some discomfort for your dog, so you'll need to watch them closely and figure out what works.
---
Best Dog Cooling Vest Reviews 2022
Ready for some recommendations? These are the best cooling vests we have found:
What sets this product apart from the rest?
The cooling jacket for dogs from Kurgo is the perfect example of how a cooling vest should work. The principle on which it is based is quite simple, but also very effective. Who knew that keeping your dog cooler is that easy!
When you look at the Kurgo Dog Core Cooling Vest, you will notice it appears fairly thick, but that's actually why it's so effective at cooling. This cooling vest for dogs has three layers. The inside layer is breathable mesh fabric. It is followed by the middle layer of the vest which is thicker and is designed to hold water inside. Finally, the outer layer is designed to reflect heat and let the water evaporate slowly.
The Kurgo Dog Core Cooling Vest being tested by our independent expert team.
To use this west, you simply need to soak it in water, wring it out, and put the vest on your dog. As the wet vest gets warmer, the water will evaporate, thus effectively reducing your dog's bodily temperature.
Another thing we loved about this vest is the clever design. The vest is easy to put on. You'll use two quick-release buckles to make the vest stay in place, and it takes almost no time to snap them in place. The buckles are accompanied by adjustable straps on the sides of your canine companion's body which make creating the right fit a breeze.
Finally, this vest also features an opening on the back through which you can reach your dog's collar or harness to attach the leash. The opening can be closed with a two-way zipper, which also means you can adjust it any way you need in order to fit your dog's collar or harness.
Verified Review - 2/08/2021
Keeps The Dog Cool, Even With A Harness On
"So, here in the UK we had our yearly 3 weeks of very hot weather and the dog was hating it (so was I in fairness and he's got more hair, so must have been suffering). Needed a jacket to keep him cool that also fitted over his harness, and this does the job nicely. Soak in water, squeeze it, put it on. Plenty of room to fit over his harness and the opening on top gives access to the D-ring for his leash and GPS tracker. Dog loved it (I think), and didn't complain. Seems to have kept him cooler, more alert, and so happier. Left it on in the house on a couple of days when the temperature was nudging 30 degrees and the house fans were struggling, and more effective than a cool pad. Like other Kurgo gear it's well made, easy to clean, easy to adjust and I recommend 👍"
---
This dog coat from Petface is very affordable, but this doesn't mean its low quality. In fact, this is also one of the best cooling coats for dogs we have seen, except for the few smaller flaws.
The thing that amazed us the most about this cooling coat is the fact that it's very lightweight (it weighs only around 100 grams according to the manufacturer). The lightweight fabric is soft to the touch and comfortable for your dog, but it's still able to hold a fair amount of water inside and let it evaporate slowly.
Moreover, we also loved the fact that you don't need to put the wet coat over the dog's head to set it up, as some dogs really don't like this. With this coat, you just put the garment over your pooch's back and adjust it with two velcro straps. One velcro strap goes over the dog's belly and the other one goes across the chest to keep the coat in place. This design leaves plenty of space around your dog's neck which can be important for brachycephalic breeds like Bulldogs and Chihuahuas, for example.
There are only two small downsides to this jacket. First, since the jacket is connected at the belly with an adjustable strap, this also means that the belly is not completely covered. However, this doesn't seem to make this jacket much less effective. The other problem is the fact that if you are using a harness, you won't be able to put it under the cooling vest since there is no opening to attach the leash. Putting the harness over the cooling coat is always an option, though it might cause some discomfort if both are worn over long periods. On the other hand, if your dog wears a collar when walking, there won't be any problems since the jacket has a wide opening around the neck!
Verified Review - 7/09/2020
It Works
"My cockpoo really liked this , she didn't complain about wearing it ( she doesn't like coats much) did what was required. Remember it does go hard when dry."
---
Keeping the heart and chest area cool during the warmest days of the year is extremely important. This is especially true for double-coated dogs like Northern breeds, which have a difficult time adapting to hot Australian summer. The brand Hurtta had that in mind when designing this cooling vest.
This vest comes in sizes ranging from XXS to XXL. So, no matter how tiny or big your pooch is, there's a size option that will surely fit. Vests up to size S also feature a loop ring to attach a leash on. The product comes in two colour options: lilac and blue. Both are light, meaning they can get dirty rather easily. Luckily, the vest is machine washable on a gentle, 40º C cycle.
The Hurtta Collection Cooling Vest Harness being tested by our independent expert team.
The vest is easy to put on. Make your pooch step through the leg holes, then zip it on the back. There's plenty of padding on the back side of the zipper, so you don't have to worry about catching dog hair by accident.
When dry, the vest is extremely lightweight. Still, it has a pretty good absorbing capacity and stays wet for hours. The 3M reflective pipings are also a nice feature. They make your pooch visible even during low light conditions.
Verified Review - 18/07/2021
Supercool & Durable
"Love the vest. This is my second. First was for my paraplegic dog in a wheelchair who overheated easily. The second was for her younger sister. It's a little snug, but still fits great. Wish there were more colours for females and a safety catch for the zipper, as well as a back opening for harnesses"
---
During very hot summer days, even a vest might not be enough to convince your long-haired pooch to leave the house until the sun sets down. Naturally, high visibility is one of those things you want from dog walking equipment if you prefer doing that at night. In that case, this vest might be just what you need.
The vest comes in a fluorescent orange colour that will grab the attention of every driver passing you by. As if that's not enough, it also features reflective piping for even more visibility, especially during fog.
This vest is made of high-quality PVA and air mesh panel which makes it lightweight and breathable, even when it's wet. This material is also very good at absorbing, so your pooch will stay cool for a long time. And when the weather gets cooler, it can be used dry, as a wind-proof outdoor jacket.
There are four sizes to choose from, ranging from M to XXL. In terms of chest girth, that means from 45 to 100 cm. If your dog is smaller than a Beagle or a Cocker Spaniel, then this vest might be too big. The straps that go around the chest are adjustable, so you can set it to fit your dog like a glove. Side release buckles make this vest easy to put on.
Verified Review - 8/01/2021
Good Fit
"I have a lot of trouble ordering dog coats on line as they always come too small to fit. My dog is only a medium size dog. This product fits! It is a good size and would even fit a larger dog than mine. Don't know how cool it is really going to be but just wrapped found a coat that fits him"
---
Most cooling vests on the market don't double as a harness, so your dog needs to wear a collar as well during walks. But if your pooch is a puller, or simply doesn't like collars, this might be too much of a nuisance. Well, unless you find a vest that's designed to replace a harness, like this one by Sgoda.
At the back, the vest features two D-rings on both sides of the zipper. By attaching a leash on both rings you're making sure that the vest can't unzip, no matter what your pooch is doing. The rings are made of Zinc-alloy and they're quite durable. The zipper is adjustable, so even if your canine companion gains a bit of weight, you can still set it to fit perfectly. A Velcro tape at the top and a drawstring at the bottom assure everything is tight.
The SGODA Dog Cooling Vest Harness being tested by our independent expert team.
As for the vest itself, the shell is made of nylon while the lining is 100% polyester. There are three layers: the middle absorbs water while the outer ones distribute the cooling effect across the dog's body. The vest features UV protection, which protects your pooch's skin from sunburn.
This vest comes in 7 sizes, ranging from XXS to XXL. There's only one colour option, which is grey. That's a great choice, given the fact that this colour reflects heat from the sun, thus keeping your pooch cool. There are reflective green pipings around the neck and legs, for better nighttime visibility.
Verified Review - 23/08/2021
Comfortable Fit Eventually
"After 3 attempts finally received right size, fits my 9 month frenchie ok (M) used at beach yesterday weather was hot it dries out fast but seemed to work cooling him down after a few rinse with water."
---
Some dogs simply hate wearing harnesses and vests. If that's the case with your pooch, a cooling vest might not work. All For Paws had that in mind, so they designed a cooling bandana instead.
The bandana sits around your dog's neck just like a collar. There are three sizes to choose from, from S to L. It features a Velcro closure, so you can adjust it to fit your pooch's neck like a glove. It's made of neoprene, a material that's like wetsuit fabric. It's chemical-free and safe for pets.
The bandana works on a simple principle. Wet it and twist to get the excess water out. You can even leave it in the fridge for 10 minutes to get an even stronger cooling effect. It lasts several hours before you need to wet it again. So even during the hottest days of the year, your pooch will be cool while you're walking around the neighbourhood.
This bandana is rather lightweight even when wet, so don't worry about your dog being uncomfortable wearing it. It's one of those things they could keep on for the entire day. The bandana is blue with a cute water ripple print. A good accessory for all the fashionable canines.
Verified Review - 1/08/2021
Great
"Item as described, these are such a great idea, I have a French Bulldog & he really suffers in summer, this really helps him."
---
Final Thoughts
Which is the best cooling jacket for your dog? If you are looking for a quick recommendation, we can tell you we really loved the Kurgo Dog Core Cooling Vest. This vest has a strong cooling effect, it's designed in a clever way so it's easy to put on, and you can adjust the fit to perfection.
However, if you are looking for something with a lower price (and also more lightweight), then we'd recommend the Petface Cooling Dog Coat. In any case, we hope this guide has helped you help your dog keep their cool!
There is no surefire way to know when exactly time is to add a cooling vest. If you are feeling that it's way too hot outside, probably your dog is too. The thing to do is watch your dog closely and try to respond to their needs. Learn about the symptoms of overheating in dogs (see below) and as soon as you see any of the signs, start using a cooling vest.
The signs of overheating, or, in the worst case, a heatstroke, are not always obvious in dogs. Many of our four-legged companions don't really know how to express that they are feeling too hot. However, you can usually notice if you pay close attention. Panting more than usual is one of the first signs, as is heavy drooling. Moreover, your dog could also develop a rapid heartbeat, start having trouble breathing, or seems agitated, these are sure-fire ways to know your dog is overheated (2). Seek shade or a colder space immediately. If symptoms persist, call your vet.
According to recent studies, the dogs that are most at risk of heatstroke are those that are overweight. Close behind them are all brachycephalic breeds and elderly dogs. As you might expect, Chow chows, Bulldogs, and French Bulldogs are on the top of the list of dogs who suffer from overheating. However, some breeds you might not expect to be so sensitive also made the list, including Golden retrievers, Greyhounds, and Dogue de Bordeaux (3).
References
Elfenbein, H. May 17, 2018. "Summer Animal Safety Tips for Beating the Heat". PetMD. Retrieved September 21, 2021. https://www.petmd.com/dog/care/summer-animal-safety-tips-beating-heat
DiLonardo, M. J. "How to Keep Your Dog Cool in the Summer". FETCH by WebMD. Retrieved September 21, 2021. https://pets.webmd.com/dogs/features/dog-cool-summer#1
Carroll, L. June 18, 2020. "Dogs can get heatstroke, too. Here's which breeds are most at risk." NBC News. Retrieved September 21, 2021. https://www.nbcnews.com/health/health-news/dogs-can-get-heatstroke-too-here-s-which-breeds-are-n1231358