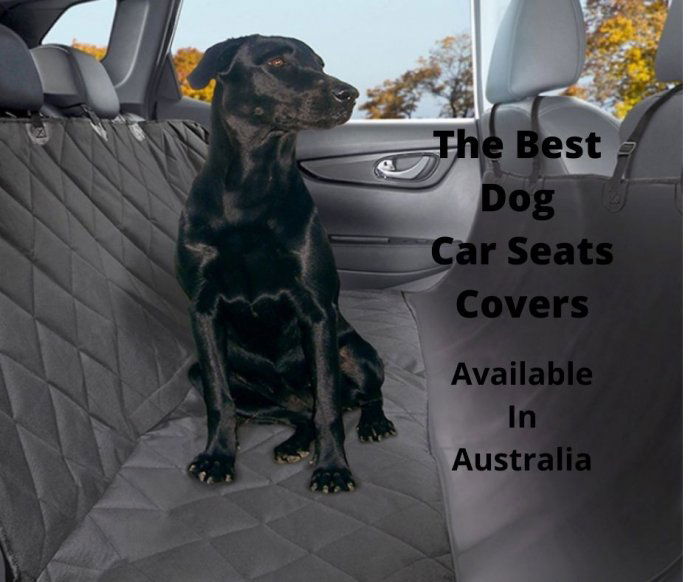 The Best Dog Car Seat Covers Australia - An Overview
Driving around with your dog in the back seat is not only nice, but sometimes it's a necessity.
However, when your pooch is a heavy shedder or likes to get into the car dirty, the thought of cleaning up the cover afterwards can be really daunting. Luckily, a good seat cover can solve this problem almost completely.
Today, we'll guide you through all the best dog car seat covers available online. Look through the list, and you are bound to find something that fits your needs!
---
What to Look for in a Back Seat Dog Cover?
Not all covers are made the same. If you have a tiny dog that never gets dirty and never moves around in the car, you'll probably be fine with just about any cover (or a blanket in your back seat).
However, the reality is not always as pretty and choosing a good seat cover can make all the difference. A good cover will be able to handle anything: from hair and mud to your dog jumping into the car wet as well as all kinds of accidents. Is it possible to find a cover that does all that? It certainly is. Just follow our simple tips.
Here is what to consider before buying a back seat cover for your dog:
Material
When buying a car seat cover for your dog, the material it's made of makes all the difference between a good cover and a waste of money. After all, if the material is not durable and rips apart in a matter of days, what is even the point of buying a cover?
PRO TIP: Covers made of quality polyester or microfiber combinations are generally good.
If your dog sheds heavily, you really want a material that is easy to remove hair (such as those mentioned). If the fabric is quilted or padded, it will look and feel more comfortable and luxurious.
In addition, it's probably always a good idea to get a cover that's at least water-resistant, if not waterproof. Even if you don't think you need this, there are always unpredictable situations (such as your dog getting wet on a walk), and in these situations, you'll want your cover to be able to keep moisture away from the seats.
Size
Before buying a cover, it's necessary to check if it fits the seat in your car. Every manufacturer will state the dimensions, so you can simply check by measuring your seat. Most covers are 'standard size' - and this, of course, will match most standard seats. If your seat is bigger/smaller/differently shaped than most standard vehicles, then you're going to have to think about the sizing a bit more.
Shape - Dog Car Hammock
It's just a backseat cover, right? Well, actually, you still have a couple of options to choose from when it comes to their shape.
First of all, there are the standard back seat covers. They are not always made specifically for pets, but they tend to work just fine. This kind of cover will cover the seat and the backrest of your backseat. There still remains space between the back seat and the front seat, and a human can also use the seat with the cover on. You'll notice that some of these covers have side flaps and a front flap, while others don't. The flaps are not exactly necessary, but they do allow the cover to protect your seat from dog hair from all sides (i.e., the only effective way).
In addition to this, there are some "hammock-style" covers made specifically for dogs. These covers have loops that wrap around the headrests of both the backseat and the front seat. The cover rises up on all sides so that the dog is completely enclosed in the backseat and there is no gap between the seats. These covers can be great for anxious dogs, as well as those who try to get into the front seat all the time, since the cover creates an additional barrier between you and the dog.
While hammock-style covers do work great, keep in mind that they were not meant to carry heavy dogs. If your dog is heavier and keeps leaning on the cover, it can rip and create more damage. It is possible to solve the issue, all you'll need is a backseat extender.
---
Best Dog Seat Covers 2022 Reviewed
Which back seat cover for your dog is worth your money? We've done the research and found these nice options:
This back seat cover for dogs from Boehner is another great option for those who travel a lot with their pets in the car. This cover will keep your back seat as well as your dog safe and comfortable.
This cover is quite thick, which is something many pet parents have loved. Besides being thick, it is made of 600D oxford fabric. In other words, thick and durable polyester. The fabric is resistant to everyday wear and tear. It is also water-resistant. However, it is not waterproof, which is probably the only downside of this dog cover for your car. That is to say, small amounts of liquid will not go through over a short period of time. If a wet dog were to ride in the back for more than half an hour, you would probably get some moisture on your seats.
The Fur King Dog Car Hammock being tested by our independent expert team
This Boehner cover is designed with three large panels - one goes on the seats, one covers the backrest, and the third panel is in the front. This way, it becomes impossible for your dog to jump over to the front seat. This cover also features a mesh window on the front part. This way, your dog can see you and you can see them while there is still a safety barrier between the both of you.
Finally, we loved that his cover is quite flexible and can be used in different ways. When you buckle up all the sides, it looks like a standard hammock-style cover that keeps the dog enclosed from all sides. However, it is possible to detach side panels and fold the front panel to have only a seat cover.
Verified Review - 27/03/2021
Excellent Quality
"As with most things on the internet, bought this item with caution, hoping it would be as good as it looked. The quality was even better than we hoped and we look forward to using it with Ruff after the beach for many years to come."
What sets this product apart from the rest?
The LuckySeat Dog Cover is a great example of how car seat covers for dogs should be made. Well-made, functional, flexible, and with all the right attachments - it's exactly what you need to keep your car seat clean and your pooch (or two of them) comfortable and safe.
So where should we start? Perhaps with the material used. This cover has four layers, each of them with distinct functionality. First, the top layer is made from 600D polyester which is thin but quite tough, so it doesn't tear easily - even in contact with the doggy nails. Underneath is a soft layer of cotton that ensures comfort. Cotton won't prevent liquids from going through the cover, though, which is why there is a waterproof layer underneath. To top it all off, an anti-slip backing is added to keep the cover firmly in place.
The LuckySeat Dog Cover being tested by our independent expert team.
Now, this is all great, but it's not good if the cover doesn't fit properly into your car, but this one is easy to set up in any standard-sized car. There are four straps that will allow you to attach the cover to the headrests of both the back seats and the front seats. The front panel is optional, though. You can keep it up as needed or put it down when a human needs to sit in the back too, for example.
When the front panel is up it will safely keep the dog from jumping into the front, but there is also a mesh window in the middle so you can see your canine companion (and they can see you too, which can calm their anxiety). The holes to access the seat belt buckles are also there, as well as side panels that you can put up to protect your door or put down for easy exit from the car.
Verified Review - 24/09/2021
Excellent Quality
"The quality is far better than I anticipated! The same one at the specialty pet shop in my town was twice the price... So I bought two of LuckySeat. When one is washing or drying, I'm using another one. This is amazing, there is no need to wait for it to dry and risk the car becoming dirty and get unpleasant smell again...This makes my life super easier.."
---
The Snooza Road Tripper is another great solution for protecting your back seat. Large, customizable, and effective, this cover is guaranteed to keep your seat protected and your dog happy.
When used on the 'default' setting, this is a classic hammock-style cover. There are 4 loops you will put around the headrests in the front and back to create a 'hammock' for your dog in the backseat. However, thanks to the zipper down the middle and the quick-release buckles on the headrest straps, you can change the position and create a normal seat cover that falls down to the floor or experiment with different arrangements.
The fleece surface is attached to a water-resistant backing which will keep your seats protected in case of any accidents.
The Snooza Road Tripper Car Seat Cover being tested by our independent expert team.
Probably the best thing about this cover is the material used. The front side of the cover is made with soft polar fleece. Fleece is not just warm and soft to the touch, but it's also very good at catching dog hair. This feature of fleece can be quite annoying when your fleece jacket gets full of dog hairs, but in a car seat hammock, it's exactly what we want: the hair will stick to the fleece instead of your car seats.
---
If you want to keep dirt and pet hair away from your car seats, the Drive cover from EzyDog is a great option for the job. Your back seat will not only be protected, but also looking reasonably nice at the same time.
The reason why we love this seat cover is, first and foremost, the shape. It is designed to fit almost any car seat snuggly. Not only will the bench seat and the backrest be completely covered, but you'll also find this cover has flaps attached that protect the seats from the sides.
The EzyDog Drive Seat Cover being tested by our independent expert team.
Moreover, this is a seat cover that won't budge. Like with most covers, there are adjustable straps that go over the headrests. However, there are some tabs that keep the central part of the cover in place. Finally, this cover features a non-slip backing on the reverse side which does a great job at preventing it from moving around.
This would all be worth nothing if the fabric the cover is made of was not of good quality too. Luckily, EzyDog used durable and water-resistant nylon for this one. The only downside we found to this cover is that it is not suitable for washing in the machine. While hand washing is not too difficult, it could be annoying if you have to do it often.
Verified Review - 4/02/2021
Great Product
"Cover fits well onto the rear seat of my 2004 Prado. Easy to install and stayed in place when either the dog or kids sit on the backseat."
---
This back seat cover from Dickis is a quick and easy solution for protecting your car seat. This seat cover is more affordable than any other option we have found. It does not come with any bells and whistles, but it performs its function well, which is staying on your seat and protecting it from hair and dirt.
This cover is easy to fix onto your seat and it has a universal shape, meaning it will fit nicely on most standard bench seats, including those in cars and SUVs. The cover is equipped with multiple elastic bands to hold it in place. Four of those go around the corner of the seat, which makes the cover appropriate also for seats without headrests. If you do have headrests, though, then there are more elastic bands that you can attach to those to make the cover more secure.
The Dickies Heavy Duty Rear Bench Seat Protector being tested by our independent expert team.
The fabric this cover is made from is water-resistant, but also rather thin. For this reason, the cover is not as durable as some competitors. However, if you use it only occasionally and your dog is reasonably calm, the Dickies cover should do a good job.
Verified Review - 12/02/2022
Good value
"It's a bit big for a Honda 4 wheeler seat, but we made it work. A godsend for muddy paws!"
---
Dogs riding in the front seat are at risk of being injured by an airbag (1). However, if your vehicle has no airbag on the passenger side and your dog is properly restrained, there should be no problem. If your canine companion does ride in the front seat, you'll probably want a front-seat to cover like this one. Besides, even if your dog doesn't usually ride in the front seat, this doesn't mean they will never jump there and leave a bunch of hairs that will be impossible to clean.
This cover does a great job at covering a single seat. It is designed to cover the whole seat, including flaps on the sides for complete protection. The cover itself is made with 4 layers of durable polyester, resulting in a surface that is comfy for your dog and also water-resistant (plus it looks nice).
The URPOWER Pet Front Seat Cover being tested by our independent expert team
This cover also comes with a non-slip backing to help it stay in place. To set up the cover, all you need to do is put it on the seat and wrap the included strap around the headrest. The only downside is that there are no anchor points on the lower part of the cover. As a result, the cover might move around a bit, especially if your dog is large.
Verified Review - 4/02/2021
Fit Is A Bit Small On The Seat
"I purchased this front seat cover to manage my two dogs on a ride. The part that covers the seat is a bit small for the seat but it's better than bungee strapping a blanket to the seat. The material seems durable."
---
This cover from Jaybally is made from a thick, luxurious looking (as much as it's possible with a car seat cover) microfiber suede fabric. The fabric is padded underneath, and that's all finished off with a non-slip back side. The cover is also available in three colours - black, tan, and grey. Considering all of this, we think it's a really good cover for those who care about how their car interior looks.
Not only this, but this cover also ensures that your original car seats remain absolutely protected. The fabric it's made of is waterproof. Additionally, your whole back seat will be covered, thanks to the way this cover is shaped. It not only covers the bench seat and the backrest, but it also features additional flaps on three sides to keep the seat completely enclosed.
The Jaybally Dog Seat Cover being tested by our independent expert team
In addition to this, the Jaybally cover features multiple anchor points that ensure it stays in place as well as holes for your seat belt anchors. In this way, the back seat remains completely functional - no matter if it's a dog, a child, or an adult who needs to sit there. As a nice bonus, you'll find this cover features 4 cleverly placed pockets for storage as well as 2 thermo insulated cup holders.
Last but not least, the Jaybally cover is as easy to clean as possible. You can use a lint roller (included with the purchase as a bonus!) and/or a damp cloth for everyday maintenance. When the cover gets really dirty, you can also wash it in the machine (use a gentle cycle).
Verified Review - 14/05/2020
Easy Solution For Temporary Protection
"Bought to protect new leather seats from dog. Fit my 2020 Grand Cherokee with no problems. appears to be quality made so looks like it will last a while. Stays in place and looks to be near for fitted so no issues with its intended use. Easy install and removal. Does pick up a lot of dog hair and takes a bit more effort to clean but works as intended."
---
Universal back seat covers can be a bit annoying because they don't allow for a lot of flexibility. For example, if you have an armrest in the middle seat you'd like to keep down, this is simply not going to happen with a standard cover. However, with this cover from YesYees the issue completely disappears. They created a simple solution: the middle part of the cover can be simply zipped down. This way, you've got everything covered on the left and right, and the space you need in the middle When you want the armrest up, simply zip up the cover.
This feature is great if it is what you are looking for, but what about the cover itself? Well, we would say it's a solid product. The cover is waterproof as well as reasonably thick and durable. When zipped up, it looks much like a standard back seat cover. There are buckles that go around the armrests as well as elastic straps for corners to ensure the cover stays in place. The cover is complete with seat belt openings (closable with velcro).
The YesYees Waterproof Dog Car Seat Covers being tested by our independent expert team
Finally, the bottom part of the cover also includes side flaps and a front flap. That means not only the surface of the seat is covered, but it's protected from all sides from any dog hair that might be flying around. That makes this cover perfect for pet parents of heavy shedders.
Verified Review - 8/05/2020
2020 Subaru Outback Premium
"I wanted others to know how it would fit in a 2020 Subaru Outback. Overall, the fit is OK. It is a little tall in the back (a bit more than an inch) and a little wide on the bench itself (again, a bit more than an inch). This makes the cover have a slight bulge in the middle while the zipper is up (I haven't tried with the zipper down, but I imagine it would fit nicely without that part there)."
---
This back seat cover from Winner Outfitters is a great option if you don't want to invest too much money but want something that will have your seats covered no matter the situation.
This cover will work both as a standard backseat cover (allowing a human to sit in the back too) and a hammock-style cover. To use it as a hammock, simply attach it to your headrests both on the back seats and on the front seats. To convert it into a standard back seat cover, simply fold the front flap under. Finally, since the cover can be laid down flat, it also converts easily into a cargo liner.
The Winner Outfitters Dog Car Seat Cover Hammock Convertible being tested by our independent expert team
The cover itself is made of multiple layers of fabric which is something that we loved. They used a combination of polyester and PTU layers. The end result is a cover that's soft, but at the same time sturdy and completely waterproof. There is also a non-slip backing which helps keep the cover in place.
Verified Review - 21/02/2021
Nice High Quality Car Seat Protector!
"Looks really nice and extremely well made! Has the no-slip rectangular piece on the bottom that is directly underneath. It doesn't cover the entire bottom though. I gave 4 stars because the demo video showed a nice carrying/storage bag and mine did not come with that and the seatbelt restraint that was included doesn't look very sturdy as the clasp is very small for smaller dogs and looks cheap. Other than that, I think this will work very well for my big boxer boy!"
---
Some dogs, and especially those that are on the larger side, can have a hard time chilling in the backseat of your car. They try to stretch, they spin around, and almost inevitably they end up falling into the gap between the back seat and the front seat. If that is the case, a backseat extender like this one can solve the issue easily. You simply set up the bridge by attaching it to the back of the front seats, and the gap disappears - your dog now has all the space in the back to get comfortable.
The Kurgo Dog Backseat Bridge Car Extender being tested by our independent expert team.
Hammock-style covers that attach to the headrests in the front might appear to do the same thing, but they are just not made to hold the weight of a heavy dog. With this extended as support, though, they could work much better.
This extender is quite sturdy and waterproof too. You'll also find that it comes with a front panel that stands between the front seats, thus keeping the dog safely contained in the back.
Verified Review - 21/11/2021
A must for your car
"We purchased the Kurgo K01137 Dog Backseat Bridge Car Extender to go into our new Ford Ranger.We have a large dog and notice that he couldn't relax in the back seat when going out to explore new adventures.Also seeing the wasted space behind the front seats that could be used and our dog would continually fall down.He now has more space to move around and rest."
---
Final Verdict
Which back seat cover should you choose? It will depend on the size of your dog, what you intend to use the cover for, and maybe the colour of the interior of your car.
For a high-quality cover made specifically to provide a comfortable resting place for dogs and keep your seats clean, go with Fur King Seat Cover. This is a standard cover that simply covers your seat, like a set of bedding.
If you think a hammock-style cover will work better, though, you should check out the EzyDog Seat Cover.
Getting dog hair out of your car can be notoriously difficult. And the hair can be especially annoying when it's on the seat and getting on your clothes from there. The only way to protect the seat from hair is to cover it with something. Blankets and towels work - but only to an extent. If you want your seat totally protected and you want to be able to use the seatbelts at the same time, simply go with a seat cover. It really does save a lot of time.
Not all seat covers can be washed in the machine, but most of them can. Before first wash, always consult the manufacturer's instructions. If your cover is machine washable, do make sure to use a gentle cycle every time. Tumble-drying is usually not recommended.
No, using seat covers on heated seats is generally not a good idea. However, if you keep the seat heating off, the cover should work just fine. Just make sure to remove the cover later to prevent any accidents. Alternatively, you could look for a material that is fire-resistant, like neoprene, but it is generally not recommended to cover heated seats with anything.
References
Schamble, M. June 15, 2020. "How to Keep Your Dog Safer in the Car". AKC. Retrieved January 7, 2021. https://www.akc.org/expert-advice/home-living/dog-seat-belts-what-you-need-to-know-to-keep-your-dog-safe/